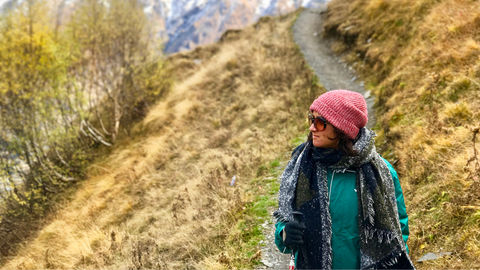 An insightful, heart-warming, inspiring and supremely honest interview with the super successful travel blogger Shivya Nath. Here's talking about her love for sustainable travel, blogging solely for the love of it and everything in between. By Charu Chowdhary

1) You've been travelling and blogging for about seven years now. And you've been living without a permanent address. Does that mean you're never NOT travelling?
Yes, you can say that. It's been over five years now that I've not had a home to go back to, or own possessions than I cannot carry in my two bags. Some people see it as travelling, but for me, it's just a different way of living.
I try to split my time between 'exploring' and slow travel. During the former, I typically spend up to a month in a region, travelling at a relaxed pace through different places, spending a few days to a week in one spot, working on the go as and when necessary. During the latter, I stay in one single spot for up to a month – experiencing a single place deeply, working longer hours, catching up on Netflix and recharging my batteries. During these slow travel periods, I'm living, like everyone else; only my country – and sometimes my continent – keeps changing!
2) Take us through how your online community of travellers grew with you in all these years. How do you engage with them? How do you wish to inspire them?

When I started travel blogging in 2011, I had no idea about the simple act of penning my thoughts about my travels and how that would evolve into a lifestyle someday.
I started travel blogging because I wanted to share the heartwarming encounters and local experiences that came my way as I travelled – especially in India, and especially as a solo female traveller. And the more I travelled, the more I began to question our collective choices and my personal ones. Things like patriarchy, being bound to a physical home, owning more than we need, and the social and environmental impact of our travels.
Over the years, many of my readers have started challenging themselves to go alone too, to travel differently – slowly and sustainably, and to question their own life choices.
Through my blog and Instagram (@shivya), I continue to raise questions – for myself and for those who follow me. The idea is simple: we have one life, and we can't spend it on a path someone else has laid out for us. We must experiment, try many different things, fail and figure out the equation for our own happiness and fulfillment.
Blogging is incredibly empowering that way. Your voice can find its way to the right people, sometimes almost magically (though SEO is the bane of every blogger). Your writing and ideas can literally change someone's life – and definitely your own.
3) Tell us about your major happy moments or milestones along the way.
Many! I'd say the bigger, broader milestones so far are:
2011: Quit my full-time corporate job in Singapore to build this alternative lifestyle.
2013: The last time I had a 'home' or a real address. I sold or gave away most of my belongings, and embraced an unpredictable life on the road.
2015: I turned vegan, cutting out all animal products from my diet and lifestyle – including dairy (milk, cheese, butter, cottage cheese, and etc.), eggs, honey, meat, seafood, leather and silk – as far as I can help it. I just couldn't bear the animal cruelty these foods entail. It's actually helped me connect more deeply with people around the world, and turned me into a foodie!
2018: My first book, The Shooting Star, was published by Penguin. It charts my (mis)adventures from the cubicle to the road, and from small-town India to remote corners of the globe.
4) As a well-known travel blogger today, when you look back, is it hard to believe how far you've come? Would you like to share what you did right (or not) on the way that has got you to where you are today?
It feels rather surreal. I often wake up in a far off corner of the world and wonder how I managed to pull off this location-independent way of life.
Getting paid to travel sounds like a dream, but there's a lot of hard work and discipline behind the scenes. I'd like to think that the one thing I did right was to never give up. When the going got tough – when freelance work fell through, when I missed out on travel opportunities, when my bank account was in free fall – I hung on, kept at blogging and freelancing, and drew inspiration from the road until things turned around.
I think what sustained by travel blog in the long run was authenticity. Brands came and went, paid opportunities came and went, but the one thing that remained – the most important one – are my readers. I could never endorse or recommend anything to them that I don't personally believe in.
I also feel that this kind of life can't be driven by the motivation to earn money, to get your story noticed or to score some free travel. It definitely can't be driven by likes on social media! It's a life of many battles, and they're worth fighting only if you're really, truly passionate about travelling, getting to know people and places different from the ones you're familiar with, and pushing yourself out of your comfort zone.
What I wish I had done differently? Gosh, there are so many things. I refused to see my work as a business for a long time (the bane of every writer and creative thinker I guess). That means for a long time, I never strategised about the content I was creating – lagging behind on SEO and other technical aspects of blogging. Unfortunately, those things are as important as the passion to travel and share meaningful stories.
5) You recently authored a book called The Shooting Star – named after your blog. You've been writing all along; but was writing a book different/difficult in any way?
Blogging consistently for over seven years made it both easier and harder to work on a book. Easier, because it was kind of like studying, a lot, before the final exam! It helped me find my voice, resolve writing conflicts and deal with writers' block.
Harder, because blogging is instant gratification. You think up a story, work on it for a few days, publish it, get instant feedback from readers and move on to the next one. Spending years working on a book on the other hand, I had no idea if it would ever be published or read – so, I had to find a lot more internal motivation to pen it.
My primary motivation to pen The Shooting Star was to challenge more people across India to question their travel and life choices – as well as introspect on my journey from a small-town girl to an average corporate dweller to a nomadic traveller seeking to live on her own terms
6) You mostly travel solo. What are the pros and cons?
I think the biggest pro of solo travel is the fact that you're responsible, entirely, for yourself and your decisions. Something we, especially as Indian women, seldom experience otherwise. It can be incredibly empowering and liberating. I mean, if you can tackle an unknown place – with a different language, culture and way of life – you can tackle pretty much anything that life throws your way.
The biggest con? Finding someone to look after your bags when you need to use a public washroom.
7) Blogging today is has become a saturated space. How do you stay afloat? Any tips for aspiring bloggers or those on the verge of giving up because they don't see results?
I think to stay afloat as a blogger, passion for blogging is the most important thing. The question you need to ask yourself is: would you still blog if there was no money to be made from it, no free travel or products to come your way, no potential for it to evolve into your full-time job?
That's where I began. I still continue to blog for the love of blogging – writing and sharing stories that (hopefully) challenge my readers to embrace new perspectives and a new way of travelling and living.
To aspiring bloggers (or those seeking results, whatever they may be), my best advice is not to try to fit in this saturated space. Not to go where everyone else is going, not to write the way everyone else is writing, not even to fight for the same keywords. The key is to stand out. Think about what makes you, your voice, your photography, your writing style and your story different. Once you nail that and feel passionate about what makes you different, success is sure to come your way.
8) Are all your travel plans for 2019 already in place? How far ahead do you plan in advance? Any tips or tricks on how to crack planning for a trip in advance?
I'm pretty terrible at advance planning because I'm too busy doing whatever is happening in the present (travelling, writing, blogging, Instagramming, everyday living, and etc). Also, I'm pretty lazy and I suffer from a bit of a commitment phobia to commit to something more than a month in the future.
Back in my corporate days though, since I didn't have the freedom to take off when and where I wanted to, I carefully chalked out all long weekends, kept a tab on airline sales and made sure I made the most of my annual leaves.
9) Places you'd recommend travellers to explore in India that you think are underrated?
I only spent a couple weeks in Odisha, quite nervous about exploring the state for the first time and by myself. But, I quickly fell in love with everything – the local food (easy to veganise), the warm people, the stunning and diverse natural beauty and the intriguing tribal way of life. I slept under thousands of stars, rode pillion on a local's motorbike to unknown waterfalls, shared handiya (fermented rice brew) with indigenous tribes, cycled in the eastern ghats and spent time in a village that quite impressively, underwent transformation from poaching birds to conserving them. It's definitely one of India's most underrated destinations.
Besides Odisha, I've loved exploring Gujarat and its many natural and culinary wonders. And I can never get enough of my home state, Uttarakhand.
10) Please share a favourite excerpt from your book that talks about you and your journey so far.
"Much like the rain-fed oases in the Thar Desert, the person I was now would disappear one day, never to be found again. The relationships I felt attached to, the things I dearly owned, even that strange melancholic feeling would be gone, never to be found again. I rummaged through my memories, looking for the person I had been on other rooftops. The one in Spiti, lying under the Milky Way, with the inexplicable feeling that my life was changing. The one in Singapore, gazing at the dazzling city skyline, the fire of corporate ambition burning inside me. The one in Mauritius, counting the many shades of blue in the Indian Ocean, hesitant but proud of a new friendship. The one in Dehradun, timid and unsure, afraid to break rules or challenge conventions. I rummaged desperately but I couldn't find her. And what did it matter? I might be the same flesh, but I wasn't her."
Related:10 Indian Instagrammers Whose Accounts Will Give You the Travel Bug!
Written By