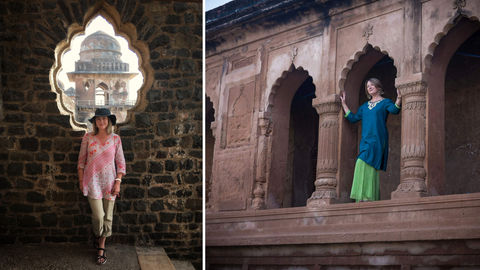 Canada born, award-winning travel blogger at Breathedreamgo.com, Mariellen Ward is a digital storyteller who whips up delicious stories around her extensive travels in India, abroad and those around being a solo traveller. By Charu Chowdhary
1) You're a female travel blogger at 59. Not something we see a lot. Take us through your journey of becoming one and staying relevant in the blogosphere.
Well, there may be a lot of 50+ travel bloggers, but as you say, we don't see them. We are a youth-fixated culture.
I had no choice, as I started late: I didn't start travelling or travel writing until I was 45-years-old. At the time, travel blogging wasn't even a thing, so I was in the first wave of travel bloggers and was able to make a name for myself. I was also a professional writer and journalist, which helped.
Nowadays, for women, there's a MUCH bigger emphasis on how you look, what you're wearing, posing for that perfect Instagram shot, and etc. It wasn't like that when I started. Back then, people were interested in your travels, your adventures, your skills as a writer or photographer, and your passion!
Like many of my blogging generation, it started as a pure passion project. There was no money in travel blogging back then, and it didn't seem like a viable career option. However, I loved it and stuck with it, and evolved. Slowly I shifted from making the bulk of my money from freelance writing to making it from blogging.
Staying relevant for me is about leadership. It's about leading, not following. For example, I'm speaking up about ageism in travel these days, and proudly holding my space. I'm also speaking up about responsible travel, and being aware of the impact of travel decisions.
2) As a Canadian, was there a culture shock when you decided to extensively cover India? What are the things that made you go like, 'Oh this should change'?
I had an almost instant affinity for India when I first landed in 2005, at the start of a six-month trip. And believe me, that affinity, that feeling of being "home" surprised me. I didn't expect it. Of course, I still had culture shock. I remember describing my first car ride into the heart of Delhi as, "Mr. Toad's Wild Ride." I guess I'm the stereotype of the foreign woman who falls in love with India. I found something here that I've never found anywhere else.
Travelling to India really did change my life. Among other things, it gave me a passion for travel and travel writing. So, covering India was driven by pure passion. But it wasn't a passion to change anything – I mean to change anything other than me. I needed changing, I was in a depression.
Like every other right-thinking person, I would like to see everyone living a happy, peaceful, safe life, and having everything they need in terms of material wealth. I would also like to see animals, wildlife, and nature protected and preserved. I'm an idealist but I don't think it's my job to come to India and change it.
My method is to celebrate what's beautiful, what's worth protecting and preserving. And to encourage people to live a life of wonder and pursue their dreams. I particularly like to encourage and empower women, when I get the chance.
3) What is it about India that keeps you here for most part of the year? Can you list a couple of places you think every foreigner and even Indians must in the country?
I've spilled a million words, maybe more, trying to capture "what is it about India." Many foreigners who also love India feel it, and we all have trouble putting it into words. It's an unseen feeling, an energy or vibration. The feeling that "all life is here." The feeling of being fully alive.
I asked a spiritual teacher why seekers have always been drawn to India, and he said, "India is the soul of the world." That makes a lot of sense to me. It's like the entire spectrum of human existence and experience is on display here, from the lowest to the highest. So, in a way, it doesn't matter where you go in India. Wherever you are in India, you "experience India."
Having said that, I am always trying to encourage people to visit the villages, national parks and lesser-known, but still spectacular, monuments. I love the villages of Kumaon, the parks and tiger reserves of Madhya Pradesh, and UNESCO sites like Hampi, Ellora and Ajanta, Konark Sun Temple and Khajuraho. I would love to spend more time exploring the Western Ghats – I want to go to Coorg, for example and the Northeast. I'm very excited about a planned trip to the Sunderbans and then Assam in October.
4) When you're not travelling, where do you live? Do you have a permanent address?
I live in Rishikesh now, in a spacious apartment with a stunning view of the mountains and the Ganga. I get inspired just by looking out the window! In summers, I return to Canada to see my family and enjoy the Canadian summer.
5) As a woman traveller, can you take us through the ordeals one faces in India and the world? Is the world becoming a safer place for women to travel?
The world is not a safe place for women. I think there's way too much attention paid to the safety of women travellers, and not nearly enough to the safety of women in the home. Most women who experience abuse, violence, rape, and sexual harassment know their attacker.
The media loves to sensationalise, to get clicks and sell copies. There's a lot of drama in stories of solo women travellers who experience attack. But the real story is the domestic violence that women all over the world face. Every day.
All women should feel safe all the time. Period. That's the way it should be. If any other segment of society had to face what women face on a daily basis, there would be an outrage. I've addressed some of these issues and also offered tips for female travellers in this post – my most successful blog post of all time.
6) Can you throw some light on what you mean by transformative travel and responsible travel?
For me, it's about impact. Transformational travel is when you slow down, really get to know a place, and let it impact you. This is the beauty and magic of travel, the way travel can open up our minds, broaden our perspectives, make the world a smaller place. When we know each other, and understand each other better, we stand a better chance of getting along. Travel is a privilege, not everyone can afford to travel. So I think recognising you have this privilege, and using it to somehow make the world a better place is part of the responsibility of a traveller.
Likewise responsible travel. It's about recognising that you DO have an impact, so what decisions can you make that have the best impact on local communities and the environment. For example, spending your money so that it benefits the local economy. Not adding to plastic pollution. Not supporting activities that contribute to animal cruelty.
7) Tips for aspiring bloggers on how to be an entrepreneur while running a blog?
It's very hard to travel and run a blog. You have to stay put and work! So schedule in work time. And, recognise that you're running a business.
8) What are the ingredients needed to become a successful travel blogger?
Each blog, and each blogger is unique. There is no cookie cutter formula for success.
My top tip however, is around niche. It's very hard to stand out in a very crowded and competitive field, so be unique and carve out a unique niche. Having niche authority is the single best thing you can do as a blogger. It leads to all kinds of opportunities to monetise.
If you carve out a unique niche, create good quality content that's either useful, entertaining, or enlightening; learn everything you can about blogging from the pros, work harder than you've ever worked before, and persevere … there's no reason why you can't succeed. But you better be passionate about it, and have fun, because otherwise, it's just a lot of drudgery and you will burn out.
9) Anecdotes that you would like to share from your sojourns around the world? Anything that would spark the interest of a traveller to visit the place.
Yes, but way too many to recount here! I hope people will read my blog. Here are some links to places I truly love (and this is just a few!). Read it here and here.
10) Last but not the least, does one make a decent living through this career?

Bloggers are on a wide spectrum from hobbyists who make absolutely no money (and perhaps have no ambitions for making money either) all the way up to people who have built careers and even small empires from blogging. I personally know a lot of bloggers making more than $100,000 USD annually. It's a LOT of hard work and it takes years. Most of these people have been doing it for more than six years full time. It also takes a change in mindset – to see your site as a business and not a creative pursuit. I'm just going through this mindset change myself. I redesigned my blog and relaunched it just a few weeks ago.
Related: Lakshmi Sharath, India's Most Beloved Female Travel Blogger, Shares Her Blogging Process
Written By