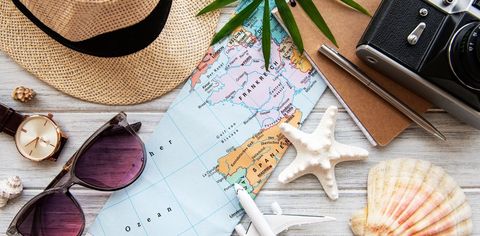 Not many people need convincing to travel to exotic destinations across the world. Every country has something or the other to offer to its visitors—be it vast white beaches with an unending horizon of the blue ocean, tall mountains with extensive flora and fauna, or a brightly lit city bustling with an urban population. However, every country does its best to entice travellers to maintain its booming tourism industry. By Yagnoseni Das
Tourism sectors have an array of practised marketing efforts rolled up their sleeves and one of the many is to sum up an entire country in just a handful of words. Tourism slogans have become a trademark of a country. From aspirational to downright cringe-y, tourism slogans give us a glipmse of the country they represent. Here's a list of tourism slogans from almost every country in the world.
Tourism slogans from Africa
View this post on Instagram
Tourism is an important economic sector for any country in Africa. So, it is only natural that the tourism slogans here are enticing, too.
Algeria – The Journey of the Heart
Benin – Revealing Benin
Botswana – Our ride, your destination
Burundi – The 'Eden' in the Heart of Africa
Cameroon – Africa in Miniature
Chad – Oasis of the Sahel
Djibouti – Djibeauty
Egypt – Where it all begins
Eswatini – A Royal Experience
Ethiopia – Land of Origins
The Gambia – The Smiling Coast of Africa
Ghana – Amazing Ghana
Kenya – Magical Kenya
Lesotho – The Kingdom in the Sky
Madagascar – Treasure Island
Malawi – The Warm Heart of Africa
Mali – An Authentic Africa
Mozambique – Come to where it all started
Namibia – Endless Horizons
Nigeria – Heartbeat of Africa
Rwanda – Remember – Unite- Renew
Sao Tome & Principe – True Tranquility
Senegal – Where Hospitality is Natural
Seychelles – Another World
Sierra Leone – Sieraously Surprising
South Africa – Inspiring New Ways
Tanzania – Unforgettable
Tunisia – Inspiring Tunisia
Uganda – You're Welcome
Zambia – Lets Escape
Zimbabwe – A World of Wonders
Tourism slogans from Asia
View this post on Instagram
The largest continent in the world, Asia has plenty to offer to any traveller. With a plethora of countries spreading across the continent, the slogans are just as diverse, too.
Bahrain – Ours. Yours. Bahrain
Bangladesh – Beautiful Bangladesh
Bhutan – Happiness is a Place
Brunei Darussalam – Adobe of Peace
Cambodia – Kingdom of Wonder
Cyprus – Cyprus in your Heart
Georgia – Emotions are Georgia
India – Incredible India
Indonesia – Wonderful Indonesia
Israel – Land of Creation
Japan – Endless Discovery
Jordan – Set Forth on a Great Journey
Kazakhstan– The World of Wonders
Kyrgyzstan – So Much to Remember
Laos – Simply Beautiful
Lebanon– Live Love Lebanon
Malaysia – Truly Asia
The Maldives –The Sunny Side of Life
Mongolia – Go Nomadic
Myanmar – Be Enchanted
Nepal – Lifetime Experience
Oman – Beauty has an Address
Pakistan – Land of Adventure and Nature
The Philippines – It's More Fun in the Philippines
Qatar – Qurated for You
Russia – The Whole World Within Russia
Saudi Arabia – Saudi, a Kingdom That Inspires
Singapore —Passion Made Possible
South Korea – Imagine Your Korea
Sri Lanka – Hello Again Sri Lanka
Tajikistan – Fear the Friendship
Thailand – Amazing Thailand, it Begins with People
Turkey – Choose Your Memories
United Arab Emirates – Seven Emirates One Destination
Uzbekistan – Naturally Irresistible
Vietnam – Timeless Charm
Tourism slogans from Europe
View this post on Instagram
Europe has one of the most thriving tourism industries in the world. From Prague to Paris and Rome to Lisbon, Europe is filled with bucket-list destinations.
Albania – Go your own way
Austria – Feel the Spark
Belarus – Hospitality Without Borders
Belgium – The Place to be
Bosnia and Herzegovina – The Heart Shaped and at your Fingertips
Bulgaria – A Discovery to Share
Croatia – Full of Life
Cyprus – Cyprus in your Heart
Czech Republic – Live your Dream
Denmark – The Land of Everyday Wonder
Estonia –Epic Estonia
Finland – I wish I was in Finland
France – Explore France
Germany – Simply Inspiring
Greece – Always Epic
Hungary– Wow Hungary; Wellspring of Wonders
Iceland – Come and be inspired by Iceland
Ireland – Fill your heart with Ireland
Italy – #treasureitaly
Lithuania – Real is Beautiful
Luxembourg – Daydream
Macedonia – Macedonia Timeless
Malta – More to Explore
Moldova – Discover the Touristic Moldova
Monaco – There is No Place Like Here
Montenegro – Wild Beauty
The Netherlands – This is: Netherlands
Norway – Powered by Nature
Poland – Move your Imagination
Portugal – Can't Skip Tomorrow
Romania – Explore the Carpathian Gorden
Serbia – See Serbia
Slovakia —Travel to Slovakia, Good Idea
Slovenia – I Feel SLOVEnia
Spain – #spainindetail
Sweden – Welcome to Sweden, when the time is right
Switzerland – Get Natural
Ukraine – Experience Ukraine
United Kingdom – Escape the Everyday
Tourism slogans from Oceania
View this post on Instagram
Oceania is filled with exotic landscapes. With the Fiji Islands, this continent is a favourite amongst travellers.
Australia – Come Live Our PhilAUsophy
Kiribati – For Travellers
New Zealand – 100% Pure
Papua New Guinea – A Million Different Journeys
Samoa – Where Beautiful Just Happens
Tonga – The True South Pacific
Vanuatu – Answer the Call of Vanuatu
Tourism slogans from The Americas
View this post on Instagram
The Americas welcome a huge number of travellers from all around the world, thanks to its innumerable tourist spots.
Antigua and Barbuda – The Beach is Just The Beginning
Argentina – Beats to your rhythm
The Bahamas – Fly Away
Barbados – Love Barbados
Belize – Discover How to Be
Bolivia – Bolivia Awaits You
Brazil – Visit and Love Us
Canada – For Glowing Hearts
Chile – Where the Impossible is Possible
Colombia – The Most Welcoming Place
Costa Rica – Essential Costa Rica
Cuba – Breathe Cuba
Dominica – The Nature Island
Dominican Republic – Dominican Republic Has it All
Ecuador – Be well in Ecuador
EI Salvador – The 45-minute Country
Guatemala – Heart of The Mayan World
Guyana – South America Undiscovered
Jamaica – Heartbeat of the World
Nicaragua – Urica Original
Panama – Panama Surprises
Paraguay – You Have to Feel it
Peru – Time To Take a Trip with Your Imagination
Saint Kitts and Nevis – Follow your Heart
Saint Lucia – Let Her Inspire You
Suriname – A Colorful Experience
Uruguay – Uruguay Natural
USA – Visit the USA
Venezuela – Venezuela is Your Destination
Related: Revealed: The Price Of Happiness In Every Country, Including India!
Written By