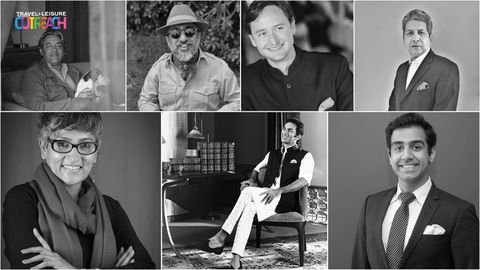 When the world comes to a grinding halt, the need to look forward and plan the way ahead takes centre-stage. With this philosophy in mind, and the overarching need to bring the hospitality and tourism industry under one umbrella, Travel + Leisure India & South Asia's series of webinars, #TnlOutreach, aim to decode the travel trends of 2020-21. In its fifth session, industry veterans aim to debunk whether boutique experiences will become the focal point in travel after Coronavirus (AC).
Session 5: #TnlSupportsLocal: Will Indian Boutique Experiences Become The New Mainstream Travel AC (after Coronavirus)?
Moderated by Aindrila Mitra, Editor-in-chief of Travel + Leisure India & South Asia, this session of the webinar series shifts its gaze inwards as #TnlSupportsLocal and tries to predict the fate of boutique experiences. When rebound travel will set in motion, will we see travellers opting more for boutique stays? Will leisure travel become more meaningful; if so, how? How will boutique experiences engage with more local communities and promote sustainability? What can travellers expect when they sign up for a boutique experience in travel AC?
Panellists Son of Thakur Sidharth Singh and Thakurani Rashmi Singh of Rohet, Avijit Singh grew up in the village of Rohet surrounded by traditions and values the family has held in great regard for generations. Inspired by his grandmother, the late Thakurani Jayendra Kumari, Singh developed an early love for cuisine and hospitality and his fondest childhood memories are those of helping his family host their numerous guests at Rohet Garh. Currently, Singh is looking after the House of Rohet bouquet of boutique hotels (Rohet Garh, Mihir Garh, Rohet Wilderness Camp and The Rohet House) in and around Jodhpur, Rajasthan. The nine suite Mihir Garh has grown from strength to strength under Singh, winning back to back the title of World's Best Luxury Boutique at the World Luxury Hotel Awards. He has also been part of the creative force driving the opening of the brand new The Rohet House in Jodhpur city, the family's first city property. A daydreamer, Himmat Anand left the corporate world in 2007 when he was Chief Operating Officer- India & South Asia – Kuoni Destination Management. He then pursued his decades-old dream and launched the Tree of Life Resorts & Hotels in 2010, which today operate in eight locations and three more are scheduled to launch soon. He recently also launched A Dog's Story, which provides amazing getaways for those travelling with their pets or those who are pet lovers.
He started his career with the Taj Group of Hotels and then moved to tourism. Most of his career was with SITA / Kuoni Travel, which included postings in Frankfurt, London and Paris for a decade. He is a Facebook junkie, active on LinkedIn and enjoys spending time with Jugnu, his eight-year-old Labrador, who is also the mascot for the Tree of Life Resorts and A Dog's Story. Jaisal Singh is the Founder and CEO of SUJÁN, an experiential, responsible, positive impact hotel group with three award-winning tented camps in India, which have consistently been rated among the best in the world for the past two decades. Singh is also the Vice-President and Member of the Executive Committee, Board of Directors of Relais & Chateaux – the world's most respected association of 580 independent hotels and restaurants across 65 countries. He has the distinction of being the youngest person, and the only Indian ever to be elected to that position. Singh is also a member of The Government of Rajasthan's Standing Committee for Wildlife and the State Board for Wildlife, chaired by the Chief Minister of Rajasthan. He is also a member of the Executive Board of The Ranthambhore Foundation, a conservation NGO that has worked to conserve the Ranthambhore Tiger Reserve since 1988. He is also very active with the philanthropic wing of his family enterprise – The SNS Foundation.
Singh is a Member of the managing committee of The Modern School, one of the country's leading educational institutions that was co-founded by his family a century ago.
He has been a member of the Confederation of Indian Industry's National Committee on Tourism 2016-2017.
Singh
is the author of four books:
Polo in India
–
a definitive history of the sport in India
published by Roli Books;
Ranthambhore – The Tiger's Realm
along with Anjali Singh and Priyanka Gandhi Vadra;
JAWAI –
Land of the Leopard
along with Anjali Singh; and
The Magical Mara,
a family safari, published by SUJÁN Art.
He is a student of military history and his articles on the subject have been published in India's mainstream newspapers like the Business Standard.
A keen polo player with a handicap of +2, he has played across the world and was a member of the famous Jodhpur team from 1994 to 2005. He now fields his own team, the SUJÁN Tigers. Manvendra Singh is the Managing Director of the MRS Group, which operates luxury boutique hotels — Suryagarh in Jaisalmer and Narendra Bhawan in Bikaner, respectively. Both the hotels believe in heritage conservation, storytelling, design, ecological restoration, and social entrepreneurship; and take the path less travelled. Their NGO, I Love Jaisalmer, was responsible for launching Jaisalmer's largest cleanliness and conservation drive.
Suryagarh, Jaisalmer on the gateway to the Thar Desert offers unsurpassable antiquity and raw natural beauty. The hallmark of Suryagarh is a belief in the extraordinary, as well as in excellence, comfort and consistency.
Narendra Bhawan Bikaner retells the story of the last reigning Maharaja of Bikaner, His Highness Narendra Singh (1948 – 2003). Set in an urban landscape this residence today is an independent design hotel and it possesses a one-of-a-kind legacy, a set of curated experiences that should be preserved, maintained, and allowed to flourish.
Nikilendra Singh
Founder & MD, RAAS Hotels Nikhilendra Singh is a Jodhpur boy who did his schooling at The Doon School (Dehradun) and then studied history at St Stephen's College (Delhi). Right out of college, Singh spent a year learning to farm on family land, in the outskirts of Jodhpur in Bithian. He then started a travel and events company called Natural Mystic South Asia with his school friend Asheesh; the focus was on inbound tourism and curating tasteful destination events – most notably Liz Hurley and Arun Nayar's lavish wedding in Jodhpur.
Wanting a sense of permanence from the highs and lows of inbound travel and events, Singh dreamed of opening a boutique hotel in Jodhpur. In 2007, his brother Dhananjaya Singh found the ideal land at the foot of the Mehrangarh Fort. Their vision was to build a boutique hotel that preserved the Rajput heritage but with a contemporary aesthetic and vibe. Two years later RAAS Jodhpur had become a reality.
In 2015, RAAS took over the iconic palace hotel Devigarh, near Udaipur. In a sense, it was special in more ways for Singh as he had hosted several events at Devigarh under Natural Mystic and fell in love with the space; indeed, it was one of his inspirations for RAAS.
As a contrast to RAAS Jodhpur and RAAS Devigarh, in 2019 RAAS took over Chhatra Sagar – a glamping project on the banks of a reservoir it shares its name with. The camp has been given the full RAAS makeover. More importantly, what it shares with its sister hotels is RAAS and Singh's innate belief in sustainability and community building. Chhatra Sagar, the reservoir, supports a rich and diverse ecosystem that RAAS now bears the responsibility of protecting.
Singh wants RAAS Hotels to always have a community at its heart, and be the centre where guests, teams, vendors, partners and locals can come together and thrive. He especially enjoys the creative process of restoring and building new spaces and creating distinctive moods for the hotels. He continues to live in Jodhpur with his 16-year-old Jack Russell Charles. The daughter of an officer of the Indian Railways, Mohan had travelled to over 15 states of the Indian subcontinent by the time she was 30. Providence led Mohan to the arena of travel, married into a family in Delhi considered to be leaders in bespoke and incentive travel; travel and the industry thereafter became her oyster for the next 28 years. Working in various capacities as copy and itinerary writer to operations, sales and marketing in a timeshare company to conference marketing, and from inbound domestic travel to experiential travel — she laid her hands in everything until she found her mojo. Pioneering boutique hotel brands under RARE India promoting the largest curated collection of owner-run lodges, retreats, palace hotels and glam camps.
A chance foray into travel and circumstances led to enterprise and entrepreneurship, the result was RARE in 2004 – a representation, communication, sales and marketing company that promoted experiential travel that included a range of hospitality and tourism products – boutique palace hotels, experiential walks, riding programmes, off-roading destinations, art for tourism, etc. The products encompassed a variety of interests like nature, health and wellness, wildlife, adventure, cuisine, art and history, culture and conservation and above all involved people – passionate, lateral thinkers and doers from various walks of life promoting an ideology and fostering learning.
With over 20 years in the travel industry, Mohan sits on board of several associations like ESOI (Eco-Tourism Society of India ) and is a member of India chapters of SITE, PATA, TOFT, IATO and TTC – an international association promoting experiential and transformational travel. She also actively engages with media, and has recently been appointed as the Brand Ambassador for Transformational Travel Council and is an A-List advisor for Travel + Leisure India.
In 2019 through her focus on 'Conscious Luxury Travel' the company has rephrased RARE India's ideology to ensure that all destination states are highlighted through their cultural and experiential quality – also as rural initiatives, crafts and textiles, forests, communities, traditions and festivals. A clue that many of the issues plaguing the environment and people can be reworked if the fabric of tourism is more driven by quality rather than by quantity.
Mohan is also a prolific blogger and writer, writing on destinations and tourism impact, new routes and the value of finely regulated state-supported, visionary tourism. She also writes columns regularly for trade and lifestyle magazines on several issues. In a mentoring role besides the team she leads, Mohan has inspired students of tourism and management at Jamai Millia, Indian Institute of Tourism Management, Kuoni Academy, Apeejay Institute, etc.
Yeshwant Rao Holker
Founding partner, Ahilya Experiences Yeshwantrao Holkar is a founding partner of Ahilya Experiences, the group behind the Ahilya Fort Heritage Hotel in Maheshwar, Madhya Pradesh, and Ahilya by the Sea in Goa – a Relais & Châteaux property. Beginning his career in the investment world in New York and Singapore, Holkar went on to get his MBA from INSEAD in 2013 and returned to India to carry forward the family hospitality business. Holkar also works to preserve and promote the Maheshwari handloom tradition as a board member of REHWA Society, a not-for-profit NGO.
To register for the webinar, click here.
Related: #TnlOutreach: What Does The Future Hold For Wellness Travel & Experiences? Let's Find Out!
Written By