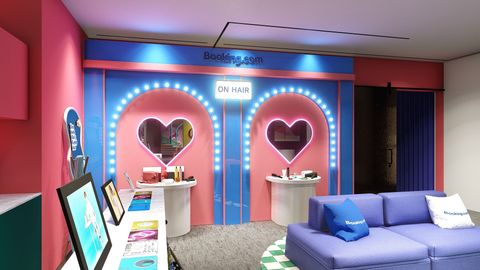 Here's a chance to live your K-pop fantasies. The Ultimate K-pop Experience in Seoul is sure to make your dream a reality through an unforgettable trip.
This travel experience launched by Booking.com will let one lucky pair of K-pop fans experience an extraordinary journey in South Korea.
All we know about the Ultimate K-pop Experience in Seoul The trip begins with a two-night stay at the Executive Producer Suite at RYSE, Autograph Collection, which is usually reserved for top celebrities, along with USD 250 (INR 3,18,705) credits to use at the hotel. Other experiences include front-row seats at the live music show, M COUNTDOWN, a private idol makeover led by celebrity hair and makeup artists and a photoshoot afterwards, a printed photo book, a private dance lesson with YN Company, and other exciting activities. Flight, airport and all local transfers will also be provided.
The Executive Producer suite at RYSE features a trendy Y2K aesthetic, a private stage for fans to sing their favourite K-pop tracks and an in-suite hot food station with Korean classics like ramyeon and tteokbokki. Booking.com has also partnered with K-pop sensation KANGDANIEL to offer autographed albums and personalised recorded content by the star. According to a press release, KANGDANIEL says, "I'm thrilled to join forces with Booking.com to bring K-pop fans an experience they will never forget. Together, we'll showcase the very best of K-pop and all the incredible things Seoul has to offer. Travelling brings me pure happiness and a whole new level of inspiration, and I can't wait to share that joy with my fans." Talking about the experience, Laura Houldsworth, Managing Director, Asia Pacific, Booking.com says, "Music and travel go hand in hand and K-pop is undoubtedly a big pull for travellers as part of South Korea's appeal. With our Ultimate K-pop Experience, we wanted to celebrate the amazing ways the Korean wave can inspire memorable and unique travel memories via its beloved food, local experiences and of course, K-pop." The stay also offers travellers an insight into how easy it is to explore cities through the booking portal, she adds.
Booking and other details
Bookings for the experience are open to K-pop fans across ages and begin on August 7, at 10:00 am KST (6:30 am IST) on Booking.com. The experience is priced at just USD 25.07 (INR 2,055) as a special nod to KANGDANIEL's debut on July 25, 2019 (ie 25.07.19).
Find out more here.
All currency conversions were done at the time of writing
Hero and featured image credit: Booking.com
Related: From Museums To Walking Tours: Things To Do In Seoul, South Korea, That Are Absolutely Free
Written By