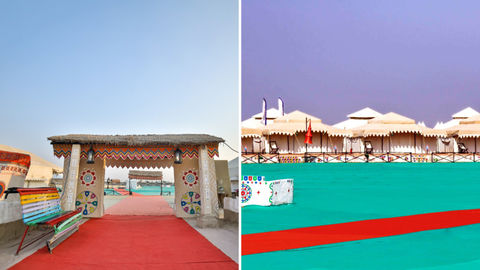 The Tent City Kutch in the White Rann of Kutch has decided to reopen its gates for visitors just two days before Diwali. By Tanvi Jain This Diwali, plan a trip to the state of Gujarat because the Tent City Kutch in the White Rann of Kutch is reopening its doors on November 12.
Spread across an area of 7,500 square kilometres, the White Rann is one of the largest salt deserts in the world. "The Tent City-Kutch is spread over five lakh square metres and will open for guests from November 12 to February 28. It comprises of more than 350 tents, which have been set up at Dhordo village near the White Rann," said Bhavik Sheth, Finance and Operation Manager, Lallooji & Sons.
Around 35,000 guests receive first-hand experience of its hospitality every year, and the White Rann has over the years hosted over five lakh visitors from as many as 20 countries. Moreover, when here, besides witnessing the mesmerising sunset in the salt desert, you can also visit places such as the Kalo Dungar (Black Hill) and many lesser-explored historical monuments. You can also attend the folk dance and music programmes, or watch artisans at work, and buy unique handicrafts directly from them.
Furthermore, in light of the ongoing COVID-19 pandemic, the authorities have made sure to take all the required safety measures to ensure the safety of their guests. "New cleaning and disinfection procedures have been adopted, with an increased focus on common spaces such as vehicles, reception area, dining hall, haat area, adventure sports zone, and others. The entire staff has been trained in the COVID-19 protocols and has been asked to wear face masks and protective equipment at all times. The whole premises will be regularly sanitised. Measures have also been put to ensure social distancing. We have left no room for any error so that guests do not have any reason to be worried," Sheth added.
Now that sounds like a super plan for those of you who are dreading to spend Diwali at home this year.
Related: Exploring Shrujan: An NGO that Brought a Tiny Kutch Village to the Spotlight
Written By