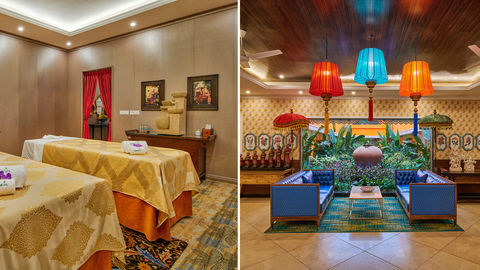 Offering a much-needed break from the daily grind in a serene setting, the spa at MAYFAIR Lake Resort is the last word on Balinese healing in Naya Raipur, Chattisgarh. By Kumar Shree
A dire need to go on a quick staycation is just starting to take over me when I receive an invitation to visit the MAYFAIR Lake Resort in Naya Raipur. My upcoming weekend starts to unfurl before me as a holistic healing experience as I know that wellness at the newly launched resort is taken just as seriously as its bespoke hospitality. A dedicated block housing two spa suites, the MAYFAIR Spa, and a library tucked in a parted segment of the property, are testament to this fact. The desire to rid my body off the daily grind is so intense that I head straight to the spa upon my arrival at the hotel. A step inside, and I am shipped to a wellness wonderland where everything, from the walkway to the vibrant exteriors, and most importantly, the vibe exude a feeling of calm and freshness put together. While the reception area has walls adorned with vibrant patterns of magenta, electric blue, peach, and beige with a backdrop of earthy tones of reds, yellows, and greens, the treatment rooms wear muted shades of brown, grey, and mud orange. The decor of the place is a playful mélange of soft and quirky!
After being inquired about my health status and preferences, I am advised a Balinese massage. On the menu it's described as "a traditional Indonesian massage with gentle stretches and acupressure to stimulate the flow of blood, oxygen, and qi (energy) around your body." As I lie on the treatment bed and close my eyes, the calming music immediately puts me to ease, and my therapist, Laosa, starts the treatment. Balinese massage involves a fine mix of different techniques like acupressure, long strokes, skin rolling, and gentle stretches—with aromatic almond oil. Laosa starts by dry- kneading my feet and continues with varying pressure across my body, naturally picking and spending time on my trouble-prone areas. It seems like he knows exactly which parts need relief from pain. As he continues the soothing kneading, I fall into a deep slumber.
When I wake up, my body feels healed, unified, and somehow, stronger than before. Indeed, Laosa, his Balinese massage, and the MAYFAIR Lake Resort have worked their charm.
Written By