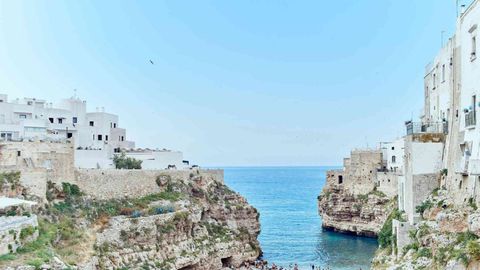 Hospitality can make all the difference in a travel experience, which is why Booking.com just revealed its list of Most Welcoming Cities on Earth for 2023. The top spot went to Italy's Adriatic coastal town of Polignano a Mare in the Puglia region, followed by Hualien City on Taiwan's east coast near the Taroko National Park.
"This year's Most Welcoming Places on Earth span five continents and feature hidden coastal gems, rural destinations surrounded by breathtaking natural beauty, and even a bustling Latin American metropolis," the online travel agency revealed in a statement sent to Travel + Leisure. "They have all been identified based on the share of accommodation partners receiving a Traveller Review Award 2023."
These are the most welcoming cities on Earth Also on the list are Spain's San Sebastián; Germany's Dresden; Lithuania's Klaipėda; the UK's York; Argentina's Ushuaia; Brazil's Porto De Galinhas; Mexico's Mexico City; and Australia's Gold Coast. "It's that personal attention to detail when checking in or sharing helpful recommendations to explore the destination like a local that demonstrates how our partners show up and shine for travellers in a multitude of ways each and every day," Arjan Dijk, SVP and chief marketing officer for Booking.com said, noting a record 1.36 million travel providers received its Traveller Review Award this year. In addition to just looking at cities, Booking.com also revealed the top 10 Most Welcoming Regions on Earth, with Spain's La Rioja earning the gold medal. Also on the list are Oberosterreich, Austria; Marlborough, New Zealand; Newfoundland & Labrador, Canada; and North Dakota.
Find the full list of Most Welcoming Places on Earth, identifying welcoming regions based on how many hotels Booking.com spotlights for going above and beyond, here.
This story first appeared on www.travelandleisure.com
Main and Feature Image Credit: Courtesy of Booking.com
Related: 10 Best Places To Live In The World
Written By