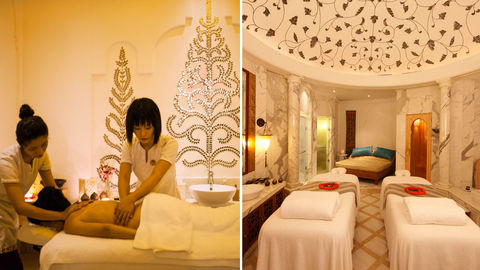 If an indulgent session of pampering is on your mind, look no further than The Imperial Spa and Salon in New Delhi. By Aindrila Mitra
It's one of those days when nothing goes the way you expect. I am stressed, exasperated, and need some serious 'me' time to deal with the anomalies that life throws your way. Fortunately, I have an appointment at The Imperial Spa and Salon, New Delhi for an afternoon session, and in hindsight, it'd turn out to be the best decision of the day! The uber-luxurious spa at The Imperial, a stately five-star hotel in the heart of the capital, is only meant for in-house guests. But thanks to friends from the fraternity, I am allowed an exception. I segue through the magnificent corridors and the lush gardens to find myself nestled in a cocoon of peace and tranquillity. The architecture of the spa, with influences of Mughal and Indian motifs, interestingly makes you feel like you're in a royal chamber. And with all the pampering the amiable staff members extend, you can't help but feel like a princess. I'm welcomed by Jacqualine Tara Herron, director of the spa, and after a brief consultation that identifies my very high cortisol levels, I'm recommended the signature Imperial Balance treatment—comprising a 30-minute scrub, followed by a 60-minute Sufi body massage. She also adds the O2 Awakening Facial, meant for frequent flyers and smokers, to the mix. I'm thoroughly impressed by Tara's accurate prognosis and head for my session right away. After a quick round of steam and sauna, I'm guided to the massage room, where Sandhya, my masseuse, welcomes me with a warm smile. I'm asked to choose the blend of Sufi oil (a 100 per cent pure essential oil made with a therapeutic blend of Moroccan, Argan, Jojoba, sweet almond and carrot seed base oils) for my massage. I opt for the Jaipur blend—it's supposed to help you relax and rejuvenate. Sandhya starts with a full body scrub with Himalayan pink salt. I can feel my dead skin peel off, and whilst I take a quick shower, she preps for the 60-minute body massage. Sandhya is adept with her massage techniques; she knows just the right spots to concentrate on and applies the perfect pressure to help detangle my knots. My shoulders feel a little stiff, and so she focuses her energy on those areas, as well as on my lower back. The aromatic fragrance of the Sufi oil adds to the calming effect, and I soon find myself dozing off, only to wake up at the sound of the manjira when the massage is done. I feel refreshed, stress-free and relaxed. Sandhya recommends to not wash off the oil, and since its texture isn't greasy, I abide. After a round of ginger tea, I head for my facial. Natura Bisse's result-driven skincare products, made of pure oxygen-enriched formulations to revive overworked, dehydrated and tired skin, are used for this 60-minute ritual that starts with a cleansing process. This is followed by the removal of blackheads, and then an effective facial massage. Once the treatment is over, I can feel my skin heaving a sigh of relief. I look at the mirror, and my face looks moisturised, fresh and almost glowing.
I saunter my way to the reception to get dressed for a party later that night, feeling refreshed, re-energised and beautiful!
Related: Spa Of The Month: The Imperial Spa, Salon, Health & Racquet Club
Written By