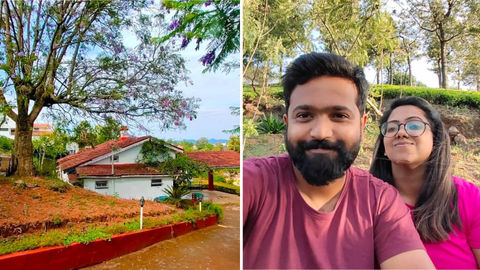 An engineer turned artist, 31-year-old Prajwal Acharya talks about how he and his wife, 28-year-old Vidhya Shree, traded their city life in Bengaluru for a quiet one in Coonoor, a quaint town nestled in the Nilgiri mountains of Tamil Nadu. The couple today run the Birdhouse Backpackers hostel. By Kasturi Das Tell us a bit about yourselves.
I am Prajwal Acharya. My wife Vidhya Shree and I are an artist couple from Bengaluru; we shifted to Coonoor to pursue our dreams. I have quit my full-time job to follow my passion. I am an engineer-turned-full-time artist and Vidhya is an art teacher. She has graduated in fine arts from the Karnataka Chitrakala Parishath, Bengaluru. And she has been teaching art in schools for the past seven years. A year ago we started our dream venture in Coonoor — a little hostel for travellers. What made you decide to move from Bengaluru to the mountains?
We didn't quite plan to settle in the mountains. We both needed a break from the fast-paced city life. In 2015, I quit my engineering job and started to work as a freelance artist. Vidhya had started her teaching career around the same time too. Just when we got into a relationship in 2016, she got a job offer in Coonoor as an art teacher, and she accepted it. We continued our long-distance relationship and I used to ride all the way to meet her during the weekends. We travelled a lot together and started to fall in love with each other, and with Coonoor. Without much future planning, we decided to get married in 2017 and settle down here. All we knew is that the mountains made us happy. We wanted to start a venture in Coonoor ever since we moved here; something fun and related to art and travel. During our travels, Vidhya and I would mostly stay in hostels, and we loved the experience. That's when we realised, there was no standalone hostel property in Coonoor, and we decided to set up one here. We had no savings or funds for this but we had friends who were excited to invest. We had no clue where to even start from as none of us had any experience of setting up a business! Making money wasn't the priority; we wanted to start something new and artsy, and help travellers have a great experience. It took us more than a year to find the perfect property. We had almost given up and then we came across a colonial bungalow that was more than 90 years old. It took us about three months to renovate it and bring it close to what we had envisioned. We wanted to handcraft most of the stuff and do everything on our own. We refrained from buying things and most of the decor and furniture in the hostel has been made from upcycled junk. We also received a lot of support from the local people, which was heartwarming. We retained the caretaker/cook, Lily aunty, who has been taking care of the property for almost a decade now. She is a sweet person and cooks delicious south Indian food.
The experience so far has been great. We can't wait for things to get back to normal and meet travellers, and share stories over a walk, or around a bonfire under the stars.
How has your lockdown been?
It was rough in the beginning since we had to shut down the hostel, and it wasn't even a year since we started it. We were getting great reviews and people were loving their stays. We eventually came around to accepting that it is a pandemic and we cannot do much about it. So we started to focus more on art. I have been creating more artwork than ever. We realised that the only way of getting through this positively is by staying calm and using the time to learn and get better at what we do. What are some of the must-see places in Coonoor?
The best way to explore Coonoor is by walking or cycling. Everything is under a 10-kilometre radius. Most of the treks in Nilgiris have been closed after major forest fire incidents in the past. We have Tiger Hills, which is just a kilometre from the hostel. It is best for a short stroll in the morning, or to catch a beautiful sunset. For a good part of the year, the hills are covered with mist and clouds which makes it dreamy and surreal. The toy train journey is totally worth it — but not during the peak season. The Coonoor-Mettupalayam route is wonderful and much better than the Ooty route. If you are a biker, then there are amazing routes to explore, like Kotagiri to Kundha, Selas, Chamaraj tea estate, Kodanadu, and many more. There are a few waterfalls as well which require short hikes. The best way to explore any place is through its people, the local culture, and the local food. There are tribal communities in the Nilgiris that one can visit, but you will need permission from the authorities to meet and spend time with them.
Related: Get Lost In The Old-World Charm Of Coonoor's Food And Guesthouses
Written By