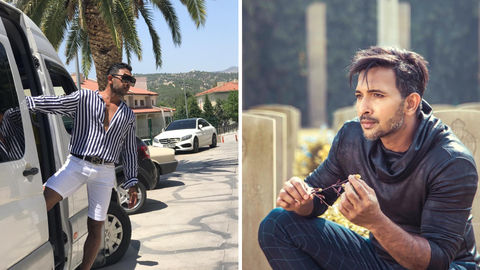 He introduced India to contemporary dance, and here we introduce him to you. Talking about his travel experiences, influences, and more, dancer and ace choreographer Terence Lewis shows us a glimpse into his creative mindset. By Bayar Jain
1. As an artist, you've had to travel the world for several performances. Which has been your favourite country and why?
Being an artist I understand international festival markets and I get the freedom to explore new places. I seek inspiration from immersing in a new city. When I travel, I want to show the world how diverse India is and how our country has so much more to offer that is beyond Bollywood. To me, India is also a land of spirituality and sensuality. Through my dance and art, I can show them this side of India that they do not know! When it comes to my favourite cities where I have performed, I would say Vienna, Paris, and Cairo. It was a privilege to perform there. The fact that I was officially invited by their government made it even more special. It gave me a chance to represent India in a unique way.
2. You've spent a lot of time training at the Alvin Ailey School of Dance and Broadway Dance Centre in New York. Can you recommend a few hidden gems of the city?
New York is a melting pot of all cultures. The fact that art and artists are revered here makes the city feel like home. The best part of New York is that it allows you to be who you are with dignity. After travelling to other US cities extensively, I have to say New York is a country of its own. It has a boulevard full of famous theatres. Broadway is New York's most famous avenue. Visit the streets oblique to 36th to 60th to experience great theatre. If you're inclined towards art, there are so many must-visit places. There are museums of every kind! Definitely, visit the MET (The Metropolitan Museum of Art).
The nightlife in New York is the best in the world, and you're sure to find some really cool restaurants in the Meatpacking District (Lower East Manhattan). During my time in 1999-2000, this was the cheapest place for any artist to stay, as opposed to upper and central Manhattan. Wherever the artist lives, the world flocks there to soak in their vibe! Long Island is great if you want to go boating around the city for a quick getaway. Of course, there is the Statue of Liberty, Central Park, and other usual touristy places. But the best way to get around is through the eyes of a New Yorker. If you know a local dancer, musician, or artist, then you'll see how lit New York is. There's always some show going on. You will find some crazy art exposition or installation even at 4:00 am.
That's New York for you—the city that never sleeps!
3. Being a true-blue Mumbaikar, what do you love the most about this city?
Mumbai throbs with life. It has an adrenaline rush that can sometimes be unnerving. I love that this city has a life. Like New York, it's a city of dreams and a city that never sleeps. Most importantly, it's safe for girls and no one judges you if you don't have a big car or fancy labels. Unlike other cities, public transport doesn't cheat on you and you will always find your way home. It's a highly professional city. When I work outside Mumbai, I'm on tenterhooks because of the lackadaisical chalta hai attitude. You're promised one thing and you get another!
4. Which city, Indian and international, do you think has inspired your art the most?
Mumbai itself is a conundrum. It's in constant contradiction. The organised and disorganised chaos here has taught me a lot. Goa has a beautiful landscape that gives me a sense of space. The Khajuraho temple and the Ajanta-Ellora caves are simply beautiful. They give depth and dimension to music, art and culture. I was overwhelmed when I visited Bhubaneshwar's Konark Sun temple – I've never seen anything more spectacular!
Internationally, Greece, Croatia, Southern France, Italy, Spain and Portugal have a great vibe.
5. Choreographing, dancing and touring for performances can get very taxing. How do you de-stress?
By doing nothing! My work life is hectic and it requires a lot of my physical and mental space — so for me, silence is mandatory. When I finally get home, I need total silence, nice soothing music and great books. This helps me de-stress.
6. While judging reality shows, you've interacted with people from all over the nation. Strictly based on dancing, which city do you think has the most talented people?
It always comes from the hinterlands. Great talent also comes from North East India. It's astounding since they have no access to any kind of training, and yet they blow your mind with their talent. The energy in the East is more feminine, and they understand fine arts beautifully. Unlike sports, art isn't about ambition and aggression — it's about finding connections and expressing oneself without words or language. I'd say central and eastern rural India rock for me!
7. When packing for a vacation, what are five things you cannot leave without?
My phone with the Kindle app, a portable charger, airpods, swimming trunks, and a good pair of walking or hiking sports shoes.
8. What do you miss the most while on international tours?
Usually, people miss good Indian food but that' not me. I miss the warmth in people. It's rare to find this abroad, especially in colder places.
9. Describe your ideal vacation.
I'm a workaholic. Even when I'm away, my responsibilities never let me get a clean break. I'm the go-to person for all the decisions in my company, so I'm constantly on the phone. Ideally, I would like a vacation where I can let go all that responsibility. A vacation where time stands still, and I can experience something spiritual. This happened when I was in Ladakh. I felt that nirvana moment when I was travelling down the mountain range. All the facades of my persona and personality dropped, and I was one with the universe. Even lost track of time and space. It was magical!
10. Your dream destination to perform?
I would like to perform at Broadway (New York), Radio Hall, Westend, O2 Arena, or even Royale Albert Hall in London. Closer home, I would definitely love to perform at Khajuraho, Konark Sun Temple, Red Fort, Taj Mahal and the Ajanta Ellora Caves. Even beachfront destinations like Hawaii, Bali, Ko Samui and the Philippines!
11. Solo or group – your preferred vacation style?
Being a wanderlust and a vagabond, I love to go with friends, but then I need alone time to meet people of that culture. When you're in a group, you tend to not explore native people, and in turn, miss out on the local vibe!
12. Any travel advice you would like to give to budding dancers and choreographers?
Travel is a great source of inspiration for art. It's important to explore, observe, and embrace culture and art. Go to museums, learn about the history of places, people, and architecture. Watch and support live theatre performance. If possible, meet artists of different fields by hanging around after the performance in bars. Try striking a conversation because that will greatly influence your own art and creativity. Although I am very social and outgoing, I prefer to be alone after interacting with people to reflect and understand the meaning of life and to reflect upon the lessons I can take from those encounters.
Related: In Conversation With Celebrity Trainer And Pilates Expert Namrata Purohit
Written By