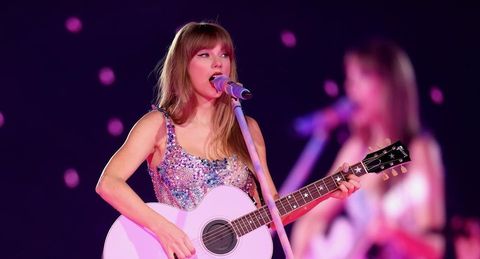 Taylor Swift must've heard about the commotion that Coldplay was causing here, because not long after the band announced their sixth concert date at the National Stadium, the American singer-songwriter has first announced that she too will perform in Singapore in 2024 for three nights on 2, 3, and 4 March as part of her The Eras Tour. If you didn't manage to get your tickets then, good news because like Coldplay, she has also announced an extra three dates in Singapore, on 7, 8, and 9 March 2024.
If this isn't fantastic news for Swifties here, we don't know what is. Her concert in Singapore will be only one of two stops in Asia, the other being Tokyo. It's been a hot minute since she was last here too; her last stopover in the Lion City was in 2015, as part of her The 1989 World Tour.
EXCUSE ME HI I HAVE SOMETHING TO SAY 🙋‍♀️ I can't wait to see so many of you on The Eras Tour next year at these new international dates! Visit https://t.co/EYBevxhQzH for more information on your registrations, pre-sales and on-sales!! pic.twitter.com/G8zx8QUUAV

— Taylor Swift (@taylorswift13) June 20, 2023
Other new destinations announced include Melbourne, and Sydney in Australia, as well as London, Milan, and Amsterdam in Europe.
In Asia, Taylor Swift will head to Tokyo, Japan from 7 – 10 February 2024, before stopping in Singapore, where she will no doubt perform to a very packed stadium in March, with special guest Sabrina Carpenter. The multi-award-winning singer-songwriter has had an amazing tour around the US so far, performing despite heavy rain on a few occasions. The singer's keyboard even reportedly started playing notes on its own during Red (Taylor's Version) after being damaged in the rain on Saturday in Massachusetts. The Eras Tour was designed to be a recap of all ten of Swift's studio albums, presenting each as well, an era with its own sets, costumes, and energy, so expect lots of new songs and old.
Taylor Swift The Eras Tour in Singapore 2024 – tickets, prices, and more details Seating plans haven't been announced yet, but if the Coldplay concert in Singapore is anything to go by, buying tickets will likely be as frustrating. Here's how you can score yours (and may the odds be ever in your favour).
Taylor Swift | The Eras Tour Fan Registration for General On-Sale:
Friday, June 23 at 12PM (SGT) to Wednesday, June 28 at 12PM (SGT) – Register here
UOB Cardmembers Presale:
Wednesday, July 5 at 12PM (SGT) to Friday, July 7 at 9AM (SGT)
General On-Sale:
Starts from Friday, July 7 at 12PM (SGT)
Tickets will be priced from SGD 108 onwards, with VIP packages available for hardcore Swifties.
Book your stay at The Capitol Kempinski Hotel Singapore via Agoda.com
Book your stay at The Capitol Kempinski Hotel Singapore via Booking.com
(Hero and featured image credit: @taylorswift/Instagram)
This story first appeared here
Related: Book A Flight For These Concerts In Southeast Asia Happening In The Second-Half Of 2023
Written By