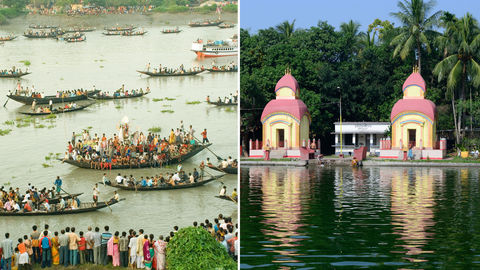 Located on the banks of the Ichamati river, Taki is a 70 km long, 2-hour drive away from Kolkata. This town was a popular seat of rich Zamindars, and has now become a budding weekend getaway for tourists. By Ishani Singh
Taki in West Bengal is the perfect weekend getaway
Taki is rich in heritage and natural reserves. A number of disrepair 'zamindar baris' or the palatial buildings of the wealthy landlords can be spotted in the town, the most famous being General Shankar Roychowdhury's adi bari. Also, the spot of the oldest Ramkrishna Mission, it is home to a 250-year old Government High School and a mini Sunderban consisting of the Sundari and Golpata species of trees.
On the religious front, the 300-year-old Jora Shiv Mandir and the Kuleshwari Kali temple are renowned spots of worship. Another tourist attraction in the region is the 129- acre Machranga island, which can be visited by boarding a ferry from the banks of the Ichamati river, known for the Golpatar Jungle and its canopy path walk. Since this is an international border, guests must carry their photo ID, which has to be shown to the BSF (Border Security Force) officers while entering the area.
The most popular delicacies of the region are 'Patali Gur' (jaggery) and the 'Chanar Malpua', a pancake-style dessert and 'Chingri' (prawns). You can also purchase the 'Gamcha', a type of thin, coarse, traditional cotton towel, which is both economical and made of good quality.
During the auspicious festival of Dussehra, visitors can witness the Durga immersion ceremony where people from both India and Bangladesh flock together to watch the idol of the Hindu goddess Durga being submerged in water.
In order to reach Taki, travellers can rent a car from Kolkata or catch a local train from Sealdah Railway Station and get down at Taki Road Station from where, vans are available to take you to the main city. Bus services to the town are also available from Esplanade. The exciting van rides charge a meagre INR 25-30 per head for a two-hour ride to give a full-fledged tour of the city. For a comfortable stay option, you can book a spacious 'Bagan Bari' or farmhouse which is equipped with open ponds, ancient rooms, open lawns, and other modern amenities.
Related: Here's Why You Need To Visit West Bengal's Favourite Hill Station Darjeeling In Winters
Written By