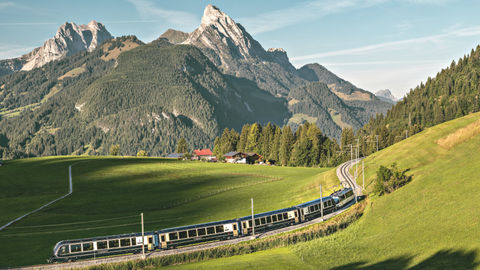 The tennis legend and the popular comedian embark on a train journey to discover stunning locales of Switzerland. Tag along with them and plan a trip to the alpine country.
Switzerland with its majestic mountain ranges and picturesque villages is one of the prettiest countries in the world and it also happens to be Swiss legend Roger Federer's homeland. Having promoted Switzerland in the past with Hollywood icons Anne Hathaway and Robert De Niro, Federer joins forces with comedian Trevor Noah this time. In a recently released commercial titled "The Grand Train Tour of Switzerland: The Ride of a Lifetime," by Switzerland Tourism , Federer and Noah board the Grand Train and embark on a journey to some breathtakingly beautiful locations.
In a comedy of errors, the 20-time Grand Slam champion and Noah board the wrong train to Interlaken while filming a commercial. In an unexpected turn of events the two end up discovering the scenic routes of Switzerland on The Grand Train Tour of Switzerland, all on board the country's famous rail network.
Plan Your Swiss Adventure Anywhere you go in Switzerland, you will come across snow-capped mountains, rolling green meadows, fairy-tale castles, and gorgeous blue lakes. So, take cues from Federer and Noah and plan your Swiss getaway this summer. And the best part is that you can easily explore the beautiful region on The Grand Train Tour of Switzerland with a Swiss Travel Pass, an all-in-one ticket to explore Switzerland from end-to-end and on-board the best of Swiss transportation by bus, boat or train.
Travellers can opt for a 3, 4, 6, 8 or 15 consecutive-day passes for unlimited travel by train, bus or boat to more than 90 cities and towns, free admission to more than 500 museums and with seat reservations, unlimited travel on premium panoramic trains including the Glacier Express, Bernina Express and Golden Pass Express.
Why You Should Take The Grand Train of Switzerland If you like your vacations to be hassle-free and want to pack in the most at one go, then the Grand Train Tour of Switzerland is your most apt answer. Picture all the highlights and scenic sites in Switzerland–there are 11 large lakes, 5 UNESCO World Heritage Sites and 1,280 kilometres of magnificent view to be savoured, and information available in four different languages! iThe Grand Train Tour of Switzerland merges the most panoramic lines into one unique route.
There is no prescribed direction or duration. You can hop on and off wherever you please. Whether at Zermatt or St. Moritz, in the Canton of Ticino or the Lavaux, at the Rhine Falls or Lake Lucerne. And best of all: You can experience the entire tour with only one single ticket – the Swiss Travel Pass.
What's more, travellers can design their own unique itinerary along the train route to travel at their own pace. One can also choose from a variety of pre-designed itineraries, such as the 8-day 'Original Tour', which is set across 10 different destinations like Zurich, Lucerne, Interlaken, Zermatt, St. Moritz, Lugano and other postcard perfect locations!
Starting and ending in Zurich, the Grand Train Tour of Switzerland will take travellers from alpine landscapes, Mediterranean beaches and the idyllic countryside to UNESCO World Heritage Sites, cosmopolitan cities and thrilling mountain escapades. Noah sums up the scenic journey aboard the train when he says in the commercial: "We're never on the wrong train. This has been amazing man. Can I just say – This has been phenomenal." And Federer replies with: "I'm happy we're on the wrong train." The video ends with the duo trying to pull off another escape from the film crew as they attempt to board a different train to Lucerne.
So if you're waiting to get mesmerised by the best of Swiss sounds and sites, then you know just what to book!
Related : The Ultimate Alpine Escape: A Journey To Zermatt In Switzerland
Written By