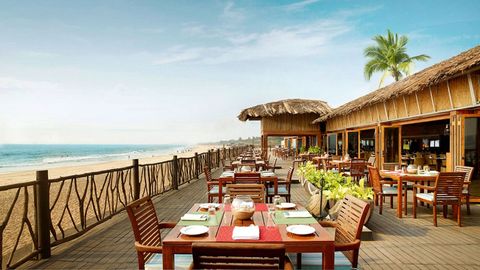 As travel picks up within the country, brands are re-envisioning their propositions. I arrived at the Taj Fort Resort Goa to see what's new and what remains unchanged. By Ananya Bahl
For someone living in Mumbai, Goa is always a great idea. The quintessential short-haul vacation spot beckoned to me last month as the fog around travel seemed to be clearing. But the clouds of worry were still steadfast. I was to take a flight from Mumbai to Goa. After months spent at home, the thought of sharing a confined space with strangers, whose travel and health histories I was unaware of, made me squirm in my seat. Vistara ensured I didn't literally squirm in my seat, though. The airline provides a safety kit comprising a face shield, sanitiser, and face mask to all its passengers. With the promise of intensified aircraft sanitisation procedures at every turnaround and deep cleaning every 24 hours, I was assured of a clean cabin. The airline employs in-built air filtration systems (HEPA) on all its aircraft, mixing 50 per cent outside air with 50 per cent filtered, recirculated air to eliminate 99.99 per cent of dust particles, moisture, viruses, and bacteria. The meals, too, have been re-envisioned for the post-pandemic era. Pre-packaged food and drink form the crux of gastronomy on board. On my onward flight, I was seated in their Premium Economy cabin and was served a lentil salad, roast chicken sandwich, multigrain cookies, and juice. On the journey back, seated in the Business Class cabin, I was regaled with a Russian salad, grilled chicken, and a decadently gooey chocolate cake. My abode for the next few days was Taj Fort Aguada Resort and Spa, Goa. Thorough sanitisation was the order of the day as well-trained staff handled my luggage and check-in formalities. I was led to my premium suite with a spell-binding sit-out overlooking the fort's bastion. A gorgeous sun hat and a Biotique travel safety kit waited for me on the bed as I jumped in for a short snooze—before gushing at the view of Sinquerim Beach, a sight for lockdown-sore eyes.
A large portion of my Goa trips has traditionally been about food. It's safe to say that my first culinary tryst on this trip more than gratified my longing for Goan food. The seafood thali at the hotel's Morisco restaurant meant pleasant fishy business. Semolina-crusted kingfish and prawn, crab in xec xec curry, prawns in Goan curry, dried prawn kismoor, and red and plain rice made up the delectable ensemble. While food is the way to my heart, an indulgent spa session is the gateway to my soul. So, I decided to sample a treatment at Taj's iconic Jiva Spa. This is a facility enjoyed jointly by the guests at Taj Fort Aguada Resort & Spa, Goa and Taj Holiday Village Resort & Spa, Goa. After months of physical distancing, I was keen to see how the spa had adapted to the new normal. I was offered sanitiser upon arrival and then escorted to a seating area away from the other guests. After scanning the spa menu, I settled on the 90-minute Vishram therapy, to give in to the charms of Indian aromatherapy. Akani, my therapist, had sanitised the room before my arrival. In less than 24 hours, all the questions that had plagued my mind before the flight seemed to dissipate. I was then escorted to the steam room, which only one guest is permitted to enjoy at a time. Dinner was a combination of feni-based cocktails and seafood grills, prawn balchao, and Goan curry on the seafront lawns by the SFX bar. Guests who stay at Taj Fort Aguada Resort & Spa, Goa or Taj Holiday Village Resort & Spa, Goa can avail of the facilities and food and beverage outlets at both properties during their stay. So, I headed to Caravela at the Taj Holiday Village Resort & Spa, Goa for breakfast. Physically distanced, with hotel staff serving from behind counters, it was a breezy affair brimming with eggs benedict, bacon, pancakes, fruits, and the prized Goan choris pao. The rest of the day was spent on a Goan odyssey curated by Derek, the guest relations manager for both properties. We visited Fontainhas (Goa's Latin Quarter) and the historic Figueiredo Mansion in Loutolim, and shopped in Panjim. All that exploration warranted a magnificent dinner, so we indulged in a Thai extravaganza at the Taj Holiday Village Resort & Spa's Banyan Tree restaurant. Chicken satay, fiery lobster, tom yum soup, and stir-fried lamb were paired with wines in this multi-course feast. On the day of my check-out, after a rejuvenating yoga session with the inhouse expert, I headed uphill to see Taj Fort Aguada Resort & Spa's Hermitage Villas, which have housed famous personalities and politicians over the years during important summits and conclaves. As I walked along the villa gardens and looked at the sea sprawled out below, I wondered how anyone got any work done in this mecca of susegad. GETTING THERE
Vistara operates 11 weekly flights from New Delhi and Mumbai to Goa, and vice versa. This number is slated to increase from December 1.
STAY
As Goa's first luxury hotel, Taj Fort Aguada Resort & Spa, Goa leverages a history of indulgence, regaling guests with seafront rooms, charming elegance, and nouvelle cuisine. From INR 18,700 a night.
The quintessential Goan beach resort, replete with Indo-Portuguese architecture, Taj Holiday Village Resort & Spa, Goa offers the charms of Sinquerim Beach on one side and terracotta-roofed suites and cottages ensconced in a verdant landscape on the other. From INR 27,000 a night.
Related: The New Normal: A Quiet & Isolated Post-Lockdown Holiday In Goa
Written By