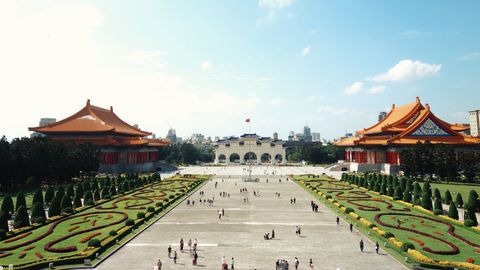 In a bid to boost the economy, Taiwan is set to provide 5,00,000 tourists with cash or discount incentives this year. The offers will be up to TWD 5,000 (INR 13,656, at the time of writing) each.
The offers were announced on February 23 as part of a larger TWD 5.3 billion (INR 1,436 Crores approx) package, which has been launched to attract more international tourists. After removing COVID-19-related curbs in 2022, Taiwan has been looking for ways to boost its economy, and these incentives are part of an initiative to give the country's post-pandemic travel industry a push.
All you need to know about the new Taiwan travel offers At a press briefing, Lin Fu-shan, department director of the Ministry of Transportation and Communications, said, "We hope to accelerate and expand efforts for international tourists to come to Taiwan." The spending plan also includes a proposal to offer travel agencies TWD 10,000 (INR 27,096) each for groups of at least eight tourists, and TWD 20,000 (INR 54,192, approx) each for groups of at least 15 tourists, media reports add.
The tourism offerings are part of the TWD 380 billion (INR 1,02,953.1 Crore approx) stimulus package that was approved via a special act this week. However, lawmakers still need to sign off on where exactly the funds will be used.
A lot of the details about these new offers are not available, including eligibility criteria and how the 5,00,000 tourists will be selected. However, officials said in a statement that the money may be handed out electronically or in the form of discounts on accommodation, reports state.
Why the offer is an important step to increase economic growth in Taiwan
According to Taiwan's tourism bureau, tourism contributed to almost four per cent of the country's GDP before the pandemic, but as borders closed, travel came to an almost standstill. This worsened with China banning individual tourists from visiting Taiwan in 2019. In January, when China allowed its citizens to travel abroad, Taiwan was left off the list of 20 destinations permitted for Chinese travel groups, reports add.
Thus, Taiwan's campaign comes right in time when nations across the globe are releasing new offers to attract visitors. The 'Hello Hong Kong' campaign is aimed at giving out 5,00,000 air tickets (along with other perks), while Japan is offering work visas to attract long-term international residents. Vietnam's low-cost carrier, Vietjet, has been launching offers since 2022 to attract travellers, especially from India, to come and visit the country.
(Hero and Featured Image credit: Rovin Ferrer/Unsplash)
Related: 23 Best Destinations To Travel To In 2023
(All INR conversions done at the time of writing)
Related: Is There Any Truth To The Stories Of Grand Hyatt Taipei Being Haunted?
Written By