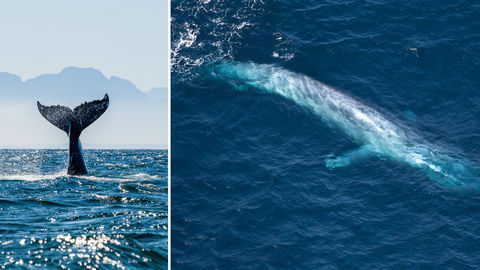 A Sydney-based photographer captured an image of a blue whale that is so rare that it has only been seen thrice in the last 100 years. Check out the stunning image below. By Amitha Ameen
Sydney-based photographer Sean was watching humpback whales off the coast of Sydney when this rare blue whale decided to show itself to the photographer. Thanks to the photographer's capture, the whole world can now see the image of the world's largest animal, the blue whale.
"I'm speechless but could blurt out a million things at the same time. To put their size into perspective; they grow to around 30 metres, their tongue weighs the same as an elephant & their heart is the size of a car," read Sean's caption under the Instagram post of the majestic creature.
View this post on Instagram
"We have unofficial records of blue whales near Sydney from observers at Cape Solander in 2002 and 2013 but this recent sighting is the first verified record of this species off our coast," said National Parks and Wildlife Service (NPWS') Andrew Marshall (as reported on NSW). Although large in size, blue whales can easily remain invisible even to the most avid whale watchers.
Sean in his caption added — "One of the great wonders of the magical ocean" — about the giant sea creature that may have weighed over 100 tonnes. Netizens were quick to shower their love on the post, with many users sharing their excitement of catching a glimpse of a once-in-a-lifetime sight.
Related: Central Sydney Shifts To 100% Renewable Energy And Here's What We Should Learn From…
Written By