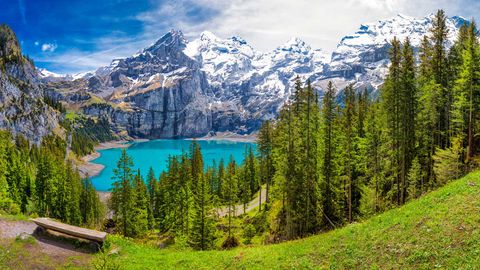 Switzerland tops the list of safest countries in the post-Corona world, as per a study published by Deep Knowledge Group. By Tanvi Jain
View this post on Instagram
In a recent study published by Deep Knowledge Group on the COVID-19 condition in 200 countries, Switzerland has been ranked as the safest country in the world, after managing to score a total 752 points after being analysed on 130 parameters.
While Germany emerged in the second position, Israel, Singapore, Japan, Austria, China, Australia, New Zealand and South Korea managed to make it to the top 10 list. However, India stood at 56th and USA at 58th position, respectively. Meanwhile, South Sudan with a score of 300, fell at the last i.e. at the 200th position with the worst COVID-19 situation, followed by Rwanda, Mali, Chad, Afghanistan, etc.
View this post on Instagram
"Switzerland now occupies the #1 position as the safest region according to the present analysis, in large part due to a continuing decline in its rate of infection spread and mortality, and key factors that put it in a better position to maintain a healthy post-pandemic economy," the report mentioned.
The country also recently announced its plans to reopen its borders to all EU/EFTA states and the United Kingdom as of June 15. Moreover, last month it had already confirmed to fully reopen borders with Austria, Germany and France on the aforementioned date.
View this post on Instagram
"The Federal Department of Justice and Police (FDJP) had announced in mid-May that the borders with Austria, Germany and France would be fully reopened on 15 June in agreement with the authorities of those countries. In view of the current epidemiological situation, it will also be possible to lift the existing entry restrictions applicable in respect of other EU/EFTA countries and the United Kingdom on 15 June," a government statement mentioned.
Related: #SomeGoodNews: Here Are 10 Countries That Are COVID-19 Free
Written By