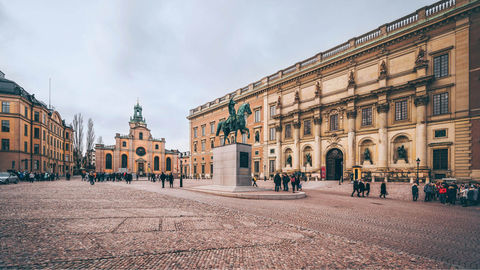 Editor's note: The global COVID-19 crisis has left each one of us deeply affected and we want to help. Burda Media India has organised a fundraising campaign to #FightBackWithTesting and donating RT-PCR test kits to the worst-affected areas in India, which will be secured from our testing partner Mylab Discovery Solutions. You can help these kits reach many more by donating for the cause or by adopting a kit. Click here to join the fight.
Unlike most of the developed world, Sweden has refrained from enforcing a lockdown and has given out recommendations to its citizens instead of orders. Only time will tell whether this polarising approach will lead to tragedy or revelation. By Emma Ehrenberg It's been a long time since we've seen it here in Sweden, but after months of cold, rain, and grey skies, the sun has finally come back to us. I live in Kirseberg, a small area on the outskirts of Malmö, Sweden. As the country's third-biggest city, Malmö is a vibrant town buzzing with life. But as I step out for my daily walk, hoping to soak up the sunlight, I expect the streets to be deserted, the shops to be empty, and the parks to be quiet. These are, after all, very unusual times. I'm proven wrong. In the playground of a local park, a group of children play nonchalantly with their teachers. On the verdant lawn, several groups of people enjoy picnics, music streaming out of portable speakers squatting on blankets. At the outdoor gym (where I've rarely seen anyone before), a few people are working out. On the trail that goes around the park, I meet several people who, just like I, have decided to take a stroll in the sunlight. Life doesn't feel so different, after all.
Since COVID-19 came to Sweden, the country has gotten a lot of international attention for responding to the crisis in a different way. Unlike other countries that have implemented new rules, including restrictions on physical interaction, Sweden's government has relied on giving out recommendations. Most schools and businesses, including pubs and restaurants, have been allowed to stay open (at the time of writing this article). Sweden has a long tradition of the government listening to experts like those at the Public Health Authority. After their due deliberations, the only things that have been legally forbidden are gatherings of more than 50 people and visiting retirement homes. Everything else is 'recommended', not 'legally enforced'.
Sweden's policy is, thus, based on each individual's own responsibility. The government tells us what they expect us, the citizens, not to do. We're advised to stay at home if we feel the tiniest bit under the weather, to work from home if possible, to keep physical distance from others, to not visit people over the age of 70, and to not make unnecessary trips. But we're not ordered to do so. Of course, not every Swedish citizen follows these recommendations. Some have travelled to other parts of the country (and thus risked putting a strain on the healthcare services in other regions). Some don't keep their distance in queues at the supermarket. Some restaurants have been warned against allowing too many people in their open-air sections. But the majority do follow the recommendations. In other words, the Swedish way has been for the authorities to trust its citizens and for the citizens to listen. It does feel good to have a government that has confidence in its people. And we, in turn, have changed our ways. During my walk in the park, the world felt pretty normal for a while. But I was repeatedly reminded of the crisis during the day. Public transport in Malmö is emptier than usual, and all cinemas and theatres have closed until further notice. People cancelled their Easter plans. Spring is usually a busy time for travel since many people journey to other parts of the country for a holiday. This Easter, however, travelling has taken a back seat. Reports show that the number of trips to popular skiing resorts in Sweden—common Easter holiday destinations—have come down by over 90 per cent. Outgoing visitors from Stockholm have decreased by approximately 70 per cent. In many ways, a pause button has been pushed.
But we've found ways to cope. I've had friends telling me about video-calling their loved ones during Easter dinner or barbequing outside in the forest with their ageing relatives, standing several metres away from one another. Instead of going to a cafe for a fi ka—the traditional Swedish way of interacting over a cup of coffee or cake—people bring their fika to a park instead. Sales have gone up at hardware and gardening stores since people have taken this opportunity to fix up their houses or tend to their gardens. We have also rediscovered nature. Sweden used to be a country that took pride in being a very outdoorsy nation, and some Swedes are indeed nature enthusiasts. But never before have I seen so many people out on forest trails!
Above all, there's a sense of solidarity in the air. A sense that we're all in this together. You can tell by the way people behave—they smile and greet each other more when passing by. Facebook groups have been created to help those in risk groups who can't leave their homes. Strangers offer them help in chores such as grocery shopping and walking their dogs. COVID-19 may be a horrible disease, but it has also brought out the best in people. We live in uncertain, if not scary, times. But the trust-based relationship between the Swedish government and its citizens has resulted in a semi-normal lifestyle. We can still move around but within our smaller communities. We can still meet people, but in smaller groups and at a distance. Even though trips, events, and cinema visits have been cancelled, many things remain. We still have the sun, the outdoors, and each other. And that will keep us going until we can go back to normal again.
Related: #SomeGoodNews: International Airlines To Resume Limited Operations Across Selected Destinations
Written By