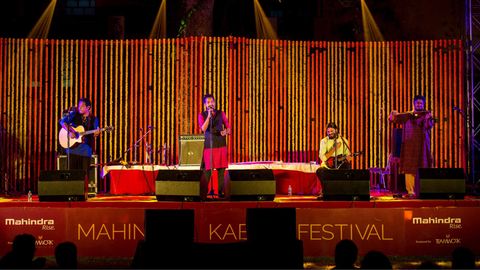 The historic ghats of Varanasi is all set to celebrate the 15th century poet Kabir at the 2022 edition of the Mahindra Kabira Festival from November 18 to 20. And this year, the green quotient will see an upward rise. By Sannidhyaa Basu Mallik
Varanasi sees a plethora of travellers thronging its streets every year — most of who are looking to get a glimpse of the city's historical and cultural past. Adding to this cultural charm is the annual Mahindra Kabira Festival, a celebration of the 15th century mystic poet and saint, Kabir. Back for its sixth edition, from November 18 to 20, this year's festival will come with an added green tinge, courtesy of newer sustainability measures.
Serenading Sustainability
Through purity of thought and deed, Mahindra Kabira Festival promotes the philosophy of a clean environment, preservation, and sustainability. The festival ensures sustainability every step of the way—from curation to execution. This includes sorting waste and eliminating the use of plastic.
Notably, the Mahindra Kabira Festival obtained a Platinum Level Green Event Certification from the University of Yale as a result of its ongoing sustainability endeavours during prior iterations. About 80 percent of the festival's waste has been reduced or diverted away from the local landfills in the past editions.
View this post on Instagram
Jay Shah, vice president and head – Cultural Outreach, Mahindra & Mahindra Ltd. says, "The sustainability initiatives undertaken by the Mahindra Group cover a wide spectrum. Through the Mahindra Kabira Festival, we intend to increase awareness about the environment, climate change, and the vitality of a greener tomorrow. The festival promotes the usage of sustainable products and employs environment friendly practices."
Mahindra Kabira Festival 2022 Turns Greener
The festival will introduce colour-coded trash cans (in blue and green) and garbage bags this year. The trash cans, once filled, will be moved to the waste sorting area. Any food scraps will be sent to composting or biogas plants while recyclables will be sent to recycling facilities. Only un-recyclable waste will be given to the neighbourhood municipality for disposal, while the recyclable products will be transferred to nearby NGOs.
View this post on Instagram
The festival has partnered with Skrap, a company that promotes environmental sustainability and aids in the adoption of zero-waste strategies, to run the entire process.
Related: Indian Festivals That Celebrate The Many Cultures In India
Written By