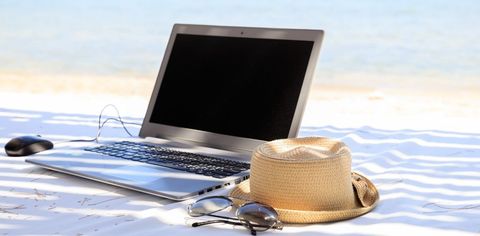 The Eagles were right when they told you not to let the sound of your own wheels drive you crazy. Slow down, take a break, and watch the waves lap the shore. Here are some super-cool gadgets to help you wind down. By Vaibhav Sharma
1. MUSIC PLAYER
SONY WALKMAN WS413 Water and electronics don't mix. That doesn't mean you can't listen to your favourite tunes while enjoying a quick swim. Sony's rugged Walkman headphones have 4GB space for music and 12 hours of battery juice; they can work in temperatures between -5°C and 45°C; and they're waterproof up to a depth of two metres (and they can survive seawater). INR 6,990
2. LAPTOP
MICROSOFT SURFACE LAPTOP GO Itching to complete that novel while staying by the sea? The Surface Laptop Go won't write it for you, but it'll definitely make the going easier. It's slim, ultra-light (around 1.1kg), and has sensible specs—a high-res touchscreen 12.4" PixelSense™ Display, a 10th Gen Intel Core i5 Processor, 8GB or 16GB RAM, and 128GB or 256GB SSD storage. From INR 71,999
3. SMARTWATCH
AMAZFIT GTR 2E This is not the fanciest device of its kind (no apps to download), but it's got an always-on OLED display, all the activity tracking you need (90 sports, including six automated), an SpO2 sensor, heart-rate sensor, sleep tracking, stress monitoring, and GPS. But what makes this a really sensible buy is its 24-day battery life, 50m water-resistance, and of course, the competitive pricing. INR 9,999 One of the most exciting things you can do on a beach vacation is go snorkelling or diving. Why not take your camera along? Of course, you'll need an underwater case. The AquaPac is certified to be waterproof for half an hour up to a depth of 10m. It won't work with large lenses and professional DSLRs, but most compact DSLRs with kit lenses should fit just fine. INR 6,999
5. POWERBANK, TRAVEL ROUTER, CARD READER
RAVPOWER FILEHUB This nifty little all-in-one device is tailor-made for folks on the go. It includes a 6,700mAh powerbank to charge your gadgets, a card reader to transfer all your vacation photos to portable hard disks (no laptop required), Wi-Fi backups from cameras, and even a dual-band router to transform your hotel room into a comfortable office. Did we mention it lets you stream media to TVs and other DLNA devices? INR 5,529; amazon.in
6. APP
WOLFRAM SUN EXPOSURE Stay safe on your beach vacation with this simple UV exposure app for iPhones and iPads. Features include a UV forecast, sunrise and sunset times, weather, and SPF level suggestions. There's also a time calculator that tells you just how much time you have in the sun before you need to keep that daiquiri down and go slather some sunscreen on yourself.
So, how many of these super-cool gadgets do you have?
Related: 2021's Must-Have Travel Gadgets. How Many Do You Have?
Written By