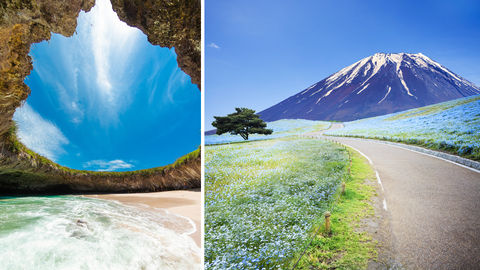 The idea that any place can remain hidden in the current age of digital connectivity seems unbelievable. Well, check out these unknown places to believe the possibility. By Quoyina Ghosh
Now is the age of globalisation. Everything is available to people in the tap of a finger. Everyone knows the global news and enjoys effortless connectivity. Every place is visible and easily reachable. Or is it? What if we were to tell you of some mystical lands still unknown to the vast majority? What would you do? Would you scrutinise your desk globe? Would you want to explore something truly unique? Would you gear up for the adventure? A piece of advice — start packing!
A place that is only available to man through a water corridor, this beach is visible through an aerial view, which shows the clear blue waters and the white sand in it. A delicate ecosystem also exists on this beach, which can be seen by kayaking and snorkelling about in it.
While parks usually have a variety of themes in Japan, the Hitachi Seaside Park is one that falls apart. It consists of meadows upon meadows of colourful gorgeous flowers. Be it fields of pale baby blue flowers or daffodils or tulips, you will find it all here in this unique park where colour explodes.
If unusual is what you're looking for, very few things trump a pink lake. Lake Hillier in Australia is a protected lake, which can be reached using only specific modes of transport. For all those who like their things pink, this is the place for you since this lake is known to remain pink all year long.
Just the idea of an oasis has an incredibly interesting ring to it. For anybody out there who wishes to experience what an oasis is, this is their golden ticket. Huacachina is a gorgeous oasis town bang in the middle of one of the most arid deserts in the world.
5) Psychedelic Salt Mines, Russia
The salt mines in Russia are known for the mind boggling psychedelic patterns on them. Definitely not a manmade wonder, this mine is created by carnallite, which makes the colourful psychedelic swirls in it. If salt mines that are distinctly psychedelic aren't on your go-to list, you should definitely include them just because of how truly unique and offbeat they are.
Related: Bir & Jibhi: Explore The Hidden Havens Of The Himalayas
Written By