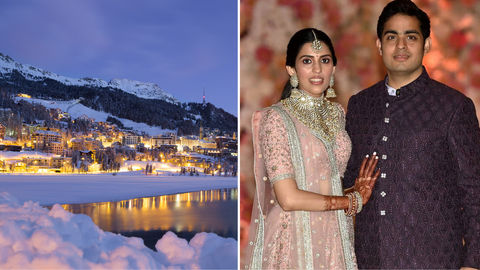 Akash Ambani is about to tie the knot with his childhood sweetheart Shloka Mehta, and the pre-wedding bash was in St. Moritz, Switzerland. Since St. Moritz is a winter wonderland, here are the top 5 things you should do when you are there. By Kumar Shree
1. Walk By The Lake St. Moritz
One of the best things to do in St. Moritz is to stroll around the glorious St. Moritz lake. The trail is of about 5 km and the time you take to cover it depends entirely on you. If you just decide to walk, it will take approximately an hour. If you halt to take those perfect Instagram-worthy shots of dark forest, and Alpine wildflowers around you, it might take even 2 hours or more. You can hire a standup paddle board or canoe and go on a self-guided tour of the lake. The lake surface is also used for polo in winters when the surface freezes.
2. Visit Piz Nair
You will need to take the funicular and then the cable car in order to reach this 3,000m peak to the west of St. Moritz. A 360-degree view of the Upper Engadin will greet you at the top. You can watch almost every lake and mountain in the Bernina Range. Sipping hot chocolate at the restaurant atop, where you are a mere 30m away from the summit is a surreal experience.
3. Ride the Bernina Express
St. Moritz is somewhere mid-way between Chur down to Tirano, and the train that connects the two is Bernina Express. Bernina Express' ride is touted as one of the most scenic train rides in the world. If you are already in St. Moritz, you can take a ride in either direction. However, we recommend taking the ride towards Tirano as the journey takes you through Bernina Pass. You will get to witness an ethereal view of the highest summit in Eastern Alps, Piz Bernina.
4. Diavolezza
It will take a combination of train and gondola ride for you to reach Diavolezza, which has an amazing mountain view. Dress warmly here as the summers here can be freezing. You will get to witness the frozen beauty of the Pers and Morteratsch Glaciers. If you want, you can hike over both the glaciers to reach the Morteratsch station. This hike or climb will be one of the most memorable you will ever take.
5. Olympic Bobrun
If you've ever watched the Winter Olympics and fascinate trying the bobsleigh, St. Moritz has the world's oldest track. The track is just a few metres short of 2 km and if you make advance bookings, you can take a high-speed, g-force heavy ride down in a sleigh. You will be accompanied by two pros, one sitting at the front and other at the back. As they operate the steering and brakes, they also cheer each other the way it's done in the Olympic run.
Related: Here's How To Get Your Adrenaline Fix In Switzerland The Way Ranveer Singh Did!
Written By