This July, we watched as Richard Branson and Jeff Bezos took to the skies in a giant leap for the space tourism industry, but their launches to the edge of space weren't timed particularly well. Against the backdrop of a global pandemic and climate emergency, two billionaires taking joy rides to space may not have been good optics, but don't underestimate what just happened — and how important it could be for the future of humanity. By Jamie Carter
With the first crewed launches of Virgin Galactic's supersonic space plane and Blue Origin's reusable rocket, a world of commercial space travel is taking its first step. Both companies plan to begin regular, scheduled trips for paying space tourists in the next few months, but their visions stretch back many years to the beginning of human spaceflight.
The Space Race: Then and Now
Bezos's Blue Origin chose an auspicious day to send its first crew to space. July 20, 2021, was exactly 52 years after Apollo 11 astronauts Neil Armstrong and Buzz Aldrin became the first humans to walk on the moon. But that wasn't the only major space travel anniversary celebrated this year.
April 12 was the 60th anniversary of Russian cosmonaut Yuri Gagarin becoming the first human to not only reach space, but also go into orbit around Earth. Meanwhile, May 5 saw the 60th anniversary of NASA's Freedom 7 mission, which launched Alan Shepard on a suborbital flight that lasted 15 minutes. He reached an altitude of 101 miles to become the first American in space before his capsule parachuted to splashdown in the ocean.
The name of Blue Origin's New Shepard launch system is no coincidence. Its mission profile is almost identical to America's inaugural 1961 spaceflight, save for billionaire-grade comfy seats and large windows. From Launch Site One near Van Horn in the West Texas desert, that rocket fires a capsule containing up to six people (but no pilot) into space, which then parachutes down 15 minutes later. Blue Origin expects to fly two more crewed flights this year, with many more planned for 2022.
The Virgin Galactic experience is different. Its supersonic rocket-powered spaceplane SpaceShipTwo VSS Unity seats six passengers and two highly-trained pilots. It takes off on a runway from Spaceport America near Truth or Consequences, New Mexico, while strapped to a mothership. At 52,000 feet, it detaches and burns its rocket engine for one minute to reach Mach 3 speeds and touch the edge of space. After a few minutes of weightlessness (and a chance for passengers to see the curvature of Earth against the blackness of space), it glides back to land on a runway. Virgin Galactic intends to fly more test flights in 2021, and in 2022, begin working through its roster of 650-plus signed-up, paid-for "future astronauts."
The Price for a Ticket to Space
These short trips are anticipated to cost between $250,000 (INR 1,83,99,000) and $500,000 (INR 3,67,98,000), but in January 2022, expect to see a truly out-of-this-world private trip to space with an even more astronomical price tag. It will come from the other, arguably much more important billionaire in the space tourism bubble: Elon Musk. Axiom Mission 1 will see his company, SpaceX, launch four private astronauts on behalf of Houston-based space tourism company Axiom Space. An American real estate investor, a Canadian investor, a former Israeli Air Force pilot, and an ex-Space Shuttle pilot will launch on an incredible orbital mission in its Crew Dragon spacecraft.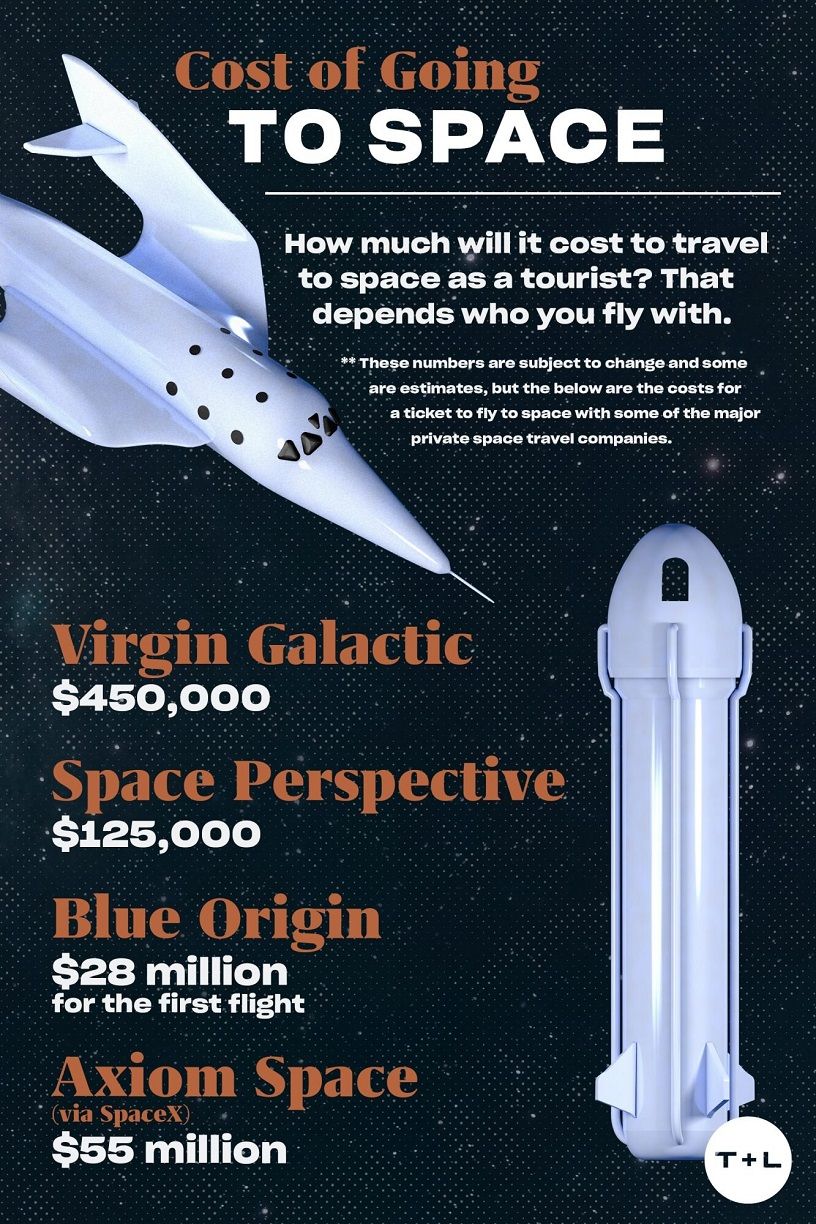 At $55 million (INR 4,04,84,95,000) per ticket, this is ultra-aspirational space tourism of the highest order. "The experience is drastically different because they will be launching on a SpaceX rocket and going to the International Space Station (ISS) for 10 days," says Christina Korp, cofounder of Space for a Better World. "They will be doing what real astronauts do, and I don't think it's an accident that Virgin Galactic and Blue Origin did their flights before Axiom's mission." Axiom Space intends to launch a private space station — the first "space hotel" — as early as 2024 to give space tourists somewhere to visit.
The Future of Space Tourism — and of Our Planet Branson and Bezos may have had the spotlight recently, but Musk is the billionaire to watch in space exploration. He talks of Mars colonies and humanity spreading out into the cosmos, but since 2012, SpaceX has made a lot of money from NASA contracts to launch supplies to the ISS. Last summer, it began ferrying NASA astronauts there, too. SpaceX's Starship — currently being tested — will land two NASA astronauts, the first woman and the next man, on the moon in 2024.
You see, space tourism is just a sideshow to a bigger and more worthy goal of saving the planet. Next year, Blue Origin plans to test its reusable New Glenn rocket — named after John Glenn, the first American to orbit the Earth in 1962 — which will be able to take cargo and astronauts into orbit. Bezos has said he thinks we need to go to space to save Earth, specifically by protecting the planet from pollution by moving heavy industry into space. That can only happen when space travel is safe, scheduled, and affordable. Space tourism will help create a competitive space economy, just as mass tourism has lowered the cost of flying.
Similarly, Branson's aim is to increase access to space. "We are at the vanguard of a new space age…Our mission is to make space more accessible to all," he said after his inaugural flight. A microgravity experiment was on board that first flight on July 11, with similar plans for all subsequent trips. Meanwhile, sister company Virgin Orbit's LauncherOne sends small satellites and science payloads into orbit via a small rocket launch from underneath the wing of a Boeing 747.
The scientific spin-offs for all of us down on Earth are currently unknown, but the space community has an incredible track record when it comes to innovation. "Clean energy as solar power is from the space program," says Korp. "Solar panels were invented to power satellites and refined to power spacecraft." Cue GPS, weather forecasting, telecommunications, and even internet access. There are also fleets of satellites large and small that observe how our planet is behaving and changing. "It's the space industry that's monitoring climate change, tracking hurricanes, and learning how to survive in the extreme environment of space — including experiments to grow food with almost no water, for example," says Korp. Every single space mission, including suborbital and even zero-gravity flights, have environmental experiments on board as default.
"This is not about escaping Earth," said Bezos after the flight. "The whole point is, this is the only good planet in the solar system and we have to take care of it." Bezos wants to scale up into affordable space travel. That will enable long-term, commercial projects that ultimately may help prevent further climate change or at least help us cope with its consequences.
However, Blue Origin, Virgin Galactic, and SpaceX won't be the only way to reach space. Russian space agency Roscosmos is expected to take "citizen space explorers" to the ISS soon, but the most affordable way to get "black sky time" maybe with Space Perspective, which will launch a pressurised capsule propelled by a high-performance space balloon.
The six-hour flight will cost around $125,000 (INR 92,01,125) per person and launch from Space Coast Spaceport in Florida in 2024. "Unlike short-lived, adrenaline-fueled moments of weightlessness, Space Perspective flights bring you space calm," says Jane Poynter, founder, co-CEO, and CXO of Space Perspective. The flights on Spaceship Neptune involve a gentle ascent at just 12 miles per hour for a six-hour tour of Earth's biosphere, culminating in a view of our beautiful planet from space.
Space tourism is here at last. Instagram had better get ready for "Earth selfies."