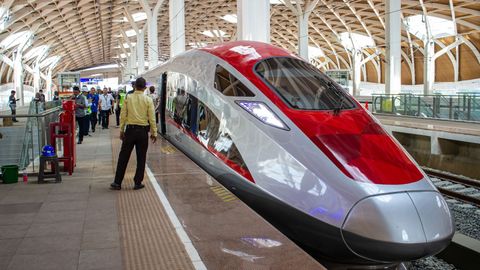 Bullet trains have arrived in Southeast Asia! Indonesia has just inaugurated WHOOSH, the region's first-ever high-speed train.
This bullet train will connect two of the country's largest cities, Jakarta and Bandung, significantly reducing travel time between these destinations to less than an hour.
Bullet train in Indonesia: speed, distance covered and other details
Naik kereta cepat WHOOSH menuju Stasiun Padalarang, Kabupaten Bandung Barat bersama Ibu Negara seusai peresmian Kereta Cepat Jakarta-Bandung, hari ini. pic.twitter.com/Yz3FtQ9p5m

— Joko Widodo (@jokowi) October 2, 2023
The project's cost amounted to approximately USD 7.3 million and is part of China's Belt and Road infrastructure initiative. The train's funding primarily comes from China's state-owned firms. According to a CNN report, the high-speed carrier was initially scheduled to launch on October 1 but was opened to the public on October 2 instead. A ceremony took place at the Halim Railway Station in Jakarta, attended by President Joko Widodo, First Lady Iriana, and several cabinet ministers.
Addressing the media, Indonesia's coordinating maritime and investment minister, Luhut Binsar Pandjaitan, said, "This achievement is the result of excellent teamwork from various parties, including the central government, local government, state-owned enterprises, private sectors, the public, and the Chinese government and its affiliated companies, all collaborating to complete this project."
The 138 km high-speed train, named WHOOSH (an acronym for "Waktu Hemat, Operasi Optimal, Sistem Hebat," meaning "time-saving, optimal operation, reliable system" in Indonesian), operates on electricity and produces no direct carbon emissions. All coaches are equipped with Wi-Fi and USB charging points. Furthermore, the train offers three classes: first, second, and VIP.
This Indonesian bullet train has a maximum speed of 350 km per hour and features eight coaches that can accommodate a total of 601 passengers, as reported by Nikkei Asia. According to media reports, travel on the train is free for passengers until mid-October, with ticket prices for post-mid-October travel yet to be disclosed. Additionally, a feeder train will connect with the carrier, facilitating faster commutes to central areas of Bandung, according to Nikkei Asia.
The train is also well-integrated with public transportation systems and is equipped with safety features designed to respond to earthquakes, floods, and other emergency situations, taking local climate and topography into account. There are also discussions about extending the train's route to Surabaya and introducing routes to cities such as Semarang and Yogyakarta, as mentioned in the CNN report.
Hero and Featured Image credit: Algi Febri Sugita/Shutterstock
Related: Indonesia Halts Visa-Free Entry For 159 Countries Including India
Written By