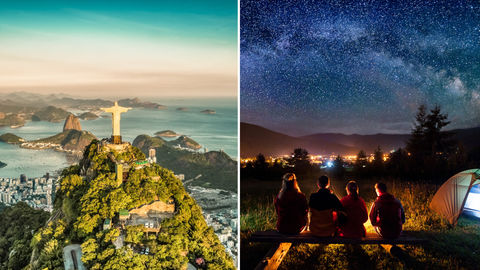 Itchy feet and wandering souls cannot be tied down to itineraries. The wind-whipped deserts, shadows of the Andes, the spectacular Patagonian landscape or the Bolivian plains — South America may not have garnered the reputation amongst campers but that doesn't say a thing about its potential. Motorhome, camping tent or driving your way through in a camper van — South America waits to embrace the free spirit in you. By Shubhanjana Das
1. Colombia
Colombia has been welcoming an increasing number of tourists as it takes steps to ensure their safety in the country. Four km east of Villavieja, the Observatorio Astronómico de la Tatacoa awaits in Tatacoa desert with a spectacular desert camping experience. After you set up your tent, wait for the sun to set and the rock formations to turn a mesmerising shade of pink. If you want to put up the tent on the coast, Tayrona National Park and the area around Palomino are good spots to the east of Cartagena.
2. Bolivia
If you choose to camp in Bolivia, you are unlikely to find many fellow campers. However, spots like Sorata, Samaipata, Coroico, and La Paz are some of the more popular ones. You may even consider camping on the grounds of out-of-town restaurants. At the bottom of the Yungas Road infamously called the Death Road of Bolivia, the Hostal Ecolodge Sol y Luna is a sub-tropical cloud forest whose stretches are spectacular in themselves. The campsite is just a three-hour drive from La Paz. Alternatively, if waking up to the views of a river valley appeals to you more, the Colibri Camping & Eco Lodge ground is just half an hour from La Paz and close to the Moon Valley as well.
3. Peru
When in Peru, camp near the colonial city of Cusco, the capital of the Inca Empire. Quinta Lala is a good option for your base to explore the region, including the nearby Sacsaywamán ruins. If you're a surfer and a water baby, pitch your tent at Hostel Naylamp, just across the sandy beaches of Huanchaco. That is not to say you can't be in both the places!
4. Brazil
Near South Bahia's many beaches, you'll find accommodation at one of the best motor-home parks and campgrounds in the country. However, if you want to dodge the crowd, the campsite at Corumbá is perfect for venturing into Pantanal, the world's largest wetland and home to some jaguars, capybara and caiman. The place is perfect for bird spotting. At the converging point of Brazil, Argentina and Paraguay, plant yourself at a campsite near the spectacular Iguazu Falls, which is a short bus ride away.
5. Argentina
Perhaps the most accommodating when it comes to motor-homes and campers, Argentina is big on the life on the move. For the wine-lovers, camping in Cafayate near the many attractive cafes and tastings such as those at El Porvenir and Bodega Nanni are a lucrative option. Los Alerces, just six km from El Bolsón, will put you at the mouth of the hike to the trailhead to the Hielo Azul Glacier and a bunch of other mountain refuges, all campable.
Related: Love Dancing? You Need To Explore South America For Its Diverse Dance Forms
Written By