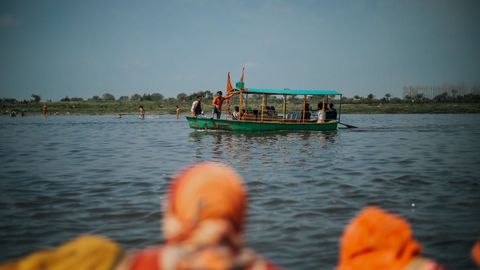 To promote religious tourism, Union Shipping Minister Sarbananda Sonowal announced that soon, a cruise connecting the pilgrimage sites of Mathura and Vrindavan will become operational. The cruise, which will ply on the Yamuna river, will provide another boost to travellers visiting the already popular holy sites. By Anushka Goel
According to the latest reports, the state of Uttar Pradesh is set to get yet another boost in terms of tourism. After the recent tabletop airport that is being created in Chitrakoot, the state is set to get a cruise service connecting the pilgrimage sites of Mathura and Vrindavan. The announcement was made on Monday (August 8) by the Union Shipping Minister Sarbananda Sonowal.
Mathura Vrindavan cruise: All that we know
View this post on Instagram
According to an India Today report, Sonowal, in response to a question by Shankaracharya Adhokshajanand Deo Tirth, stated that the service will draw in visitors travelling to Agra to come and visit Mathura, too. He said, "Gokul, Mathura and Vrindavan would be connected by developing waterways on the Yamuna."
The move comes at a time when religious tourism is being promoted in the state. Mathura and Vrindavan are known for being the birthplace of lord Krishna, and are important pilgrimage sites for devotees from India and abroad. The place is great for a spiritual sojourn, and being in close proximity to Delhi (and therefore having great connectivity), it draws in a huge number of tourists every year.
With the advent of the Mathura Vrindavan cruise, both destinations are expected to see a boost in tourists, who can explore not just the religious sites, but can also experience what a cruise (albeit a short one) feels like. It'll add to the list of things one can experience in the area, and will be well on its way to becoming one of the major attractions that the twin cities have to offer.
Hero and Featured Image: Courtesy of bhupesh pal/Unsplash
Related: How Many Of These Incredible Krishna Temple In India Have You Been To?
Written By