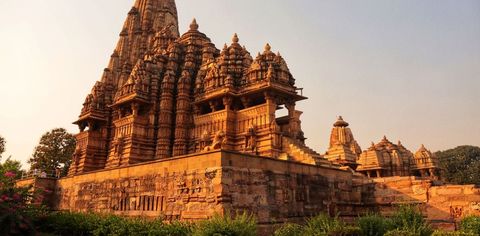 If you love exploring new train routes, here's some good news. The government is set to launch a new Vande Bharat train, which will run from Delhi to Khajuraho. Read the details here. By Anushka Goel
On his recent visit to Bundelkhand, Union Railway Minister Ashwini Vaishnaw announced that Vande Bharat Express trains would run between Khajuraho and Delhi. He stated that rake two points were approved at Chhatarpur and Khajuraho, reports Hindustan Times.
Vande Bharat train to run between Delhi and Khajuraho
View this post on Instagram
At his visit, Vaishnaw said, "Soon, road over bridges and road under bridges will be constructed at important places," reports Hindustan Times, adding the Bharat Gaurav trains such as the Ramayana Express will be completed by August, around the same time when these Vande Bharat trains will also start rolling out.
The Vande Bharat trains are comfortable, modern trains that are air-conditioned char cars. They have European style seats, rotating seats in the executive class, diffused LED lights, reading lights, automatic exit/ entry doors, a mini pantry, sensor-based interconnecting doors to connect coaches, modular bio-vacuum toilets and fully sealed gangways for a dust-free environment. Vaishnaw also said that the Khajuraho station would be redeveloped to make it a world-class station, reports Mint, which will help increase tourism and provide all amenities to visitors. Tickets for this train will be available at 45,000 post offices in India.
Khajuraho is famous for its caves and temples, which are stone structures with intricate carvings and figurines. Falling in Madhya Pradesh, it is a popular tourist destination in India, visited by lakhs of Indian and international tourists. The Vande Bharat train service to the destination will help boost domestic tourism and allow Delhiites (and those visiting the city) to go on a day journey to the city and soak in the beautiful sites there.
Hero and Featured Image: Courtesy of Varun Pyasi/Unsplash
Related: Madhya Pradesh Gears Up For Khajuraho Dance Festival 2022 With An Adventurous Itinerary
Written By