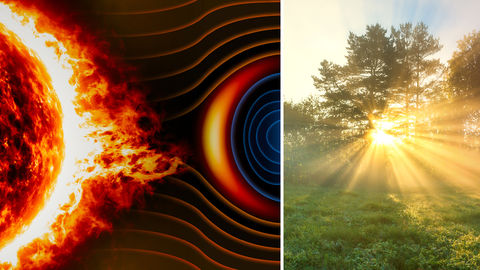 While we are all currently living under the quarantine frenzy, have you been feeling hotter than usual? That is because the solar winds are hotter than they should be and we find out why. By Amitha Ameen
View this post on Instagram
It is a known fact that our planet is constantly showered with winds from the natural spherical furnace in the middle of our solar system. While the sun in itself is super hot, the solar winds that are emitted off it and reach our planet are hotter than they should be.
So we all know about the heliosphere, this bubble-like region of space encompassing the solar system and created by the sun itself. The solar material called the solar wind that makes up the particles of the plasma of this bubble is known to cool down as they spread out. The problem is that this natural process is now taking longer than it should be.
View this post on Instagram
"Initially, researchers thought the solar wind has to cool down very rapidly as it expands from the Sun, but satellite measurements show that as it reaches the Earth, its temperature is 10 times larger than expected," said Stas Boldyrev, a physicist (as stated on Science Daily).
"People have been studying the solar wind since its discovery in 1959, but there are many important properties of this plasma which are still not well understood," he added.
View this post on Instagram
A group of researchers studied the moving plasma using laboratory equipment and have come to the conclusion that the reason could be because there are electrons that seem to be stuck in the Sun's grip.
Similar to a ping-pong table or a yo-yo, these electrons go back and forth because of the magnetic pull created by large magnetic fields in its travelling path and majorly influence the way these electrons distribute their heat energy.
Related: Have You Seen This Highest Resolution Image Of The Sun's Surface Yet?
Written By