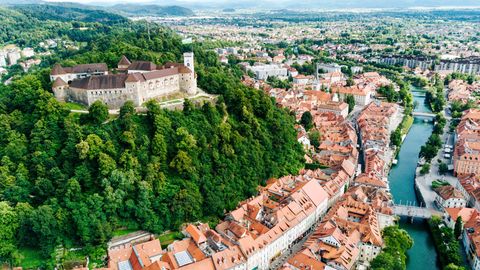 Editor's note: The global COVID-19 crisis has left each one of us deeply affected and we want to help. Burda Media India has organised a fundraising campaign to #FightBackWithTesting and donating RT-PCR test kits to the worst-affected areas in India, which will be secured from our testing partner Mylab Discovery Solutions. You can help these kits reach many more by donating for the cause or by adopting a kit. Click here to join the fight.
During these extraordinary times, stories of success have become all the more important and uplifting. Slovenia has declared itself COVID-19 free and is now looking to ease restrictions as life slowly returns to normalcy in the country. By Manya Saini
The outbreak of the worldwide novel Coronavirus has ravaged countries across the globe. Slovenia, a European country has been the first to declare itself COVID-19 free. The announcement was made by Prime Minister Janez Jansa from the government's official twitter handle. It said, "Today Slovenia has the best epidemic situation in Europe, which enables us to call off the general epidemic."
View this post on Instagram
The nation has imposed a mandatory quarantine period of 14 days on visitors from non-European nations. An exemption has been granted to people from EU nations, diplomats, and those involved in transporting cargo. Further, no foreign national displaying symptoms of the virus will be allowed to enter its borders.
The communications office of the government has further said that the nation is entering a 14-day observation period after the considerable reduction in restrictions. The country's borders which are shared with Croatia, Austria, Italy, and Hungary have also been reopened. It is welcoming visitors from other European countries.
Regulations regarding hygiene and social distancing will continue to remain in force. People will be required to remain in masks in public places, remain five-feet apart distance from one another and disinfect their hands frequently.
View this post on Instagram
The country had started easing the lockdown rules from last month onwards, with children now being allowed to return to schools. Public transport services have also resumed operations in the country. All restaurants, malls, and bars are also set to open from next week onwards. Much to the relief of sports enthusiasts and the entertainment industry, football, and other games will also return after a two-month hiatus.
The initial epidemic was declared by Slovenia on March 12, it has so far reported 1,465 positive cases with 103 people succumbing to the virus. The country has emerged as a success story, driving others forward as we look on for inspiration to cope with difficult times.
Related: #SomeGoodNews: Greece To Welcome Tourists After Victory Against Coronavirus
Written By