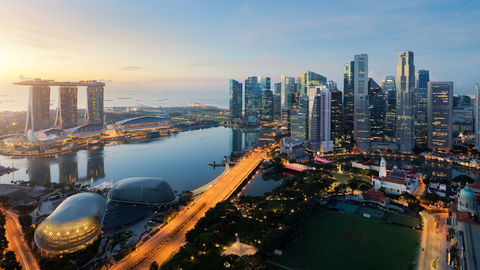 From amongst 118 cities, Singapore ranked first in the Smart City Index, followed by Zurich. New Delhi's rank, however, went down by three spots. By Naina Atri
The Institute for Management Development and the Singapore University of Technology and Design released the 2021 edition of the Smart City Index. While the index usually focuses on economic, technological and 'humane' aspects of a smart city, the 2021 edition also looks at how cities have addressed challenges posed by the pandemic.
What makes these cities smart?
This year's index ranked 118 cities from around the world. Singapore topped the list, with Zurich and Oslo bagging the second and third places, respectively. The index described Singapore as a bustling commercial centre without chaos. The city-state has low crime, poverty, and traffic rates. Moreover, Singapore has been making moves towards becoming a 'city in a garden', which involve solar-powered trees and sustainable towns.
View this post on Instagram
Zurich, which came in second, was commended for combining cosmopolitan urban life with nature. It is considered to be one of the safest cities in Europe and its air quality is also impressively low. The index referred to it as one of the most sustainable cities in the world. The index obviously celebrates cities that actively tackle climate change. Oslo, the third-ranking smart city, has introduced emission-free buses and other measures to reduce their emissions.
The index defines a Smart City as 'an urban setting that applies technology to enhance the benefits and diminish the shortcomings of urbanisation for its citizens'. In July, 15,000 city dwellers were asked how their respective cities were doing regarding health and safety, mobility, governance, and other factors. Access to medical services has become a priority, given the outbreak of the pandemic. Affordable housing is also a concern.
The top ten smart cities are –
1. Singapore
2. Zurich (Switzerland)
3. Oslo (Norway)
4. Taipei (Taiwan)
5. Lausanne (Switzerland)
6. Helsinki (Finland)
7. Copenhagen (Denmark)
8. Geneva (Switzerland)
9. Auckland (New Zealand)
10. Bilbao (Spain)
Mumbai ranked 90 and went up two positions, while New Delhi, at 89, went down by three positions. Bengaluru ranked 93, and Hyderabad ranked 92.
This year, nine new cities were added to the index: Bordeaux, Glasgow, Istanbul, Kiel, Lausanne, Leeds, Lille, Medina and San José.
Related: The World's Most Powerful Passports 2021 List Is Out; Where Does India Rank?
Written By