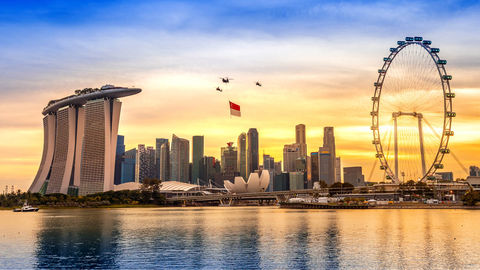 As the deadly coronavirus continues its attack globally, Singapore braces for a tourism drop. By Bayar Jain
While the world scrambles to fight against the lethal coronavirus, an unexpected consequence of the outbreak has impacted tourism in Singapore as well. It is predicted that the Lion City could see a decline of almost 30 per cent tourist arrivals and spendings this year due to the outbreak. Although a similar hit jolted the tourism industry in 2003 due to the SARS pandemic, this new epidemic could result in a worse situation.
According to Keith Tan, the chief executive of the Singapore Tourism Board, the city-state is losing about 18,000 to 20,000 tourists a day. Moreover, this figure is expected to rise if the situation worsens or persists. Currently, China accounts for almost 20 per cent of the nation's tourism intake, the third-largest contributor globally. China's ban on outbound tourists and Singapore's stay on Chinese nationals entering the country has also played a role in lessening their revenue. Tourists from other nations are also deferring their visit, and other parts of Asia amid this outbreak. Countries such as Kuwait and South Korea have advised citizens to minimise or delay their visit. Although other countries have also been impacted due to the outbreak, this standstill will result in a cut of about 0.5 per cent in Singapore's full-year GDP growth. As a consequence of this, cost-cutting measures have been put in place by the country's hospitality sector, such as getting some workers to clear leave or go on a four-day workweek.
Moreover, to tackle this outbreak, The Singapore Tourism Board will also form a Tourism Recovery Action Taskforce, comprising of tourism leaders from public and private sectors to help with recovery efforts.
Speaking about the situation, Prime Minister Lee Hsien Loong said in a press conference that the SARS pandemic 17 years ago was worse and that the country is now better equipped to deal with a health crisis. He even comforted saying that the government has stocked up with adequate supplies of masks and Personal Protective Equipment (PPE). "We have expanded and upgraded our medical facilities, including the new National Centre for Infectious Diseases (NCID). We have more advanced research capabilities to study the virus." Ending the speech on a positive note, he said that Singaporeans must stay strong, keep calm, and carry on. "We should take courage and see through this stressful time together."
Related: Airlines Filter In-Flight Utilities To Control Spread Of Coronavirus
Written By