Here's All That Happened At Singapore Airlines & T+L's Masterclass At The Leela Ambience Gurugram, Starring Chef Sanjeev Kapoor
Travel + Leisure India & South Asia recently conducted an exclusive masterclass hosted by Singapore Airlines' International Culinary Panel Chef – Sanjeev Kapoor at The Leela Ambience Gurugram. Here is all that happened during the culinary extravaganza. By Bayar Jain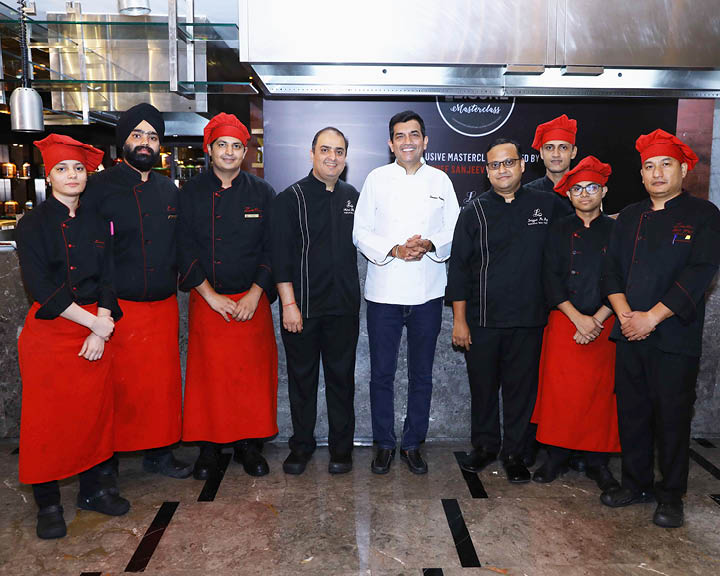 The best way to bring in the weekend is by indulging in a food fiesta, and with Travel + Leisure India & South Asia's recent masterclass, the fun just escalated further. On September 21, food lovers were given the opportunity to join Singapore Airlines and their empanelled Chef, Padma Shri award-winner Sanjeev Kapoor for a masterclass at Zanotta – a specialty Italian cuisine restaurant at The Leela Ambience Gurugram. Accompanying Chef Sanjeev was the hotel's Executive Chef Ashish Bhasin along with his team. Guests such as David Lim (Singapore Airlines' General Manager India), Wesley Watkinson (Singapore Airlines' Station Manager Delhi), Varun Chhibber (General Manager of The Leela Ambience Gurugram), Marryam H Reshii (Food and travel columnist), Dinaz Madhukar (Executive vice-president of DLF Luxury) and Shoba Mohan (Founder of RARE India and member of T+L A-list) graced the occasion.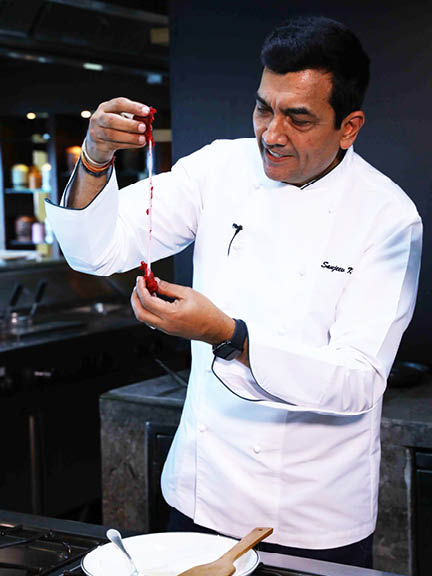 Despite heavy rains, guests dressed in smart casuals entered the restaurant on the 6th floor. Food lovers, budding chefs, and enthusiastic participants were greeted with the waiters' warm smiles and a glass of the signature Singapore Sling to accompany. The assurance of a good time was evident. A live cooking session by the ever-smiling Chef Sanjeev Kapoor added to the fun atmosphere, compelling guests to wander around the space without taking a moment's rest. Soon, the room was filled with heavenly fragrances and delicious dishes for the guests to gorge on. Apart from just sharing insider techniques, tips, and intricacies of preparing a gourmet a dish, Chef also surprised participants by throwing the floor open for an impromptu 10-minute cooking challenge.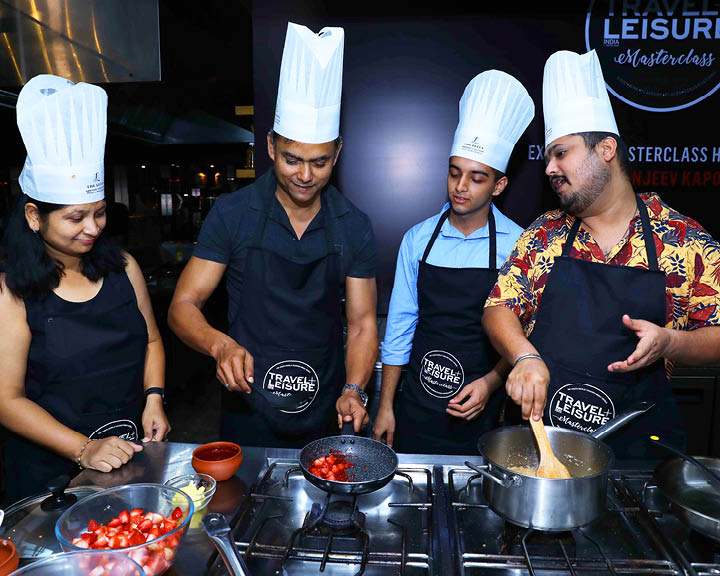 Speaking about the event, Chef was all praise. "Singapore Airlines' initiatives are something that I've always enjoyed being associated with. Travel + Leisure India, putting all of this together along with The Leela Ambience Gurugram makes it a fun evening for me." He even went on to say, "As a chef, you always cook. When it is live and interactive, and when people are tasting this, it makes the experience very rewarding since there is instant gratification. It's very satisfying."
Jealous of the fun time we had? Don't worry! We decided to make it up to you by giving you a peak into the recipe book.
Caprese Beet Tikki with Kasundi Cream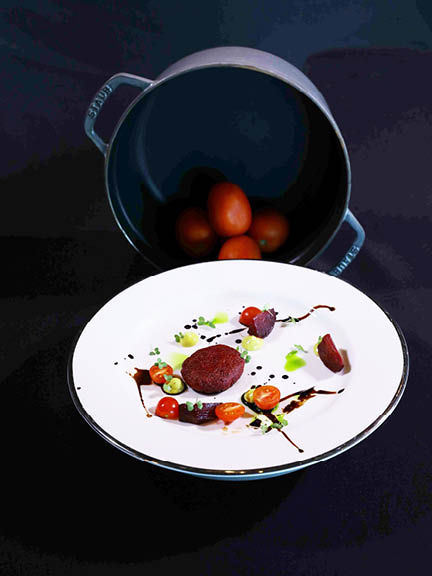 Ingredients
Caprese Beet Tikki
Beetroot (boiled, peeled, and grated) – 100 grams
Potatoes (boiled, peeled, and grated) – 100 grams
Ginger (chopped) – 10 grams
Green chillies (chopped) – 10 grams
Roasted gram flour (besan) – 50 grams
Red chilli powder – 5 grams
Dried mango powder (amchur) – 5 grams
Chaat Masala – 5 grams
Buffalo Mozzarella (sliced) – 100 grams
Fresh basil leaves – 20 grams
Oil – 5ml
Kasundi Cream
Kasundi mustard paste – 50 grams
Mayonnaise – 150 grams
Turmeric oil – 5 ml
Chaat Masala – 5 grams
Salt to taste
Method
Caprese Beet Tikki
Heat oil in a pan. Add ginger, green chillies and sauté for a while. Add beetroot and mix. Sauté till the moisture evaporates.
Mix potatoes, gram flour, cooked beetroot mixture, red chilli powder, dried mango powder and chaat masala in a bowl.
Divide the mixture into equal portions. Stuff each portion with a slice of mozzarella and a basil leaf. Shape into medium size patties/tikkis.
Heat oil in pan. Place the patties on it and pan-fry till it is evenly done from both the sides.
Serve hot.
Kasundi Cream
Mix kasundi mustard paste, mayonnaise, turmeric oil, salt and chaat masala in a bowl.
Serve chilled.
Prawn Dum Anari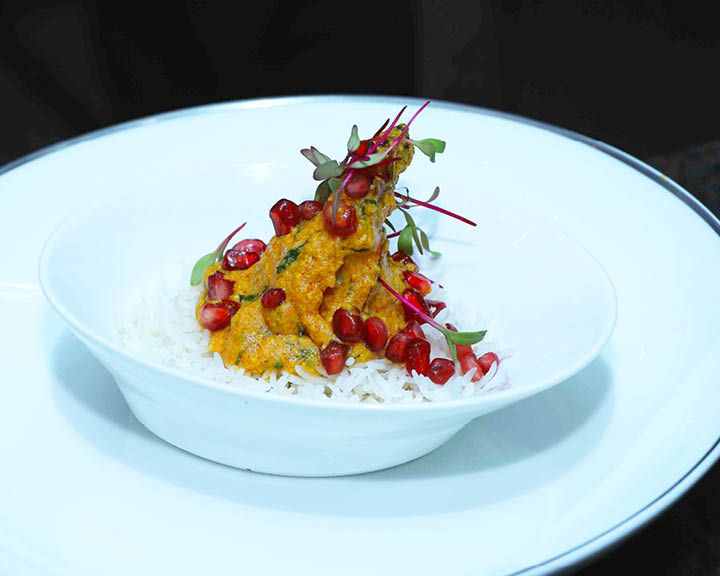 Ingredients
Tiger prawns (shelled and deveined) – 500 grams (approximately 10-15 prawns)
Fresh pomegranate pearls – 50 grams
Fresh Coriander leaves (chopped) – 10 grams
Marinade
Yogurt (whisked) – 2 cups
Cumin powder – ¼ teaspoon
Coriander powder – ¾ teaspoon
Crushed black peppercorns – ¾ teaspoon
Salt to taste
Gravy
Oil – 2 tablespoons
Cinnamon Stick – ½ inch
Ginger-garlic paste – 1 teaspoon
Boiled onion paste – 100 grams
Cashew paste – 50 grams
Turmeric powder – ½ teaspoon
Yogurt – 2 tablespoons
Tomato puree – 25 grams
Butter – 20 grams
Fresh Cream – tablespoons
Khazana Garam Masala – ¾ teaspoon
Fresh mint leaves (chopped) – 5 grams
Dried pomegranate seed powder (anardana) – 2 grams
1-2 green cardamoms
3-4 black peppercorns
A pinch of green cardamom powder
Method
Preheat oven to 180º C.
Put prawns in a bowl. Add yogurt, cumin powder, coriander powder, crushed peppercorns and salt. Mix well and set aside to marinate for 30 minutes.
Cook the marinated prawns in the preheated oven for 7-10 minutes.
To make the gravy, heat oil in a pan. Add cinnamon, cardamom and peppercorns, and stir.
Add ginger-garlic paste and sauté for a minute. Add onion paste and sauté.
Add cashew paste, green chillies and turmeric powder. Mix well and sauté for 1-2 minutes.
Add yogurt and tomato puree, mix well and cook. Add sufficient water, stir and let it reduce. Discard the whole spices, blend the mixture and transfer back in the pan.
Add enough water to adjust consistency and bring to a boil. Add cooked prawns and bring to a boil. Add butter and mix well.
Stir in the cream, add cardamom powder, Khazana Garam Masala, 5 grams coriander leaves, mint leaves and pomegranate pearls. Mix and cook for a minute.
Transfer in a casserole, sprinkle dried pomegranate seed powder and bake at 180ºC for 5 minutes.
Garnish with remaining coriander leaves and serve hot.
Strawberry Halwa with Bhapa Doi and Butterscotch Sauce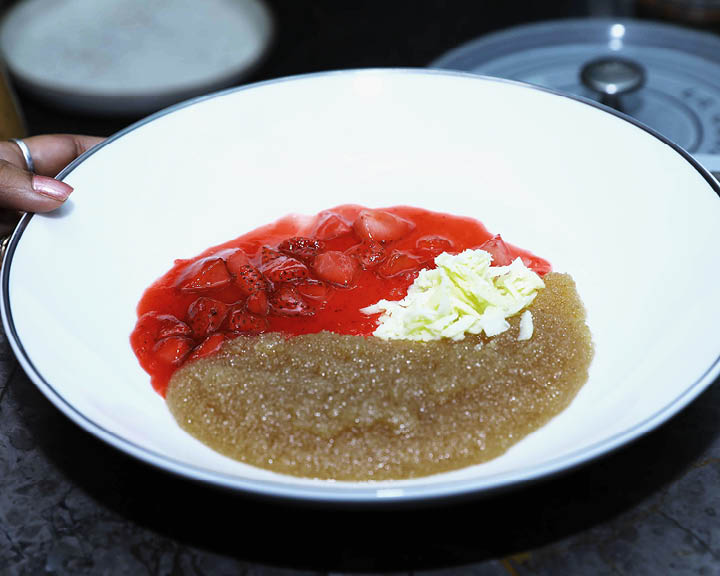 Ingredients
Strawberry Halwa
250 grams semolina (sooji)
125 grams strawberries, chopped
150 grams strawberry crush
25 grams pure ghee
250 grams khoya
Sugar as required
Bhapa Doi
Thick yogurt (whisked) – 1 cup thick yogurt, whisked
Milk – 1 cup milk
Condensed milk – 400 grams condensed milk
10-12 almonds (blanched, peeled and sliced)
10-12 pistachios (blanched and sliced)
10-12 raisins
Butterscotch Sauce
Sugar – 100 grams
Butter – 50 grams
Fresh cream – 250 ml
Method
Strawberry Halwa
Heat ghee in a kadai. Add semolina, reduce heat and cook till well toasted.
Add khoya, chopped strawberries and strawberry crush. Mix well and cook till the mixture starts to leave the sides of the kadai.
Add sugar to adjust the sweetness. Mix well and remove from heat.
Bhapa Doi
Preheat oven to 150º C for 15-20 minutes.
Whisk yogurt, milk and condensed milk together till it is well blended. Transfer to a cake tin.
Add almonds, pistachios and raisins and mix well. Cover the tin with a silver foil and seal it all around.
Make a few slashes or cuts on top and place the tin in a baking tray, half filled with water.
Place the tray in the preheated oven and bake for 20 minutes. Remove from oven, cool to room temperature and refrigerate to chill.
Serve chilled.
Butterscotch Sauce
Heat sugar in a pan till it caramelises.
Add butter, mix well and cook on low heat till well incorporated.
Switch off heat, add cream and mix well till smooth.
Serve warm.