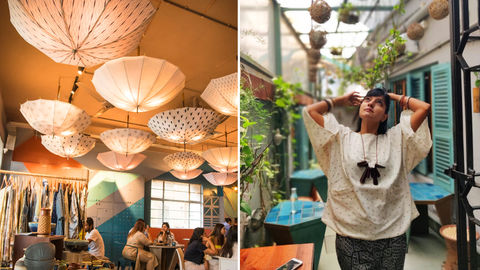 While Kolkata is a city that is known for its colonial-era tea joints, the rise of the millennial-friendly Sienna Store & Cafe only reflects on the city's all-embracing attitude. Founder, Shuli Ghosh, on what went behind conceptualising an idea and seeing it all the way through to the end. By Charu Chowdhary 1) How old are you? Take us through your journey of creating this cafe.
I'm 32 years old, people tell me I look like 13, but lately I've been feeling like a 50-year-old. What began as a hobby in pottery making and ceramic glazing for my mother grew into Sienna Store after I came back to Kolkata.
We were pleasantly surprised with the response to the pottery with our first store in Kolkata and so, we decided to open a second one. We felt that a slither of a cafe as a part of the store, would help us interact with our customers, allow them to take a breather from their shopping sprees, and also enable them to eat and drink in our ceramic bowls, plates and mugs. We agreed to fill the cafe with homemade snacks and good tea and coffee, which eventually expanded into a full-fledged cafe with salads, soups, sandwiches and platters made with locally-sourced ingredients and simple home-grown flavours. 2) What's the recipe for being a successful entrepreneur?
I'm not sure there is one. I feel, the definition of success is different for each person. Becoming a business owner and design head, I realised that growth can be measured in monetary terms, the kind of impact we have on artisan communities, on the environment and even in our neighbourhood.
3) You collaborate with artists, brands and spaces in different cities to offer a complete experience to your audience. Why?
I love to collaborate. I believe that is how we can all grow, by learning from each other. Sienna began as a home-grown project but we started collaborating with artisan communities, artists, fellow creators from the very beginning and in time that has opened up our world to a great degree. One of our most meaningful collaborations has been with our friends at The Burlap People who make eco-friendly bags from jute in Kolkata. Together we have hosted music performances and sustainable pop-ups in India, Sri Lanka and US.
4) Do you think you've changed the way Kolkata eats and drinks its coffee?

I can't take credit for changing the way Kolkata eats. There is a new wave of interest in modern cuisine and eclectic food. Sienna provides a cosy home away from home to eat homemade goodies — all made with love.
The must-have items at our Hindustan Park space are: avocado tortilla salad, fried chicken with papaya salad, black rice salad with ginger honey vinaigrette, pesto cherry tomato house made mozzarella platter with whole wheat bread (all made in-house), Sienna fries with our super spicy house special chili sauce, date and walnut cake, and hot chocolate.
The Park Street space is just two-weeks-old, but we recommend: soft shell crab, three mushrooms in an indigenous sticky rice, kale salad with Burrata, roast pork sandwich with brioche bread, mahua and coconut flavoured house-made yogurt, and green pumpkin soup with lentil croutons.
5) Do you have favourite places in India and across the world?
It's tough to choose, but if I must pick it would be Turkey and Greece. The local produce there is amazing, not to mention that the natural beauty of the landscape took a hold over me, too.
In India, Kerala has always been my favourite place to visit for the delicious local cuisine, and kind-hearted, creative people that I've met, and again the natural beauty! I also love Puducherry. However, my travels are incomplete until I go to Japan — a place that fascinates me for its food, art, textile design, culture and history.
6) Would you credit a bit of your success to social media?
I credit a lot of it to social media. Earlier, we didn't use social media tools for our business; we finally joined the worlds of Facebook and Instagram in 2016, trying to catch up with the rest of the world. For a business like ours it's the best way of spreading the word and introducing people to our brand.
Word of mouth is how our tiny cafe on Hindustan Park got the attention of locals and travellers passing through. However, now that we want to spread our wings outside of Kolkata, we have utilised social media aids to communicate our ideas and vision.
7) Challenges that you've faced along the way?
The real challenge when working with artisans is that they have been working in a certain way for eons and are usually, at first, resistant to change.
Another hurdle of sorts is that we've always worked with people who have not been formally trained like me. That comes with its limitations. Our baker, Milon, hailing from a remote village in Bengal came to us as a housekeeper. His strong hand in cooking came to our notice and we engaged him in baking. However, when we started teaching him he would not stick to the recipes, or show very little interest in his work, and that would hamper our production. Today he is our principal baker and sells numerous cakes and breads at our cafe, everyday.
8) Can you share the response to indigenous products of Bengal at your store such as kantha.
People have always loved crafts and the handmade but more so when the quality and finish are attended to, and the thoughtful packaging helps the product to be placed in a context that a customer living a fast life in an urban setting can understand or relate to.
Kantha is a beautiful work of art and most pieces take months to create. It has always been respected for the craftsmanship; however, when design concepts and colour themes are applied to the craft it can enhance the work in ways that are unimaginable.
9) How is Sienna an eco-conscious space?
We are running a food business and it's cost effective to use plastic, but we would like to grow by reducing our carbon footprint in the world. We can't ignore the dire consequences of a simple object like a straw or a plastic bag, which we are habituated to using everyday without knowing how harmful it's effects are on the planet. We do our bit, with our metal straws, biodegradable takeaway containers and cloth bags.
10) Finally, what are your favourite cafes from around the world?
I love spending time in cafes. Some of my favourites are: Alcha, Shantiniketan, West Bengal; Kiku, Colombo; Coromandel Cafe, Puducherry; Kala Ghoda Cafe, Mumbai; Amethyst, Chennai; Elmas, Delhi; Alices Tea Cup, NYC; Dominic Ansel, NYC; Tea & Sympathy, NYC; ABC kitchen, NYC and Able Baker, New Jersey.
Related: 5 Weekend Getaways From Kolkata You Need To Explore This Holiday Season!
Written By