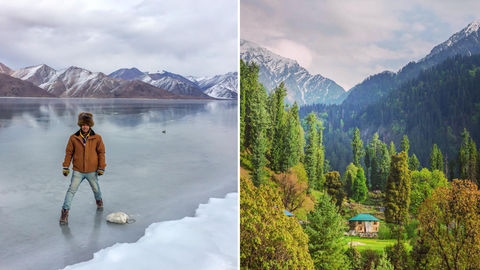 For all your travel inspiration on how to indulge in slow, immersive travel and the best way to explore the Himalayan belt of India, Shubham Mansingka's Instagram account should be your go-to choice. From running his family business to carving a niche for himself on the blogosphere; his journey has been quite serendipitous. By Charu Chowdhary
1. How's your journey been as a full-time travel blogger in the last five years?
A lot like life, my journey as a full-time travel blogger has been full of ups and downs. Travel blogging allows me to express myself and share stories and memorable anecdotes from the road. Pursuing full-time travel blogging is like a startup; you do your own marketing, writing, editing photographs, promotions and everything else that goes in making a business successful.
Travel blogging started out as a passion; but I soon started landing writing assignments, freelance projects and photography work that made me realise that full-time travel blogging could become a career. I consider myself blessed to savour the joys of natural beauty, culture, local food, folklore, traditional art form and architecture through my travels.
2. You are often seen exploring the Himalayas. What makes you travel to mountains so often?
The prime reason for me frequenting the Himalayan regions from J&K, Himachal, Ladakh to Uttarakhand to the Northeast is the fresh air, greenery and organically grown food. I like going on long introspective walks and these regions allow me to do the same. The locals are kind and almost every village has a home-stay that enables me to practice a holistic lifestyle. I like slow travel and seek to immerse myself in experiences that ultimately result in me feeling like a local in every place.
3. What are the best off-beat places to see in these states?
If I had to recommend offbeat places to see, some of them would be – Shangarh, Gada Gushaini, Pangi Valley and Miyar Valley deep in the heart of Miyar Valley. Zanskar in Ladakh is a charming valley to explore since tourism hasn't creeped into the region yet.
4. What's your take on responsible and sustainable travel?
Responsible travel in a nutshell means minimising the effect of travel on the destination and reducing your carbon footprint. Ideally, it also means community development while respecting nature, culture, custom and tradition. For example, one way to practice responsible tourism is to travel via public transport. To practice responsible and sustainable travel, I try staying in local homestays as often as possible. Staying at homestays means you are directly contributing to the local economy, too.
5. What have your major successes and failures been as a blogger?
Getting recognition on platforms such as Huffington Post, Conde Nast, The Hindu and being published as a top travel blogger in various reputed media houses is one of the major successes as a blogger over the years. Another major success has been a loyal reader and fan base; since I blog in a travelogue style, I love it when my readers say that while reading my blog, they felt that they were there with me.
On the other hand, I sometimes miss the fact that business transactions worth millions of rupees were so easy while I was handling the family business. Whereas, in the blogosphere, companies waste valuable time and energy discussing money rather than getting high quality work done.
6. Does blogging pay the bills?

It's a mixed bag. As a full time travel blogger and freelancer, sometimes the money will come in through blogging assignments, at other times through photography, social media or specialised offbeat assignments. At the end of the day, blogging directly or indirectly pays the bills.
Travel blogging might look very glamourous, but what most people don't realise is that it requires a lot of hard work and dedication. A typical day for me means working for at least 12 hours, which is more than the time invested in a corporate job. A lot goes behind those beautiful pictures and stories you see.
7. Fun photography tips for aspiring photographers?
I know getting up early in the morning sounds cumbersome, but you get the best photographs when you see a destination waking up! And when you truly enjoy the work that you do, motivation comes automatically.
8. What does it take to constantly have a social media presence?
It takes a lot of effort to have a continuous social media presence, since posting and interacting on Twitter, Instagram and Facebook can be very time consuming. It is enjoyable till the time the social media presence doesn't become a compulsion. Over the last year or so, I have taken breaks from social media to avoid burnout.
9. Do you think blogosphere has space for everyone to flourish or has it become a saturated medium?
The number of bloggers in the last two-three years have increased exponentially; though most bloggers look at quick returns and usually fade out in a year or two. I think if one is focused on a particular niche then there is space for everyone to flourish. Be true to your work and don't fall prey to shortcuts. It is important to build a good brand around yourself and be honest with your followers. With the current spike in blogging, it's time to realise that 'there are no shortcuts to success'.
10. Top places in India and abroad every traveller must visit?
I do not propagate the idea of dream destinations or bucket lists because each place is beautiful in its own unique way. However, in India, Dzukou Valley and Phek district in Nagaland have unique landscapes; Loktak Lake in Manipur has floating islands; Devbag on the Konkan coast is a pristine place and Tranquebar mesmerises with its Danish history and architecture. Abroad, Kas in Turkey is gorgeous; Bhaktapur in Nepal is a great UNESCO world heritage site for architecture and Bhutan is a must-visit for showing countries the way forward with tourism.
Related: Explore Uzbekistan Through The Lens Of Travel Blogger Aamir Wani
Written By