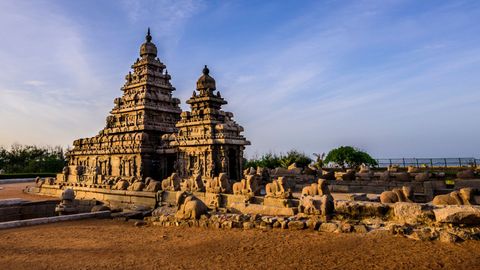 Shore Temple in Mamallapuram (Mahabalipuram) recently added another accolade to its name.This site, part of the Group of Monuments at Mahabalipuram and a UNESCO World Heritage Site, has attained the distinction of becoming India's inaugural Green Energy Archaeological Site.
This recognition was conferred by UNESCO last week, in recognition of the successful implementation of the Green Heritage Project at this ancient structure.
Here's what makes Shore Temple a green heritage site The Green Heritage Project is a collaborative effort between Renault Nissan Technology & Business Centre India (Renault Nissan Tech) and Hand in Hand India (HiH). Its successful execution ensures that the lighting at the Shore Temple will be powered by clean energy derived from solar power.
To achieve this, three solar power plants, each with a capacity of 10 kilowatts, have been strategically positioned around the temple to harness solar energy from the vicinity. This energy will be utilised by the temple, with any surplus energy being fed back into the grid, thus supporting future energy requirements.
The project not only focuses on solar energy, but also on reducing the ecological impact of visitors while enhancing their experience. This involves the use of solar-powered essential amenities, such as a reverse osmosis plant providing drinking water to travellers. The project also aims to empower local communities by generating employment opportunities such as operating electric buggies at the Shore Temple. The transformation of this historic structure into an eco-archaeological site serves to preserve its cultural importance while serving as a sustainable conservation model for heritage sites.
The Shore Temple, a renowned site in Tamil Nadu, derives its name from its commanding view of the Bay of Bengal. Dating back to the 7th century CE, it comprises three distinct shrines that showcase both Dravidian and Pallava architectural styles.
Related: These UNESCO World Heritage Sites In South India Let You Explore India's Rich Past
Written By