Armed with a paintbrush and unrestricted by media, visual artist Shilo Shiv Suleman blends art with magical realism, technology, and social activism. A strong advocate of gender issues, Suleman also doubles as the founder-director of The Fearless Collective—a participative public arts project. She talks to us about her art installations, influences, and many inspirations. Bayar Jain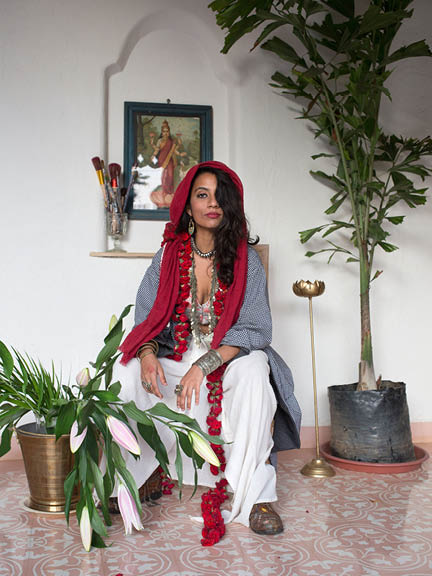 1. You grew up in a house where art played a major role. When did the idea of using art for social change strike you?
Nilofer Suleman—an artist, feminist, and a Muslim woman brought me up on her own. As a result, all my work has been in praise of the feminine. Art changed my life, so I have no doubt it can change societies and whole civilisations as well.
2. At the Visions in Making exhibition in Delhi this year, your installation depicted flora, fauna, and mythical beings. What is the story behind it?
There was once a beautiful goddess whose beauty was so captivating that every god became attracted to her. Unable to control themselves and fearing that these scandals would destroy the heavens, the gods conspired to do something about this. So, they poisoned her and placed her body beneath the soil in a dark hidden place far away. But her divinity was so fertile that her body began to grow medicinal plants that would forever benefit humankind. Through a series of talismans and tapestries, I've tried depicting South Asia's decolonial female sexuality and the sacred chambers of the female form as a site of worship. This piece, too, was inspired by an old Balinese story about femininity.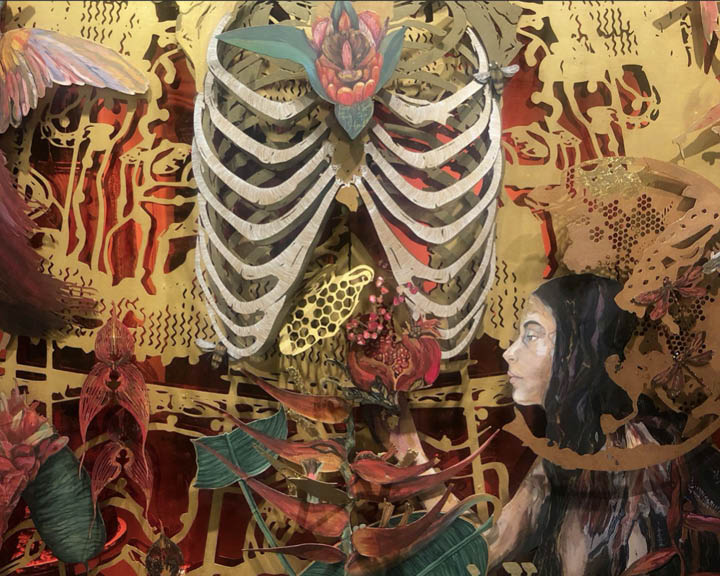 3. How do you think exhibitions such as this help effect social change?
I think exhibitions like this can create a sacred space for artists to share their own inner workings. However, I think real change happens on the street. It's only when we break our echo chambers that we begin to transform.
4. You have travelled around the world with art. Which city, Indian and international, has been the most special for you?
I think one of the most special projects I've done in the recent past has been in Beirut. The reason I find Beirut fascinating is because it has layers of displacement, due to which it becomes an intersectional point for many narratives of migration. I tend to like spaces that are nonbinary. I think there's so much to be inspired by in the Middle East. I also recently did a project in Shaheen Bagh, Delhi, where I got to dive deeper into our political history.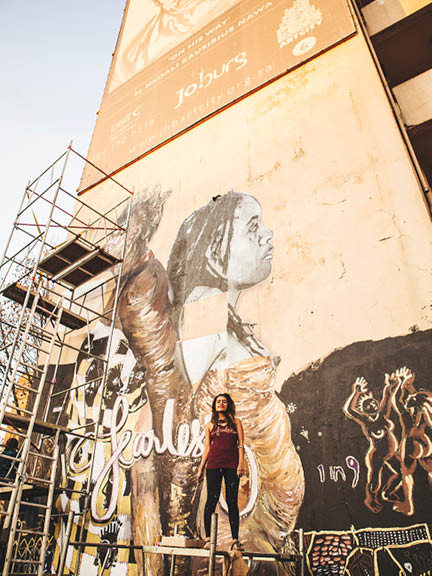 5. You exhibited your work at the Burning Man festival in the US. Tell us about the experience.
The most interesting part of the Burning Man festival is that the landscape doesn't resemble usual festival stages. Instead, it's in concentric circles where the middle circle has a big art installation called The Man, and there are temples towards the other end. This allows people to experience their emotional and spiritual selves. Another overwhelming aspect of the festival is the geography itself—it is held at Black Rock City, a temporary city erected in the Black Rock Desert of northwest Nevada. You really have no choice but to be in complete awe and surrender yourself to the many sandstorms and windstorms there.
6. Which Indian city do you think has the most thriving collection of art, and why?
Right now, I'd say the most inspiring and most thriving collection of art is at Shaheen Bagh in New Delhi. There are hundreds of artistes out there, making posters, singing songs
of resistance, singing qawwali, and writing and reading shayaris (Urdu poetry) for each other. It's really the most inspiring thing I've seen.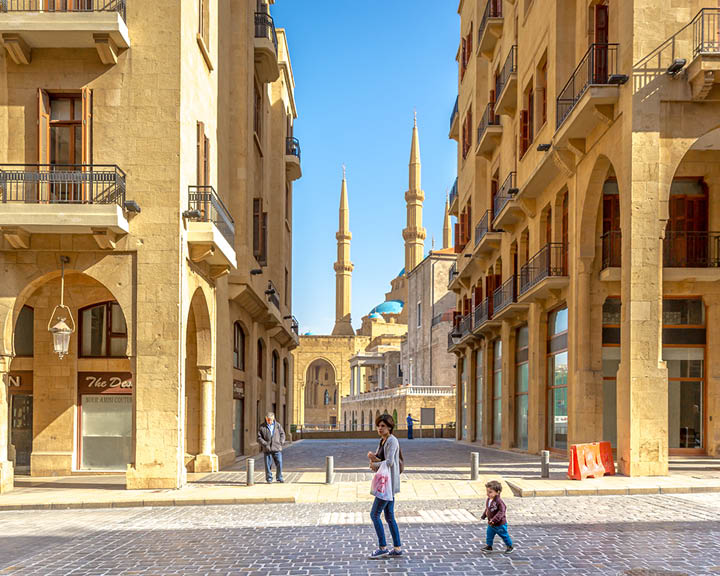 7. Which is your dream destination for setting up an installation, and why?
I would like to set up installations inside the depths of the oceans, or out in the desert and caves. I want my art to be in reverence and collaboration with the Earth's movements. While my first series of installations reacted to the body through biofeedback technology, my upcoming work responds to geo-feedback. I take data from tides, the motion of winds, and the movement of tectonic plates.
Related: Travel Back In Time With 'Ghare Baire' Art Exhibition In Kolkata