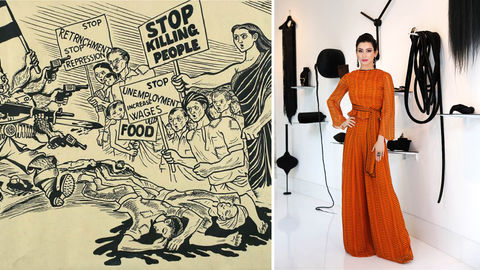 We asked eminent art collector Shalini Passi about how she's keeping positive during this lockdown and what pieces of artworks reflect the current global situation. Here's what she has to tell. By Pallavi Phukan
What were your first thoughts when the lockdown was put in motion?
We had been anticipating this, given the alarming manner in which the infection was spreading. My first thought was, I hope everyone and their families around us are safe. My son was travelling to the US and got back on the same day as the lockdown began.
How has the lockdown affected you personally? How are you dealing with it in a positive way? Ever since the lockdown began, I have started meditating and catching up on my reading more than I used to. I am also trying to keep myself busy with different activities and I have been more in touch with a lot of my friends. I am trying to learn new things too.
You've always been lending a helping in hand to the society through your NGO or otherwise. Is there anything different you or your NGO have been doing to help during these difficult times?
We have been actively updating articles, interviews and features on MASH, our online magazine. People are quite interested in reading about art and design, in expanding their scope of knowledge and understanding, and they happen to have more time on hand these days. We have received a great response from diverse audiences. We also started a MASH podcast, which already has a few episodes out and features exclusive interviews with artists, creative individuals, as well as informative episodes on Indian art history and contemporary art, with members of the art fraternity lending their voices for the episodes.
Art is a reflection of times. What are the artworks or artists whose work you think resonates with this current time?
There are a number of artworks that come to mind when I think about the way the world is nowadays. Some works that I can immediately think of are:
1) A Ramachandran – Audience This haunting work depicts a canvas with skeletal beings dotting the frame and immediately invokes the collective agony that the world is undergoing these days.
2) Richard Prince Navy Nurse, 2007 Prince's Navy Nurse, inspired from the typical representation of the nurse figure from pulp book covers and pinups, is a haunting painting in today's time and can well be recognised as an artistic celebration and tribute to the many healthcare workers who are putting their lives on the line to help keep us safe.
3) Gulam Mohammed Sheikh, Speechless City, 1975
Sheikh's hauntingly poignant painting, made during the days of Emergency in 1975, is another reflection of our way of life today. As streets remain deserted and people largely try to stay inside their homes to reinforce social distancing, Sheikh's painting feels all the more relevant now.
4) A Ramachandran, Bed of Arrows, 2012
Ramachandran's painting is a moving portrait symbolising resilience against difficult times, showing a figure reclining against a bed of arrows. However, the expression is one of serenity, and the beautiful foliage and calming waves in the background of the frame further lend a sense of calmness that is accentuated with the palette.
5) Rene Magritte, les amants, 1928 This iconic painting by surrealist Magritte immediately comes to mind, with the precautions one has to undertake in the wake of COVID-19. The figures of two faces, covered with cloth and kissing becomes a vision of the future in some senses, and a surreal vision no more.
6) Rabindranath Tagore, Gitanjali 35 ('When the mind is without fear…'), 1910
Tagore's powerful poem signifies the power of resilience and to work towards a world and future that gives adequate freedom beyond superficial boundaries. In some ways, this illness has only brought communities even beyond national borders together, with the phenomenon being a global one.
7) Zarina Hashmi, Home is a Foreign Place, 1999
Hashmi's work conveys the multiple iterations of 'home' when she was undergoing a particularly difficult time herself, meditating on issues of what home, migration and placeness signify.
8) Chittaprosad Bhattacharya, various prints, signifying art during difficult times. Chittoprasad's prints, most notably the ones he made documenting the Bengal famine and its aftermath is another heart wrenching body of work I go back to, especially in the context of these difficult times.
Any virtual art tours you would recommend to our readers?
National Gallery of Modern Art
Any advice for Travel+Leisure India readers?
My advice would be — when the lockdown opens the world in a new avatar, one should try and learn new skills and prepare themselves to adapt to the new world. So it would be fruitful to use this time to prepare yourself for the unexpected, and for what is to come.
Where would you like to travel to once this situation settles down?
I have not actively thought about travelling, as my mind is occupied more with work and the current situation. Once the situation improves, I think I would love to travel to Tokyo, Japan. I would also revisit a lot of places I have been to before, and take things more peacefully than I did. I would love to go skiing and to travel to Rome too.
Related: Art Connoisseur Shalini Passi Recommends 12 Paintings That'll Help You Get Through Quarantine
Written By