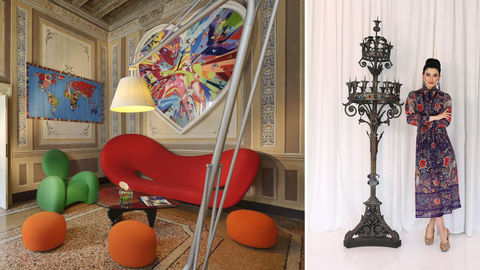 It is no secret that Europe is the originator of classical art that has inadvertently inspired many current design trends in hotels all over the world. As a curator, I am always fascinated by European art and architecture, and how they have managed to blend the two so seamlessly that one can't tell where the art begins and where its architecture takes shape. In Europe, art acts as an enormous resource of inspiration even today. These are seven hotels that fuse art with architecture, while also paying homage to the continent's rich art history. By Shalini Passi Byblos Art Hotel, formerly a villa named Villa Amistà, finds its origins in the fourteenth century. Designed in tandem with artist and designer Alessandro Mendini, the reimagined luxury hotel keeps its historic past alive by conserving the original architecture. To stay relevant with the prevailing impressive displays of today, the hotel has commissioned and displayed art pieces from contemporary times as well. Some of the notable artists that find a home here are Damien Hirst, Anish Kapoor and Vanessa Beecroft. Situated in the heart of Berlin, this hotel was founded in 1995 and has since dedicated itself to preserving and displaying art. The building itself was once a former classical-style palace constructed in 1895. Today, it has been restored and extended to accommodate 50 rooms wherein each room houses a piece of art. The lobby, too, is populated with several sculptures. In fact, many artworks have been commissioned solely for the hotel. This hotel is situated in the heart of Marseille, a city rich in history and glorious architecture. The 18th-century building that currently houses Au Vieux Panier was originally a Corsican grocery shop. That humble shop has now transformed into an urban Maison d'Hôtes today. The hotel consists of five rooms, each of which have been designed by talented artists across different styles. A local art gallery, Pixtel Studio, has done the interiors of the space and has even formed a partnership with the hotel. Le Collatéral comprises of four rooms, but its grandeur is understated. Once a medieval church, the hotel now doubles as an extraordinary hub for artists to exhibit their work and conduct workshops. The design is minimalist with wooden floors and geometric furniture, with the focus on the artworks displayed on its walls. Some of the art exhibited in the hotel includes art by Reeve Schumacher and Erick Helaine. One of the major attractions of Hotel Arts Barcelona is the Frank Gehry-designed Peix, 56-metre-long curving, fish-like sculpture. The hotel is housed 300 metres from the beach in the Catalan capital's Olympic Village. The sprawling property is made up of 44 storeys with 455 rooms and 28 suites, all encased in a sleek glass and steel building. It is dedicated to exhibiting a significant collection of Catalan and Spanish artworks. They even organise several major art exhibitions throughout the year. Most recently, they hosted a show starring works of Pablo Picasso and Salvador Dalí, along with contemporary artists such as Albert Ràfols-Casamada and Xavier Corberó. Rome Cavalieri Waldorf Astoria might just be the world's best art hotel, and why not! The hotel boasts of over 1,000 artworks that date back to the 16th century, including paintings of Rudolf Nureyev. On entering the hotel, the stunning sight of Giovanni Battista Tiepolo's cycle masterpiece featuring Achilles and Ulysses greets you. The hotel also has the historic Beauvais Manufactory's tapestries. But the hotel is not all about the classical works. They have an impressive display of several legendary contemporary artists such as Andy Warhol and Robert Indiana as well.
7. Le Royal Monceau – Raffles Paris, Paris, France Complete with art deco styles and influences since its original opening in the 1930s, Le Royal Monceau's architecture traces its origins back to the Haussmann-era. This historic building was transformed into a hotel by the famous French designer Philippe Starck. Though modernised, the hotel still has roots of its heritage intact. It has 149 rooms, a 99-seat cinema, and its own Art District gallery. While the gallery hosts many contemporary artists, guests can also call upon the hotel's art concierge for advice on historic pieces of art housed within the premises.
Shalini Passi, the founder of Shalini Passi Art Foundation and MASH, will be curating one such list from all across the world. Stay tuned as the artist, art and design collector, philanthropist, and fashion patron takes you on a cultural escapade every week.
Feature Image Credits: Saiesha Gupta for Shalini Passi
Related: Explore The Art & Design Of Hotels In North America With Art Maven Shalini Passi
Written By