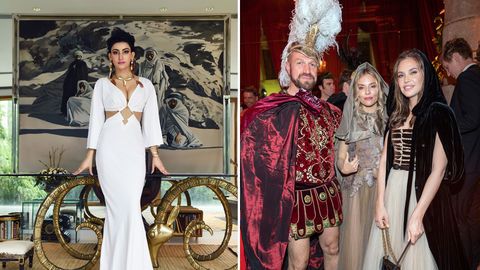 From Basel to Hong Kong to Kochi, Shalini Passi travels around the world for art. The artist and collector tells us how she discovers destinations through the lens of exhibitions. By Shalini Passi
For me, travel is about more than just relaxation. It's about discovery, inspiration, and conception of ideas. Hence, I often choose my destinations based on places that have a dynamic arts scene and an established cultural history. I go to these places not only because I know there is a certain period or style of art that I am interested in, but also because I believe that they make the most interesting destinations—full of expression and life. Art is a unique way to experience a place, its culture, and its people. I mostly target major international art events like fairs, biennales, and exhibition openings. This means that in winter, I'm mostly in India for the Kochi-Muziris Biennale and India Art Fair—both of which I am involved in. But immediately after these events conclude, it feels like the rest of the art world is just getting started.
Hong Kong is the ideal place for March. With Art Basel Hong Kong (March 19–21, 2020) and Art Central Hong Kong (March 17–22) taking place in the same week, there is plenty of art from all over the Asia-Pacific region on display. This year had a lot of Southeast Asian galleries and artists, which is an area I'm keen to know more about. I would recommend a stay at the newly opened Rosewood Hong Kong, which is situated in the heart of the Victoria Dockside art and design district and filled with art by a wide range of globally renowned artists—from Henry Moore to Damien Hirst to Bharti Kher. The city has a lot of character, too; the modern quarters exemplify cutting-edge design, particularly Zaha Hadid's Jockey Club Innovation Tower and Frank Gehry's OPUS, but I find the traditional districts have a special charm that reminds me of Mumbai. Recently, I travelled to Venice for Biennale Arte 2019 (May 11–November 24). Having run for more than 120 years, it's undoubtedly one of the most prestigious events in the world. And I was extremely excited about India's participation in it. Although many Indian artists have been exhibited at the biennale earlier, 2019 is only the second time that the country has had its own pavillion, featuring Jitish Kallat, Atul Dodiya, and Nandalal Bose, among others. This is well-deserved recognition for India's outstanding contemporary artists. It runs until November, so there's plenty of time to see the 58th edition of the biennale, titled May You Live in Interesting Times. While I was in Venice, I was fortunate enough to attend the Dior Tiepolo Ball, which was a recreation of the 'party of the century'—the famous 1951 ball thrown by Palazzo Labia's former owner Charles de Beistegui. I love to experiment with fashion. It's one of the many art forms through which I express myself, so this was an incredible experience to learn all about traditional Venetian dresses and have the opportunity to wear one myself. Co-hosted with the Venetian Heritage Foundation, the ball was an opulent charity dinner that aimed to aid the restoration of the city's architecture and cultural heritage. Simply being in Venice was an important reminder of how essential it is to protect and preserve these beautiful heritage destinations. A perfect example of this is the Bauer Palazzo, which is where I always stay when in Venice. It epitomises the beauty and value of tradition, while allowing for continuous renaissance. This summer, I also visited Warsaw in Poland, where I was to speak at the GAAB Collectors Summit. It was my first trip to the city and the third edition of the annual international event dedicated to contemporary Asian art that engages private galleries and institutes from the region. The theme for the third edition was Patrons and Philanthropists: Art for the Future, and it explored new models of patronage and philanthropy designed for an increasingly globalised world. I was delighted to be invited to talk about the arts in India and the importance of philanthropy to the development of contemporary South Asian art—sharing ideas with representatives of important international organisations and cultural destinations such as Alserkal Avenue in Dubai and National Gallery Singapore.
In a country where art is used as a form of expression, even rebellion, Poland has a uniquely powerful relationship with arts and culture. It's had a tumultuous social and political history, which, in my opinion, can overshadow its vibrant contemporary culture, stunning landscape of mountains and lakes, and historic fortresses and castles. I enjoyed discovering the city of Warsaw, in particular its architecture—from contemporary glass structures to the old-town market squares and grand Renaissance buildings. Hotel Bristol, where I stayed, brings together the city's varied traits, blending history and contemporary luxury with its majestic Neo-Renaissance façade and the Art Deco elegance of its interiors. As much as I enjoy firsts like Warsaw, I continue to return to my favourite culture capitals such as London and Paris. These are the birthplaces of many artists who have changed our way of seeing the world. In London, I love to revisit the well-known museums, such as The National Gallery, Tate Modern, and the V&A Museum. Their permanent collections are endlessly fascinating, but the contemporary exhibitions are impressive too, particularly the fashion exhibits that the V&A curates featuring Alexander McQueen, Balenciaga, and most recently, Dior. In Paris, too, I can lose myself just browsing museums and observing the Parisian street style. I have to visit The Louvre every time and sit in the square at Le Café Marly, perhaps followed by a stroll through the Tuileries Garden if the sun is shining.
Another major art destination for me is Art Basel in Switzerland. Widely considered to be the most important art show in Europe, it's an extremely high-profile platform for renowned artists and galleries, and a must-see for serious art patrons and collectors. Basel itself is wonderfully rich in arts and culture, home to many spectacular buildings designed by eminent architects from contrasting periods and styles. For example, alongside the historic and picturesque Old Town, you'll see architectural sensations by luminaries such as Herzog & de Meuron and Frank Gehry. There are many museums and galleries to visit within the city as well. Wherever I go, I am always seeking that unique mode of expression and creative energy that defines a place. The art of a place contains its history and philosophy, its values and priorities, its colour and feeling. I can't imagine travel without it.
Related: Heggodu: India's Hidden Cultural Hub Is A Mecca For Art And Literature Lovers
Written By