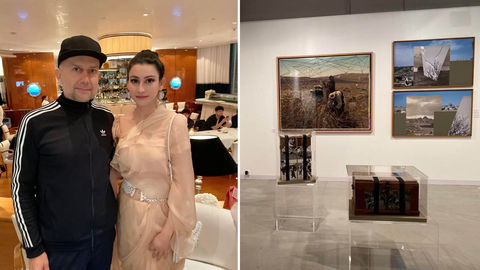 Shalini Passi needs no introduction. Her love for art and travel has us hooked to her! Founder of, ShaliniPassi Art Foundation and the MASH magazine, she recently attended the Abu Dhabi Art Fair. Scroll down to read about her top picks from the fair. By Kumar Shree
1. Your first impression of the Abu Dhabi Art Fair?
The Abu Dhabi Art Fair had an extremely rich and extensive line up of participating galleries and artists, which made it a very enriching experience. The work of artists from the UAE and the Middle East made it an especially interesting fair to attend and to see the variety of artistic practices by artists from the Global South. The opening dinner organised at Cipriani ahead of the fair was another delightful experience that allowed us to interact with renowned artists present at the fair. I got the opportunity to meet and interact with Marc Quinn at the dinner as well! 2. Your favourites among the artists who participated in the Abu Dhabi Art Fair this year?
Some of my favourite artists from the fair this year include Ai-Da the AI-powered robot artist, Mounir Fatmi, Marc Quinn, Michaelangelo Pistoletto, Idris Khan, Sachin George, Halima Cassell, Elif Uras, Antonio Santin, Nasser Al-Salem and Leandro Elrich. All of the artists span across a variety of mediums and practices and are unique in their own ways, but it is their innovative usage of mediums and contexts that excite me. 3. Your top five picks in terms of art works from the fair?
There were a number of interesting works at the fair. Leandro Erlich's site specific installation Nest for the Cloud, was an incredible work that stayed with me. A few other works which I found to be significant include Antonio Santin's Abracadabra, Hazem Harb's Hollyland, Sachin George Sebastian's Constructed Conversations, Arul Dodiya's Rubai, Elif Uras' Reclining Woman, and Halima Cassell's Unsquare Dance. 4. With establishments like the Louvre Dubai what future do you foresee for the Dubai Art scene?
The Louvre, Abu Dhabi has undoubtedly ushered in a particularly international aspect to the Dubai art scene. When you have an internationally acclaimed museum expanding and extending their name and brand to make a museum in a new location, an interesting blend of local and international artistic endeavours will expose international audiences to artworks and practice that they might not have encountered as visibly as artists located in the West. 5. How different are the art scenes of India and the UAE?
The art scenes of both India and the UAE are different and unique in their own ways, as of course, audiences and artistic production differ with every cultural context. The UAE is in a very interesting position art world wise, with institutions like the Guggenheim and the Louvre opening possibilities for new audiences and more global partnerships within the art world. In India, similarly, with organisations and events such as the Kochi Biennale, artists and patrons alike are being exposed to more experimental and challenging paradigms to the art world. In a lot of ways, it is a very exciting time for both the Indian and the Emirati art worlds. 6. What do you feel about the importance of such events in celebrating art around the world?
Events such as the Art Fair, Biennales and Triennales are undoubtedly an important arena for artists, galleries, collectors and the public to appreciate and support art. Art Fairs and other such events are starting to consistently redefine and recreate their programming as well—as an attendee of any of these events, you not only get a chance to see artworks, but attend lectures, performances, discussions and other such allied events that enrich your understanding of art and cultural production. 7. Your top three artists in the world and why?
All artists bring something uniquely theirs to the table, so it is always hard to make a selection even from a small group, let alone all artists of the world. For me, three artists whose work and practice I deeply admire include Marina Abramović's performance and photographic works, Anish Kapoor's sculptural works and the Guerrilla Girls. Abramović' invokes a deeply personal and astutely avant-garde essence in her work. Kapoor's sculptural works defy definition and soar greater heights with their daring innovations. The Guerrilla Girls are pioneers in their decades long work to smash boundaries for women and minorities in the art world through their daring and socially critical work. I also deeply admire the works of Bharti Kher and Anita Dube. 8. Your top five art destinations in the world?
My top five art destinations in the world are-Berlin, Paris, London, New York, and Hong Kong.
9. Since you travel vastly for your work, what's your take on the idea that travelling helps one evolve?
I believe that one should always try to incorporate traveling with a purpose—not to simply go to a new place, but to be able to imbibe new experiences, cultural artefacts and meet new people. If one can travel and not only enjoy being in a new place, but also experience their local culture, artistic production, and the lives of the people then it adds immensely to our own life experiences. It is very exciting to know that there are always new places to see, new experiences to be had, new art to be seen and new art to be made! 10. What did you think of the significant presence of India at the Fair?
The focus on India as a new paradigm at the fair highlighted the growing interest and support globally that is emerging for Indian artists. Galleries like Aicon Contemporary,, Galerie Isa, Gallery Espace, Grosvenor, Nature Morte and Vadehra Art Gallery, were all part of the New Horizons section dedicated to India. The galleries housed artists that are doing tremendously experimental and unique work, and whose presence at a global event only highlights the importance and interest that is being shown for contemporary and significant Indian art.
Related: Shalini Passi's Guide To Top Cities For Art Lovers
Written By