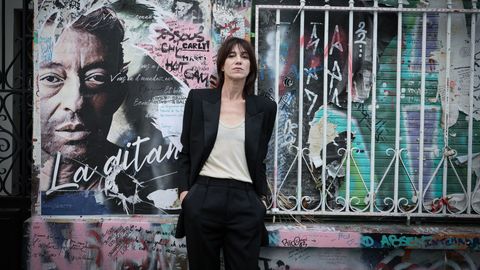 As the home of France's beloved troubadour Serge Gainsbourg finally opens to the public, it is his daughter Charlotte who acts as a very intimate guide.
Thirty-two years after his death, the famous home on Paris' Left Bank gets its long-awaited opening next Wednesday, with visitors welcomed into the dark, bohemian lair by Charlotte's whispered voice in their headphones.
Serge Gainsbourg's home finally opens to the public in Paris Her audio guide is deeply personal — her voice often cracking as she relives learning piano with her father or bathtime with her mother Jane Birkin, who died in July.
The ashtrays have finally been cleared and protective barriers put up, but the singer's weird and wonderful bric-a-brac is exactly where he left it when he died in 1991.
The signature black piano is there alongside gold records, newspaper cuttings and pictures of the women in his life — such as Birkin and Brigitte Bardot — as well as framed spiders, an elaborate mermaid banquette and an unlikely collection of police badges he would scrounge from visiting cops.
They were among the many people from all walks of life who would stop in to the rue de Verneuil for a late-night drink.
Though often reduced abroad to his controversial erotic hit with Birkin, "Je t'aime… moi non plus", Gainsbourg's wounded ennui and Gallic swoon have remained a major influence across musical genres.
He has influenced everything from hip-hop (sampled by De La Soul and the Wu-Tang Clan) to indie (Beck based an entire album around his "Histoire de Melody Nelson") to pop (Kylie Minogue reworked his duet with Brigitte Bardot, "Bonnie And Clyde", for 2007 single "Sensitized").
Delays
Charlotte Gainsbourg, herself a world-famous actress and singer, whispers about having to tip-toe around every morning because her parents had been out at nightclubs until the early hours. The most emotional moment comes when she recounts finding her father dead in his bed from a heart attack, and lying beside him for so long with her siblings that an embalmer was brought to prolong their time together.
"As soon as he died, I didn't want to move anything. Immediately, I was thinking about opening a museum because he himself had talked about it," Charlotte told a small group of reporters this week. But it still took three decades as she struggled with the idea of opening it to the public. "There were moments when I no longer had the strength and I didn't want anyone to enter," she said.
After many delays, there was almost another postponement when her mother died. "But there was no reason to push it back," she said in a whisper. The house visits — which only allow two people at a time — are already fully booked to the end of the year, with around 100,000 visitors expected annually.
An accompanying museum across the road houses everything from his school reports to a statue of a man with a cauliflower head — his beloved nickname.
Shop the best travel experiences here
(Hero and feature image credit: Alain Jocard/AFP©)
This story was published via AFP Relaxnews
Related: Villa Oleandra: A Look At George Clooney's Million-Dollar Mansion In Italy
Written By