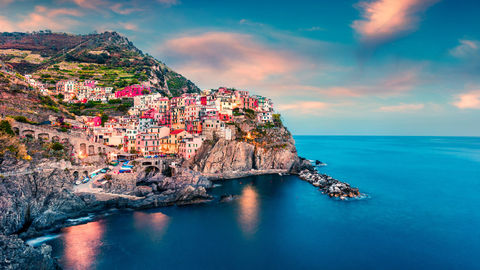 Coming year, move over the usual tourist destinations and capital cities, and explore the lesser-known gems on the planet. Who knows, you might end up surprising yourself at one of the most unexpected second cities! By Tanvi Jain
Travel trends across the planet are changing at a very fast pace. From solo travel, to nomadic travel, to pet-friendly travel to even nacations, with time, new and unexpected trends keep redefining the definition of travel.
The young globetrotters don't conform to old norms of travelling, instead, they believe in exploring the unexplored. The urge of trying something new and taking risk has changed the face of travel. Hotels have been replaced by hostels and Airbnbs, flights have been replaced by more budget-friendly modes of transportation, the food is all about exploring the local cuisine that too not in fancy restaurants but small cafes in order to get the local flavour. Instead of getting clicked at the already known tourist spots, travellers want to visit lesser-known places, spend time with the locals, and understand their perspective.
A new travel trend expected to boom in the coming year is the second city travel which means instead of visiting the capital city or the already known bigger cities of a country, backpackers opt for lesser known, smaller towns or unknown villages.
Few examples of these unexplored cities you should replace with the usual ones on your next trip include:
1. Antwerp, Belgium
A port city in Belgium, Antwerp's history dates back to the middle ages. It's the second biggest port in Europe, a centre to world's diamond industry and one among the fashion capitals across the globe. Grote Market, The Cathedral, Centraal Station, and The Red Star Line Museum are few must-visit places in Antwerp. For the after party you have bars like Kulminator, Baravin and Dogma, which serve a wide range of beer, wine and cocktail. Food lovers can take a trip to places like Lao, De Groote Witte Arend and The Jane to explore the local street food.
2. Lasi
, Romania
It's one of the oldest cities of Romania. Over the past 500 years, it's history, culture and religion have given it a unique character. It's a home to one of the oldest orthodox churches like Princely Saint Nicholas Church, St. Paraschiva Metropolitan Cathedral and Trei Ierarhi Church. Other landmarks include Palace of Culture, Roznoveanu Palace, Alexandru Bals House, National Theatre, and etc. There are various museums, which showcase objects from as old as 70,000 BC; and centuries' old monasteries to take you back to the bygone era.
3. Arhus, Denmark
Arhus is the second largest city of Denmark, and is home to world-class cuisine, art galleries, architecture and a laid-back atmosphere. It's emerging street food scene and informal bistros have recently grabbed a lot of attention from tourists across the globe. The best way to explore the city is on foot as most of its attractions, shops, restaurants, and etc. are all confined to a small central area. Major attractions include Marselisborg Deer Park and Ballehage Beach, Moesgard Museum, St Pauls Apothek, ARoS Museum, and more.
4. Split, Croatia
Croatia's second largest city, Split is located between mountains and sea. Diocletian's Palace, a World Heritage Site, is the main attraction. Apart from its fourth century Roman ruins and Medieval churches, the city also has a wide variety of trendy shops, bars and boutiques. Its seaside promenade Riva is a prime spot for tourists. Fans of HBO's huge hit Game Of Thrones should definitely visit Split to relive the famous series as parts of season four have been filmed there.
Related: A World Below: These Hidden Underground Cities Will Leave You Fascinated
Written By