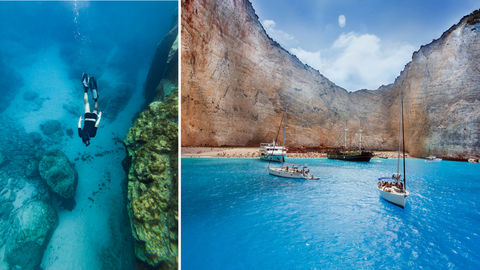 This year, swim against the tide and soak in the beauty of these lesser-explored coastal destinations. By Shibani Bawa
1. IONIAN ISLANDS, GREECE Greece has around 6,000 islands. Unlike Santorini and Mykonos that are part of the Cyclades Islands in the Aegean Sea, the Ionian Islands lie off the country's west coast, in the Ionian Sea. Turquoise waters, cliff-backed sandy beaches, and mild Mediterranean climate make these islands ideal for a sailing holiday. While the northern island of Corfu has a gorgeous old town boasting Rennaissance, Baroque, and classical architecture, Zakynthos is home to some of the country's most beautiful sandy beaches, including Navagio Beach, which is accessible only by boat. Kefalonia is the largest of the Ionian Islands. Here, you can explore picturesque fishing villages and satiate your hunger for adventure—dive 40 kilometres down in crystal clear waters, go kayaking along the scenic coastline, hike in Mt Ainos National Park, and enjoy a horseback riding tour.
2. LEGZIRA BEACH, MOROCCO Among Morocco's unique topographical features that include the undulating Sahara Desert in the south, the snow-capped Atlas Mountains, and beaches along the North Atlantic Ocean, the Legzira Beach, along the southern coast, just north of Sidi Ifni, stands out. During low tide, the natural arches in the red stone cliffs—formed due to years of erosion become a treat for the eyes. The rugged coastline also offers spectacular sunset views; the beach is expansive and is perfect for surfing and paragliding.
3. ACADIAN COAST, CANADA Warm waters and warmer people are the highlights of the Acadian Coast of Canada. The Parlee Beach Provincial Park is a popular holiday spot, with the warmest salt water and best beach in the country. Families make the most of this haven with annual contests of beach volleyball, touch football and sand sculpting. The culture is a unique mix of North American zeal and French joie de vivre—the Acadian Festival, for instance, features cabaret shows and concerts. Eat like locals and indulge in meat pies, chicken frietkot, and fish cakes, and if you like what you eat, book yourself a cooking class with a local chef. At Le Pays de la Sagouine, experience a fictional village come to life with theatre, music, dance, and comedy all through the summer season. Part of the Hawaiian archipelago, Maui encapsulates the best of tropical landscape and lifestyle. From luxury resorts and secluded beaches, to honeymoon specials and family packages, Maui offers it all. Snorkelling in the crescent Molokini Crater, surfing in Ukumehame Beach Park, watching the sunrise over Haleakala Crater, and driving along the Pacific-rimmed Hana Highway are must-dos. With 14 golf courses, this is also one of the top-rated destinations with the most spectacular tee-off. Take a helicopter ride to enjoy a bird'seye view of Maui, or rent an ATV to traverse its undulating landscape. Whatever you do, do not return without attending luau—a traditional Hawaiian feast with music and dance.
5. CHILEAN FJORDS, CHILE Take a trip to the 'end of the earth' to explore the southernmost fjords in the world. The spectacular, windswept Chilean fjords stretch for more than 1,600 kilometres and feature icy waters fringed with green cliffs and pristine glaciers. These freezing inlets are home to an array of exotic marine wildlife like migrating blue, grey, and humpback whales, colonies of penguins, herds of sea lions, playful dolphins, and elephant seals that you can view from one of the luxury Patagonian cruise ships. However, the best way to explore these narrow inlets is on little dinghies or Zodiacs. Hikers will stumble upon truly unique trails and terrain, with ice-capped volcanoes and untouched national parks. And the adventure doesn't end there. Explorers can go all the way south—to Antarctica—since cruises to the White Continent start from the Chilean fjords.
6. MASSIF DES CALANQUES, FRANCE Not all coasts boast sandy beaches. Some feature towering cliffs. Calanques, along the Mediterranean coast of France, are the country's highest jagged white limestone cliffs with fjord-like inlets. Calanque d'En Vau, between Cassis and Marseille, is the most scenic and has a series of steep, narrow coves and inlets. A hike from Cassis Harbour to calanque d'En Vau takes roughly two hours. Once up, there are several natural rocky platforms where you can take a break and enjoy a picnic. You can also explore the Mediterranean region around Cassis with a six-hour electric mountain bike tour. Since summers bring with them a risk of forest fires, the best times to visit the calanques is spring or winter. Located just 60 kilometres from Cape Town, Cape Point is located in the Cape of Good Hope Nature Reserve, on the southern tip of Cape Peninsula in South Africa. It offers stunning views of the azure ocean, towering cliffs, rolling hills, endless beaches, and bays. Since the best views are enjoyed from the top, take the Flying Dutchman Funicular, named after the legendary 17th-century ghost ship that was destroyed in dark and stormy seas of Cape Point. While here, get up close with penguins at Boulders Beach and enjoy an aerial view of the Cape Peninsula on a scenic helicopter flight. Cape Point Wine District boasts vineyards merely a kilometre from the sea, making it a great location to go on a winelands tour, sipping, swirling, and buying the wines you taste. Varkala is the only beach in Kerala that has cliffs kissed by the Arabian Sea. The red sandstone cliffs dotted with lush palms look straight out of a painting. Stand atop the cliifs and feast your eyes on the glistening water of the Arabian Sea. The cliff is lined with shacks serving local and international fare. Appam and stew, aromatic seafood, pastas, and freshly baked cakes are all available here. The Black Beach at Varkala is a hidden gem, since the choppy waters are not suited for swimming. While it is ideal for sunbathing and practising yoga in the serene surroundings, it is also a great spot to shop for souvenirs and artefacts.
9. FERNANDO DE NORONHA, BRAZIL The island of Fernando de Noronha is one of Brazil's national marine parks. It is a volcanic archipelago about 350 kilometres off the country's northeast coast. This idyllic location is best known for marine life like turtles, stingrays, reef sharks, and spinner dolphins. The warm, clear waters, and pleasant breeze make it a paradise for snorkellers, divers, and surfers. Since the island is home to three of Brazil's top beaches—Pig's Bay, Sancho, and Atalaia—it lends itself to swimming and sunbathing. After some time in the sun, jump into one of the many natural pools to cool off. Dune buggies are the best form of transport here. You can either rent and ride one yourself, or hire a professional driver to take you around. Glenorchy is the epitome of New Zealand's natural beauty. A beautiful 45-minute drive from Queenstown takes you to the land of The Hobbit, Lord of the Rings, and many more blockbusters. Of the many highlights, tours that take visitors to the original locations of these movies top the list. Surrounded by snow-capped mountains, pristine lakes and rivers, and ancient beech forests, this area is an adventure enthusiast's dream destination. Explore the region on horseback and navigate meandering rivers, thick forests, and open fields; cross the glacial waters on a jetboat, kayak, or canoe; go backpacking and hiking; skydive over a stunning vista; or fish for salmon.
Related: 3 Colourful Coastal Experiences in Tamil Nadu
Written By