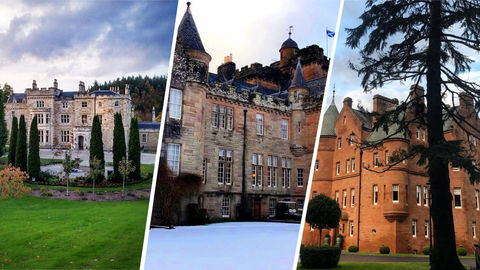 Do we want to travel to Scotland and stay in one of their Celtic castle hotels? Is that even a question? We figured you may have something similar in mind. So, we've found out the very best castle hotels that you can find in the Scottish highlands. By
Shubhanjana Das
1. Inverlochy Castle:
This mid-19th-century hotel is the namesake of the original 13th Century Inverlochy Castle but is no less in its allure. Residence of Lord Arbinger and the resting place of Her Highness Queen Victoria who used to stay here while traveling through the Highlands in 1873, this castle means serious business when it comes to treating its guests like royalty. What you have here is not just kingly treatment but also some serious sporting with mountain biking and whitewater rafting facilities.
2. Fonab Castle Hotel & Spa:
Witness the excellent merging of 19th-century charm with 21st-century contemporary aesthetic here in Fonab, a boutique castle hotel in Central Scotland. Sitting proudly on the banks of Loch Faskally, Fonab Castle Hotel and Spa is an 1892 red-brick castle from outside and a sleek wood-and-glass decor hotel from inside, which gives it a feeling of stepping into the future. Once you're in, you'll be welcomed by a flamboyant spa, fitness center, private glass balconies, and a penthouse suite.
3. Glenapp Castle:
What makes Glenapp stand out is not its 36-acre estate or its 17 guest rooms, which are mesmerising, to say the least, but its cheerful and welcoming ambiance, right from the moment you drive through the gates of this 19th Century Castle. Other than the panoramic view of the hills of Ballantrae, along the South Ayrshire coast, the estate is adorned with manicured gardens, mirror-like pools, and trails through the forest for the loveliest walks.
4. Crossbasket Castle:
No matter how many stars one puts on this castle, it'll be one less. The perfect melting pot of ancient grandeur and urban chic, Crossbasket Castle is located immediately beyond the Glasgow City Center. This 15th-century castle was refurbished to a 5-star nine-room castle hotel in 2016. While the services, amenities, and the sheer magnificence of the place are beyond measure, what stands out the most is The Lindsay Tower Suite. It is a four-story nest traversed by a stone spiral staircase, perfect for the most romantic honeymoons.
5. Dalhousie Castle:
The oldest inhabited castle in Scotland is the real deal for anyone who loves being enveloped in history (and a dollop of luxury to top it). Semi-gothic architecture, dramatic entrance halls and mini-imperialistic vibes are an absolute heart-winner. What used to be the old storage vaults in the castle is now a small spa with a laconium and hydro pool. Dalhousie castle is located on a small estate of on the banks of the South Esk River overlooking the Border hills, 10 miles from Edinburgh.
Related: Have You Taken This Whiskey Trail in Scotland?
Written By