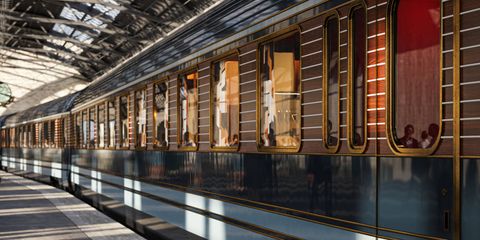 Ever dreamed of gliding seamlessly across the far-reaching sand dunes? Well, dream no more, because Saudi Arabia is about to welcome its first luxury train, the Dream of the Desert.
Arsenale Group, the Italian multi-brand company behind Soho House Roma, Hotel Santavenere Maratea, Orient Express La Dolce Vita and more, has recently signed a memorandum with Saudi Arabia Railways (SAR) to construct this train project. The MoU between SAR and Arsenale is most likely the beginning of the launch of a new premise in the tourism sector.
All you need to know about the luxury train in Saudi Arabia
Named Dream of the Desert, the five-star train will take travellers from Riyadh to Al Qurayyat, passing Al Wassim, Hail, and Al Jouf in between.
The new luxury train will definitely help promote tourism within the country, as visitors and residents will have the chance to experience this mysterious kingdom through the luxury of train travel.
The luxurious train is expected to launch in 2025. As per reports, Saudi Arabia will be investing USD 51 million (INR 4,19,78,40,600 approx.) for the train's production.
Hero and featured image: Courtesy Orient Express
This story first appeared here
Related: Saudi Arabia's Latest Urban Project Is A Giant Cube That Can Fit 20 Empire State Buildings
Written By