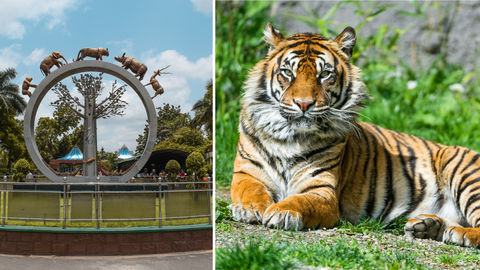 Remember those days when birthdays were all about calling your friends over, and unboxing gifts that mostly contained toys? Well, in 2020, birthday gifts seemed to have changed its dynamics! Recently, a 12-year-old boy hit the birthday-gift jackpot as he adopted a Royal Bengal Tiger at Nehru Zoological Park in Hyderabad. By Amitha Ameen
A 12-year-old boy has adopted a Royal Bengal Tiger named "Sankalp" in Nehru Zoological Park, Hyderabad on his birthday

He handed over a cheque of Rs 25,000 to a zoo official for the adoption of the tiger for three months https://t.co/Z72PWGD6E5

— Hindustan Times (@htTweets) September 13, 2020
Twelve-year-old student Chinmay Siddharth Shah has adopted a Royal Bengal Tiger at Nehru Zoological Park (NZP) in Hyderabad as part of his birthday gift. As reported in India Times, the birthday boy has adopted the tiger for three months by spending his birthday budget. He along with his father Siddharth Kantilal Shah had visited the office of the zoo curator and handed over a cheque of INR 25,000 towards the adoption of the tiger.
Along with Chinmay, five other students too presented cheques each of INR 5,000 to adopt small birds and nocturnal animals. The Deputy curator Nagamani thanked the students for their kindness and generosity towards helping the zoo animals. Additionally, she also appealed to the public and other students to come forward and help zoo animals.
The Nehru Zoo had recently suffered a loss of around INR 6 crores due to the lockdown and ban of visitors to public places including zoos since March 22, 2020. Now, the zoo is looking for donors in the form of business people and celebrities to come forward and sponsor the expense of the animals in the zoo.
Earlier in July, superstars Ram Charan and Chiranjeevi's wife and daughter-in-law came forward and pledged to take care of an elephant that they adopted for a year. In another instance, a businessman also adopted a Royal Bengal Tiger for a year.
Nehru Zoological Park is known to be one of the best zoos in Asia and attracts nearly 30 lakh visitors every year. The zoo is spread over 300 acres and is home to over 1,716 varieties of birds, reptiles and animals, and 181 exotic species.
Related: Actor Prabhas Adopts 1,650 Acres Of Forest Land Near Hyderabad
Written By