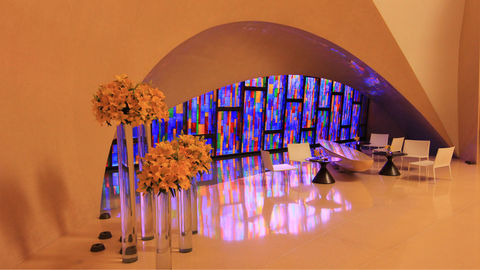 Editor's note: The global COVID-19 crisis has left each one of us deeply affected and we want to help. Burda Media India has organised a fundraising campaign to #FightBackWithTesting and donating RT-PCR test kits to the worst-affected areas in India, which will be secured from our testing partner Mylab Discovery Solutions. You can help these kits reach many more by donating for the cause or by adopting a kit. Click here to join the fight.
Roseate Hotels & Resorts introduces 'Care By Roseate' initiative to promote touchless dining and minimise physical contact with guests for safe functioning during COVID-19. By Tanvi Jain
View this post on Instagram
Roseate Hotels & Resorts recently launched 'Care by Roseate' initiative to promote minimum physical contact with guests at their hotels. It has completely remodelled its standard operating procedures towards providing greater care and ensuring a safe environment for its guests.
The initiative — Care by Roseate — involves stringent procedures to ensure no contamination enters via any route. The measures involve thermal screening at entry gates of all passenger vehicles. Display of 'Safe' status in Aarogya Setu app for staff and guests, and wearing of masks mandatory for entering into the hotel premises.
Moreover, all hotel vehicles would be disinfected at entry points and after every use. Sanitizers would be kept in all prominent locations within the hotel. Guest luggage would be disinfected from outside upon arrival.
View this post on Instagram
To enable seamless, remote check-ins, touchless check-ins would be facilitated via an app, in which, all information would already be pre-registered. Post the check–out, the same room would be allocated 24 hours later, after being thoroughly disinfected. Roseate Hotels & Resorts would also follow an alternate room occupancy policy to maintain social distancing, and the housekeeping staff would wear Personal Protective Equipment (PPE). Delivery and clearance of Room Service orders would be done outside the hotel room entrance itself. To ensure touchless usage of elevators, a staff member in PPE would be present to operate the lift with no more than three members at a time.
View this post on Instagram
The initiative will also promote touchless dining, where guest while booking a table will be able to see the menu and place their order. They will also share their location with the hotel so that the kitchen staff starts preparing the meal while they are en route. They can also add more options on the app, while already having their meal. The app even gives the guests a live view of the food being prepared in the kitchen. The bill will also be sent via the app, which the guests will be allowed to pay by credit cards. Moreover, the buffet services will be suspended for the time being.
View this post on Instagram
Other safety measures include setting up the tables at a distance of at least two metres from one another, the mandatory wearing of PPE for kitchen and service staff, all the time, regular temperature checks, and etc. The hotel will also not allow people belonging to areas designated as Coronavirus hotspots to enter the premises.
As far as the hotel's food delivery service is concerned, all the meals will be home delivered in double-layered packaging, with utmost hygiene. Same will apply to laundry care services as well.
Related: Indian Hotels Tell Us How They're Ensuring Safety In Times Of The Pandemic
Written By