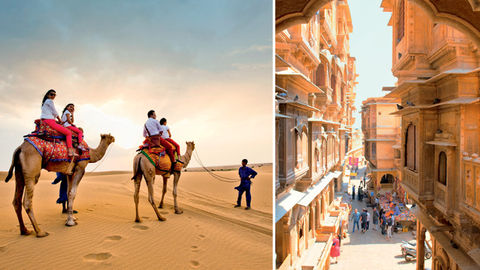 Simon Clays heads out on a caravan of friends, family, and reunion to explore the western fringes of the Thar. On a trip that takes in Jaisalmer and Jodhpur, he discovers that there is far more to the desert than the baked dunes and the heat haze of his imagination. God's country is the desert, I've decided. If it took a god to create it, then humans must be gods themselves to dwell in it. It's a thought that needs ratification. Kerala lays claim. Farther afield, Scotland, Colorado, Montana, and New Zealand field the tagline. For sure, the gods get about.
Craning from a middle-aisle seat through a frosted aeroplane window, there is nothing but the smudge of burnt sienna, scarred with the worry lines of aeons of the baking sun. It's my first time out this far west into the Thar. I always get giddy at the scale. I never had the commitment to drive double-digit hours from Delhi all the way out to within a kissing distance of the noisy neighbours and Jaisalmer. Don't get me wrong, I'm as big a fan as any one of the 'Great Indian Road Trip', and a two-day desert haul via Bikaner has merits of its own. But SpiceJet's one-and-a-half-hour hop out of Indira Gandhi International Airport down to Jaisalmer's bunker potted runway strip really does take the backache out of what might be otherwise a hurried yomp. Sands of time and all: this relatively new flight is reason enough to tackle a triangle beyond what those visiting North India normally encounter. Beyond the Taj and palaces of Jaipur. The other reasons are sitting in the aisle opposite: my wife, my daughter, and our good friend Princess (Kunwarani) Kamini Singh of Seohara. They chirp about the 40th birthday event we're to attend in Jaisalmer. The silver fuselages of a brace of Indian Airforce MiGs I point at, fall on deaf ears. They're excited about taking Kams' latest collection of RoseTree's organic cotton luxury fusion wear to debut in the boutique at the hotel we're to be staying in: Suryagarh. I fetish over a couple of Hind gunships skulking under a tarpaulin. It's a stark reminder of just how close we are to the border. Or not: the girls are more interested in liberating bags of garments from the overhead lockers and cracking on with our five-day sojourn between Jaisalmer and Jodhpur. Our travels with a princess to meet friends, royals, and relics of western Rajasthan.
Jaisalmer Fort doesn't so much loom at you as appear through the haze of the desert-like some troll's wave-battered sandcastle. From five miles, it's a pregnant mound on the skyline. Two miles, the sandstone hill it's carved upon is an ambitious line of turrets and towers. And then you're upon it. A citadel, marked with 800-plus years of human endeavour and occupation. It's a yellow brick maze of thoroughfares, Havelis, and temples. A termite mound of activity, it's easy to see why the fort was such an important part of the Spice Route. Camels laden with exotic dry fruit, silk, and spices, lolloped back and forth from Central Asia. Fortunes were won and lost in this labyrinth. And it's why usurpers from further north, upon hearing tales of the great city, sent armies striding south from Delhi in search of spoils.
The first with a nose for Jaisalmer was Alauddin Khalji. He sieged the fort for a year before it finally buckled. Whether sensing defeat or desperate for supplies, the men of Jaisalmer poured out of its main gate to certain death. The women they left behind, every last one of them, threw themselves on to a pyre rather than fall into the hands of their captors. It is said that 26,000 women took part in an act of jauhar that day. It's a hard number to swallow. Looking around you, even with India's swarming populations, it's difficult to find context. The fact that Afghan warlords and Mughals Humayun and Akbar all trod similar paths, all with pretty much the same outcome, is staggering. The early afternoon sun seems too harsh for such sacrifice. The desert's prize, unworthy. But Suryagarh is definitely Jaisalmer's oasis of calm after the hustle and history of the fort. It's wedged on the edge of the city, a few miles deeper into the desert with room to spread its legs. It's grand and expansive, the perfect location for the most glam of shindigs—champagne and a jazz band in the garden, poolside Sunday brunch and cocktails, sundowners on a vast rear terrace. Our hosts, Aditi Jain and Ruchir Parekh are as generous as the servings, and two days swim by. The rooms are opulent and the perfect retreat when you've had a pinch too much of a good time. Heavy stone, high walls, and mattresses you can float away on.
The next morning, while my girls rest, I find Kams butterflying around the foyer, arms laden with this year's designer collection. She butterflies everywhere. A silver streak flitting between friends, function, and formality. Back and forth, between a historic Uttar Pradesh palace and a flourishing designer label business in Delhi. Since her husband, Kunwar Shail Raj Singh passed away in 2010, she's had to emerge from her chrysalis, but like all grand butterflies, she's emerged with colour and candour, enterprise and a smile. As if to prove it, she spins on her jutis and announces the arrival of the property's owner: Manvendra Singh Shekhawat. He's every inch the Rajput. Lots of inches, in fact, and very tall. Thin as a whip. Khaki Jodhpur trouser and a loping stride. Kams butterflies while Manvendra and I take coffee in the shade of the courtyard. We speak about many things, the evolution of Suryagarh, the trials and tribulations of finding the balance between service and interference, opulence and OTT. He's clearly a young man with a vision, with an understanding of dimension and detail. I think we are nearly done when I throw in perhaps my most disposable of thoughts:
"Why here of all the places?" It's almost a mutter. There's a moment of astounding silence.
"Have you not seen it?"
"What?"
"The desert at night. It's after a desert safari one evening, gazing at the sky, that I realised the rare magic that Jaisalmer possesses. It's why we started this." I try to explain that my party host's hospitality has been beyond Indian wedding. There has been no time. Before I can utter another word, we are being ushered to the Suryagarh suites—private chambers with their own rooftop plunge pools and terraces that buttress the desert—and an invitation to a private dinner in the desert. Our camel, Shah Rukh Khan, looks slightly less miffed than his stablemate, Sanjay Dutt (dromedaries imitating real life?). It could be about ratings, but it could also be about which camel takes the lead through the darkness of the dunes. Shah Rukh nicked it by a whisker and some spittle. It's rickety, but not long before we dismount camel Khan and are striding a sandy hillock, towards an open fire and the lilt of Rajasthani folk music. Before we are even seated, I understand what it is that captivated Shekhawat. We all do. It's super sense out here, primordial and without time. The gods have stopped all clocks and decided to pour open a vast, inky, silk bag of stars and cosmic dust all over us. The sky is heavy like jewelled drapes, and the universe so close that you feel like you could reach up and run your hand through a starfield, rearrange the constellations. As above, so below: the desert, too, senses the awe of the night. It's alive with the shuffle and slide of snakes and all manner of creatures. On a night like this, neither we nor they care for the formalities of introduction.
The drive from Jaisalmer to Jodhpur takes about five hours with a favourable wind, and both Ola and Uber are safe and pocket pleasing ways to connect. As ever, Rajasthan state roads are excellent, and the route back east to Jodhpur, a good way to connect with the land. The desert slowly thins, giving way to the baked rock quarries of Jodhpur. The city itself is overwhelmed by Mehrangarh Fort; even the Umaid Bhawan Palace, the most opulent of buildings, plays second fiddle to this stone edifice that looks down on all with just the slightest disdain. We are staying with a friend of Kams', Maharaj Suryaveer Singh Rathore of Jodhpur. His brother, Raghavendra Rathore, the reputed fashion designer, and he, already run the well-known heritage property, Ajit Bhawan, but Rathore is keen for us to sample the delights of his latest enterprise.
Khaas Bagh (it means beautiful garden) is a bijou palace built in the Indo-Saracenic style, with more than a whiff of colonialism about it. Its renovated central atrium is home to a nest of bespoke suites, all decorated and furnished elegantly and with their own themes. It's quite beautiful and effortless to walk a flight of stairs to the most charming of rooftop dinners. Under the sandstone nose of the fort, we wash away the desert with chilled beer and delicate Rajasthani kebabs. Sleep comes easy, and the next morning, I am ready and waiting with Kams to meet Rathore in the Khaas Bagh grounds.
When a couple of bulky white Toyota 4X4s circle the entrance gate like sharks, I'm not quite sure what to expect: this is Jodhpur royalty, after all. I need not have worried—Kams and Rathore immediately embrace. Warm gesticulations and explanations waft around me:
"We have been close family for over three decades," Kams butterflies. "Kamini and her husband were part of the close entourage at my wedding… my wife and she were young women together," Rathore explains. There are kisses on the cheeks. If there were ever the whisper of ice, it's melted. Rathore rubs his hands together, enthusiastic to walk me around his passion, and the very reason Khaas Bagh went from an occasional weddings and events afterthought into a born-again concept. We crunch over gravel towards the first of four walls of garages that surround the central palace. It's petrol that is his passion. Old petrol. Rare petrol. Royal petrol. Immaculate petrol. White-wall tyres and fender arc from every corner. Each one, from a day when cars were art. Eye-catching and to be seen in. Not merely flesh taxis to lump scores of humans from point A to B. His collection runs into the 1930s. Yes, and each one does actually run.
"You can be picked up from the airport in a 1940s Buick or take a town tour in a Rolls if you wish," he tells me but hopes he is not boring me.
Is he joking? I tell him about getting excited about a couple of battered, old Russian helicopters and a dead MiG at Jaisalmer airport. It does the trick, and we start to yammer on about cars and metal. I ask him how it started.
"As kids, I remember going for a drive in this Chevrolet; it was a 1947 Fleet Master. Grandma would sit in the back, I would be at her side, and then there was a curtain between us and the driver, and there was another man in the front beside the driver, with a sword. This was a normal evening drive." He points at the car in question. We move on. "You see," he tells me gesturing ahead. "Every Maharaja had his thing. For example, the Maharaja of Bikaner only wanted Cadillacs. Others only took Rolls Royce—for instance, the Maharaja of Patiala. So everyone had one brand and they patronised that brand only. The cars would come on cargo boats from Britain and the US and go straight into the State Garages. Then, the family would decide how to use the car. Weddings, hunting, state occasions—whatever their whim."
His first car? We walk across the courtyard, past four renovated jeeps.
"I really wanted a 1940s Buick. Not for a collection, for me. Well, I finally got to know there was one parked in the palace garages of Bikaner. So, I drove off from Jodhpur and asked to meet Rajmata Sahiba of Bikaner, and she said 'Yes, take it'. So, we went to the garages, all 20 of them empty. But, there in the middle was a sand dune. 'What is that?' I asked. 'The car,' they answered."
He laughs, beaming at the collection. He taps at polished chrome-like he's patting a favourite pet. "Back then, the kabadiwala (scrap metal dealer) still had hold of original parts. Change, service, and run. Now, it's a little more complicated." An hour, or more, speeds by in the company of intoxicating oil and old leather before we part. We will meet again later for dinner and drinks, and I am left-leaning on a bumper, contemplating the desert again and the bulk of the hilltop giant fort.
This is, indeed, god's country. Just be sure to hold their midday sun in reverence. Dance with them in the dead of night. And, be sure to drive their convertible in the late afternoon with a martini and a princess, if you can possibly find one. GETTING THERE
You can drive to Jaisalmer from Delhi (766 km) or Mumbai (1,060 km). If not, SpiceJet runs direct flights almost daily out of Delhi, and both SpiceJet and Air India have flights operating directly to the desert airport from Mumbai. Shuttling between Jaisalmer and Jodhpur takes five hours by road, and almost all of the hotels have cars available on request.
STAY
Suryagarh in Jaisalmer is undoubtedly among the best luxury properties in the area and boasts a wide variety of spacious rooms to suit most pockets (starts from INR 13,000 per night for a Fort Room and bottoms out at INR 1,25,000 per night for an entire Thar Haveli).
Khaas Bagh is a heritage property in Jodhpur with limited occupancy (four suites), and all are bespoke. The focus is on motoring, specifically the Indian Royal variety. You can take dinner in the shell of an old motor and drink in the Phantom bar, where you can sip on car-themed cocktails while mooching through classic auto memorabilia (price on request).
WHEN
Peak season out in the western deserts of Rajasthan is from November to February, though hardier adventurers with a penchant for warm sunshine could easily extend either way by a month or so.
IDEAL FOR
Couples on a romantic break, history buffs, and families.
DISCOVER
Explore the Thar desert by night through one of Suryagarh's Dinner in the Desert packages, or take a tour of Jodhpur in style, chauffeured in a choice of classic old cars courtesy of Khaas Bagh.
Related: #TnlSupportsLocal: Boutique Hotels In Rajasthan To Check-In When You're Road Tripping Post-COVID
Written By