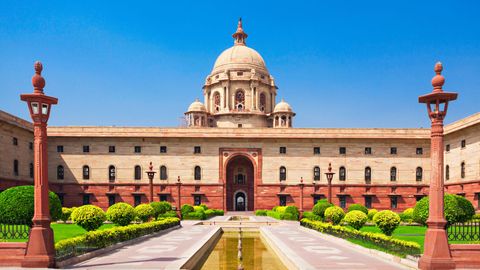 Rashtrapati Bhavan, the residence of the President of the world's largest democracy, will be open for public viewing six days a week from June. This change in the schedule is certainly a relief for visitors, especially tourists who long to visit Rashtrapati Bhavan and marvel at its beautiful architecture.
Sprawled across 330 acres of land on Raisina Hill, President Smt Droupadi Murmu currently occupies this iconic palatial house in Delhi. Built by Sir Edwin Lutyens and Herbert Baker, the President's House is divided into three circuits, each open to the public at a certain time.
What is the new schedule of Rashtrapati Bhavan?
From June 1, Rashtrapati Bhavan will be open to the public from Tuesday to Sunday, with an off on Mondays and gazetted holidays. The tours will be in seven-time slots from 9:30 am to 4:30 pm. Furthermore, people can also see the Change of Guard Ceremony at the Forecourt of Rashtrapati Bhavan on every Saturday from 8:00 am to 9:00 am. The ceremony will be skipped on Saturdays if it is a gazetted holiday or if notified by Rashtrapati Bhavan under special circumstances, shared the government in an official press release.
What is the current schedule of Rashtrapati Bhavan? At the moment, circuit one of Rashtrapati Bhavan, which includes the Main Building, Forecourt, Reception, Navachara, Banquet Hall, Upper Loggia, Lutyens Grand Stairs, Guest Wing, Ashok Hall, North Drawing Room, Long Drawing Room, Library, Durbar Hall and Lord Buddha Statue, is open for only five days a week from Wednesday to Sunday. The tours start at 10 pm, with the last time slot available at 3 pm.
Circuit two, which is the Rashtrapati Bhavan Museum Complex, is open for all days except Monday. The first slot available is 9:30 am, and the last is 3:30 pm. Circuit three is the Amrit Udyan, the beautiful gardens of Rashtrapati Bhavan, and they are open only during the Udyan Utsav that happens at the beginning of the year, from February to March. The Change of Guard Ceremony takes place every Saturday from 9:00 am to 10:00 am.
You can book your visit via the official website rashtrapatisachivalaya.gov.in. The tickets cost INR 50 per visitor per circuit.
Check out our list of the best hotels in Delhi.
Hero and feature image credit: Shutterstock
Related: In Pics: A Look Inside Rashtrapati Bhavan And Its Grandeur
Frequently Asked Questions (FAQs)
Question: When will the new schedules of Rashtrapati Bhavan start?
Answer: The new schedule will implement from June 1.
Question: Is Rashtrapati Bhavan open for public today?
Answer: Yes, it is open to the public for certain days of the week. The schedule is shared in the story above.
Question: Who is staying in Rashtrapati Bhavan?
Answer: Smt. Droupadi Murmu, the current President of India, stays here.
Question: What is the cost of ticket for Rashtrapati Bhavan?
Answer: The price of ticket per visitor per circuit is INR 50.
Written By